Kijafa Frink has reached that ever elusive "sweet spot." She's engaged to the love of her life, who just so happens to be one of the most exciting players in the NFL, Eagles quarterback Michael Vick. She's also pursuing her own business and philanthropic ventures. But even with her family's long journey back to life in the fab lane, she's never too far removed from the dark detours that came along the way.
Frink has been with Vick since before his days as the unofficial king of Atlanta and his emergence as quarterback for the Falcons. And when the football phenom's life went into a virtual free fall, she remained by his side through it all. In December of 2007, Vick was sentenced to serve 23 months in federal prison for his part in a dog fighting ring. As he prepared for his transition from life as a superstar to life behind bars, Frink faced the reality of life as a single mom, caring for two young children, with her world turned upside down.
"As a mom, you have to do what you have to do. You can't quit being a mom. It hurt everyday to hear my oldest daughter ask where her daddy was. That was the most challenging time ever. Everyday for 6 months, she asked where her daddy (was). But that whole experience made me stronger as a person."
Despite keeping the faith that things somehow, someway would get back to normal for her family, Frink likely never imagined the dramatic turnaround that lie ahead once Michael was released from prison. Despite rumblings in the media that he'd never play in the league again, Vick signed with the Philadelphia Eagles, taking his fiancé back to her hometown. As a native, no one knows better than Kijafa what a tough sports town Philly can be. She says she was both surprised and thrilled by the warm reception her family received. She also admits that being back home allowed her to carve out her own path while her fiancé mounted his comeback on the football field.
"Back then (in Atlanta) I was so consumed in his life. My life was basically his life. I had to step out and do things on my own. I wanted to be my own person and not be in his shadow. I think as a football player's fiancé, you get caught up in that life and lose yourself...and I have a whole lot of self!"
Since signing with the Eagles, Vick has gone from a 3rd string backup to a starting quarterback, as well as a league MVP candidate, who is leading his team into the playoffs. He also devotes much of his time talking to kids and raising awareness on animal cruelty. Meanwhile, Kijafa's been busy trying to make her own impact on the community that she loves. She is starting an organization to help less fortunate girls in Philadelphia get fashionable dresses for their prom. She hopes to host an event this spring that would raise money for the organization in time for this year's prom season.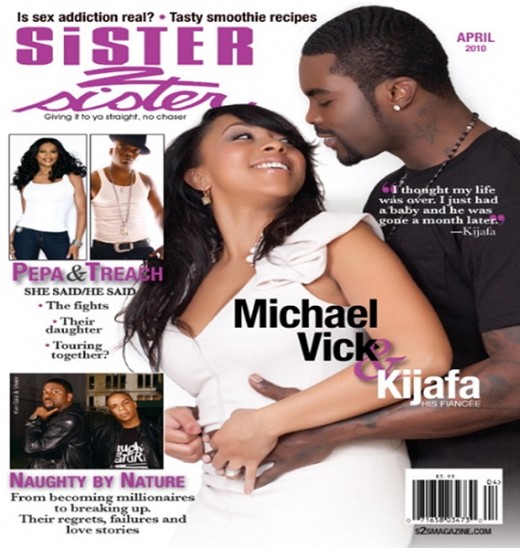 Additionally, Frink is a business partner in a jewelry line called PNK Elephant. It features costume jewelry and women's accessories priced from $5-$60. It also features exclusive pieces Kijafa designed herself.
As Frink taps into the entrepreneur and philanthropist within, her fiancé continues to amaze his critics and fans alike with his success on the football field. Even Kijafa says she finds herself caught up in the excitement of not only Vick's comeback, but the man he has become.
"I look at Mike and I'm so proud of him. I can't even begin to talk about how happy I am, not just for Michael but for the whole Eagles organization. I hope they can go all the way."
Of course, she like many other football fans, has salivated over the prospect of a playoff game featuring Vick against his old Atlanta Falcons team. She's well aware that while many people will never forgive her fiancé for his actions, die-hard Michael Vick fans still exist, and some of them are Falcons fans who will be torn over the desired outcome of the game.
"I'm glad he has fans that...want to support him still. I love to just sit back and watch the love. I want that game so bad! I love Atlanta and I love the dome and I think football games in Atlanta are so much fun."
But despite her soft spot for the ATL, there's no mistaking where her loyalties lie!
"I would love if the Eagles were to come to Atlanta and kick Atlanta's butt!"
(As a Saints fan and certified Falcons hater, I'd have to say I'm with her on that one...)