Well Saints fans, looks like that season long question has finally been answered in the most obnoxious of ways. It's the Cowboys..."dat who."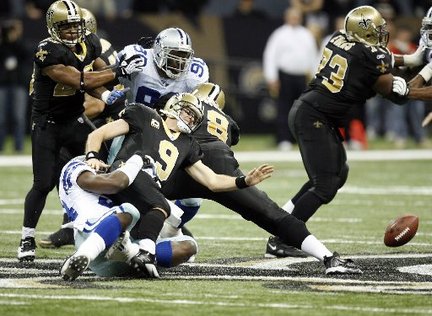 Before going off on a tangent about the disturbing events of Saturday night, allow me to offer a little perspective; the Saints are 13-1, division champs, and they're guaranteed a bye week in the playoffs, okay, folks? No need to jump off the deep end. With that said...
What the f#*% was that??!!! It's one thing to come out sluggish against the Redskins after a short week on the road or to play the Falcons tough in their dome, but we played the Cowgirls in our house, in prime time. Emotion was on our side. After all, Roy Williams and his legion of goons had been trash talking us the whole week. Isn't that the kind of thing that brings a team together? Instead, our offense and defense seemed to be on a voluntary bye week for much of the game.
What we witnessed was a team, that for the past two weeks has relied on luck to close out games, having their luck run out. No miraculous Robert Meachem strip of the ball or Jon Vilma lead saving interception could save us from the Cowboys. Dallas played inspired football. The Saints, well, I'm not really sure what our team was doing. Our offensive line got manhandled. Our secondary got sliced and diced. Our defensive line made Tony Romo look like an MVP candidate. And our MVP caliber quarterback, well he looked more like Tony Romo. This was a classic case of 'who wants it more' and the Cowboys clearly had more to prove.
While we Saints fans have some damn nerve sulking over a 13-1 record, I can understand why this loss stung so much. Perfection was within our reach, not to mention the fact that hating the Cowboys is about as innate to Saints fans as an infant's urge to suckle at it's mother's teet. Blemishing our perfect record against them quite simply, blows...right? Well, maybe not.
As a friend of mine so eloquently put it, the mistress of a perfect record is now out of the way. The Saints can now fully commit themselves to the idea of a Super Bowl. They have a monkey off their backs. They have felt the sting of defeat and they've come face to face with their own mortality. Better in week 14 than in round 2 of the playoffs. We can boil this one down to an ego check, one with relatively minor consequences in the big picture of the season. I'm going to go ahead and say it Saints fans: losing to the Cowboys may have been one of the best things to happen to the team in these final weeks.
Whoa. whoa. whoa, put down your tomatoes and hear me out. There's a good chance we'll face this same Cowboy team in the playoffs. You'd better believe Sean Payton, Gregg Williams, and the angelic genius known as Drew Brees will be better prepared to attack them in a rematch thanks to this loss. In fact, take the Cowboys out of the playoff equation. Just think about all the film from this game the team and coaches will be studying in the coming weeks to figure out what exactly went wrong. Beyond that, the media will get off our backs. We're no longer the golden boys of the league, which could significantly help to lessen off the field distractions. All that extra focus will serve us well when we start going against the likes of the Vikings or the Eagles or the Cardinals in the playoffs. Sure a perfect record would have been nice but the Saints' mission should have always been singular: win a Super Bowl.
So, the Saints, much like their fans, will pick themselves up and dust themselves off. With the Vikings now just one game behind them, the team will have a renewed motivation to play with intensity a full four quarters in these final two weeks. As for us Saints fans, well maybe this will inspire us to be a little less obnoxious (oh admit it, you've been taunting your coworker with the Eli Manning bobblehead on his desk since week 6).
There's still much to be proud of and much to look forward to. This may be the end of one winning streak but it could mark the beginning of another one. The emotional surge from this loss could help carry us all the way to Super Bowl. The measure of our perfection will be whether we win a championship game.
That's my story and I'm sticking to it.