Two years ago I decided I would throw every ounce of energy I had into preparing the world for Kate, my little girl who had recently been diagnosed with autism. In doing so, I have neglected myself in many ways. The most humiliating of which has been my 81 pound weight gain. This will come as no surprise to those that know me because, cruelly enough, I cannot hide this as easily as other indiscretions, like my new propensity for wine. I wear it, both literally and figuratively, every single day. And, I absolutely despise myself for it.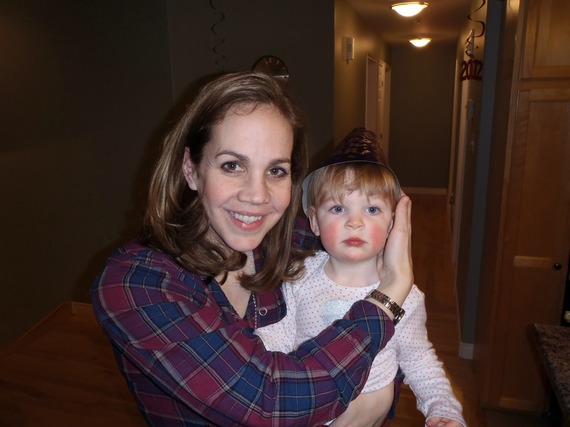 Does that make you cringe? It shouldn't. It hasn't stopped me from working hard and laughing and playing. It hasn't stopped me from loving my kids so hard it hurts. However, it has stopped me from some things that are very important to me. It has stopped me from feeling fabulous. It has stopped me from having that spring in my step that comes with feeling great in your clothes. It has stopped me from keeping up with my very active children and even more active husband. It has stopped me from traveling down south and enjoying the sun and the sand and swimming at the local pool. It has stopped me from showing my daughters an example of the confidence I would like them to exhibit throughout their lives. And to be fair, I have absolutely no idea what to do about it.
Of course, I understand the logistics of losing weight. In fact, I have been dieting for as long as I can remember. I know the buzz words and phrases that go along with a lifetime of trying to lose weight. Lifestyle, not diet, right? Eat less, move more. Ignore the scale. Smaller portions. Everything in moderation. I won't bore you with more, as I could easily fill the Internet. This billion dollar industry is well-ingrained into my brain. I know what to do. I really, really do. Your suggestions of what to eat and drink and when and how to exercise are not lost on me. I understand that those things will, in fact, make me lose weight and become an all-around happier person. I just can't seem to do it. Do you understand that I am not lacking in to the information on how to do it? I am lacking in the will to do it.
I'm not sure why I could commit to post graduate studies without hesitation because that sure as hell sucked. I am not sure why I could commit to blogging all my flaws for the world to see because that's no picnic either. What is stopping me from committing to feeling great?
Can I posit that this weight gain be as symptomatic of autism as Kate's flapping? Can I blame the changes and the challenges our family has experienced over the last two years? Am I tired, or lazy, or a dangerous combination of both? If you think I am blaming Kate or autism for my weight gain you'd be wrong. Pay attention. I understand that correlation does not equal causation. I am simply sharing what runs through my head. If anything, I have very clearly used little Kate's diagnosis as a reason to give up on taking care of myself. It's as clear as day to many of you, but it took me a little longer to see it. Isn't that always the case?
It's a shame though, that as far as I've come and the successes I've had as of late, that I can't get this particular monkey off of my back. If food, and inappropriate food at that, is my weakness, surely there are better addictions to have? Could I not be addicted to flossing, instead? Or hummus?
I've joked to my husband that I have been working hard to gain this weight because editorially it would make for a fantastic before and after piece. It doesn't really matter, though. This is one problem I won't be talking (or writing) my way out of.
So, in sharing this today I was hoping that maybe you might have some words of wisdom or commiseration for me. I could use both right now.