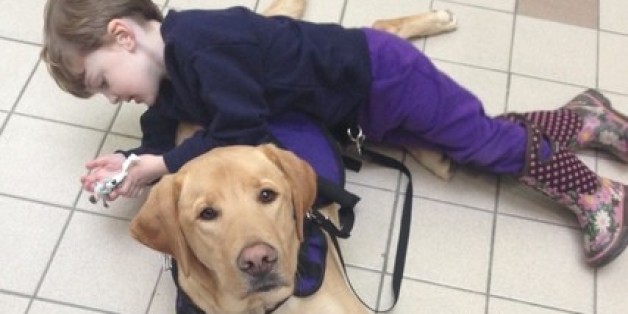 Dear Oakley,
Isn't this Autism Service Dog thing really a racket? Frankly, I am sick of hearing about it.
Sincerely,
Charles "I'm still not sold that autism is anything more than bad behavior" Dickson

Dear Chuck,
Obviously, autism has yet to touch your life, but with a number like 1 in 68, you're sure to be touched soon. It's going to hurt, too. It's going to hurt really bad; especially because the guilt you'll feel for never allowing yourself to understand this complex disorder will overwhelm you. You're done having children (I hope) and thankfully, all your children are fine and even successful for many reasons. I'm sure you credit their stern upbringing for their successes, while I'm sure they don't. When they have children I sincerely hope you don't have to hear the words: "Dad, I think there is something wrong with my baby," because Chuck, that's going to crush you like you could never ever imagine. And if that happens, Chuck, you'll do anything and everything earthly possible to help that perfect little grandbaby of yours get by in this world, including getting a service dog like me.
Best,
Oakley
Dear Oakley,
Why should you be allowed in public and in schools? What if my child is allergic to you? What then? Are Kate's needs more important than my child's needs?
Sincerely,
A Concerned Parent
Dear Concerned Parent,
My girl, Kate, uses up every ounce of her little body's energy to navigate a world that seems strange to her. Her brain is wired differently and much of what we take for granted can be physically and mentally anguishing for her. We refer to her energy as tokens. A birthday party, for example, may take 40 of her 50 daily tokens. A visit to the grocery store may use 25 of those tokens. Many days, simply negotiating her day can use up many more than the 50 tokens she has available. Sometimes that little ninja will be so confused and so overwhelmed by what is expected of her that she'll cry four times before noon. That is where I come in. I will help her hold onto those tokens by keeping her safe and calm in environments that her brain cannot make sense of. Furthermore, I keep that little girl safe from elopement (running off) which is extremely common in children with autism. She is anchored to me (literally and metaphorically) and I won't ever let her go.
Now, to answer your question: I'm sorry, what was it again? Your kid has allergies or something?
Best,
Oakley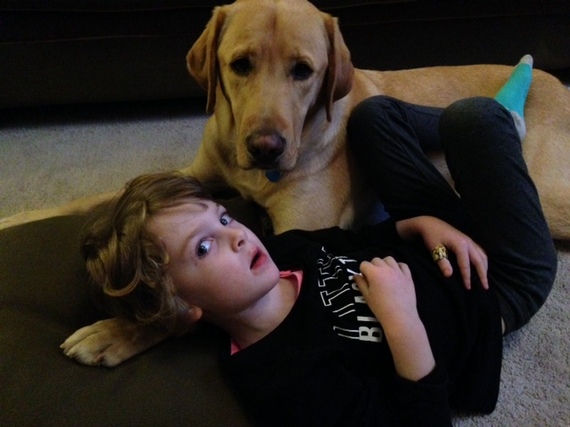 Dear Oakley,
How do I distinguish Kate's bad behaviour from her autism?
Sincerely,
Joan "Why is she so bad" Vaughan
Dear Joan,
Kate exhibits behaviors at times and some of them may seem terrible to you, but as long as I am around, she will not be defined by them. Her behaviors are a manifestation of her utter confusion with a world full of people that won't take the time to try and relate to her. She is Kate, a little girl who loves ninja turtles and superheroes and hugging. We spend far too much time talking about what she does that is considered "bad" or "wrong." I think you can tell by the look on our faces in this photo that we don't want to hear it anymore. Why don't you ask me about all the cool things we do? Or you could ask me what I love most about my girl. It's her hugs, by the way. She has mastered the art. Maybe that's exactly what you need?
Best,
Oakley.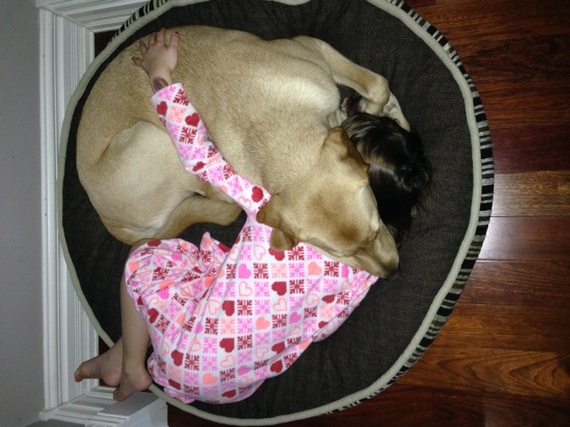 Dear Oakley,
What about Kate's sister, Grace? It seems cruel to keep her from the dog in her home. What's the point?
Sincerely,
A. Softy
Dear A. Softy,
I get it, I really do. It does hurt Grace's parents to watch her shrink sadly back while I do my job with Kate. Just so you know, Grace finds ways to spend time with me, even if she isn't supposed to. Worry not, though, Grace's parents have weekly "Gracie Nights" where the focus is entirely on her. She lives for these nights and it is great fun to watch her bask in the attention she so greatly deserves. In fact, her parents even bought her a cat to make sure she didn't feel left out when I arrived. It's a sad consolation prize if you ask me, but she seems to be thrilled with her strange little cat.
Best,
Oakley