8.19.2014/ 6:30 p.m./ Lower Manhattan
It's hard to describe the trepidation one feels when purchasing a gas mask for the first time.
As I sift through the options, the disturbing images that have flooded the nation's TV screens for more than a week flash through my mind: the countless expended canisters of tear gas, the riot gear-clad military personnel, the fury that flashed in the face of the policeman cameras caught screaming to the peaceful crowd who had assembled to protest the killing of an unarmed teenager just steps from his grandmother's home:
"Bring it, you animals... I don't give a f***!"
I shudder at the memory of his rage and add safety goggles and an empty spray bottle to my cart. I'll use the latter to carry the mix of Maalox and water that helps to restore vision if you're hit.
I'm in the midst of Manhattan as I assemble these items, nearly 900 miles and a world away from the uprising in Ferguson, Mo. I notice the head of a fellow customer jerk back in surprise when I ask the hardware store staff about which of their products is best suited to fight off the effects of tear gas. I guess somewhere inside I'm a little surprised too... I file this under things I never thought I'd have to do. When I get home I pack my new purchases, my freshly-charged camera and computer and a change of clothes into a small waterproof backpack. I won't carry anything else.
It may seem crazy that I'm voluntarily choosing to enter a zone where any of these protective preparations are necessary, but as I've spent hours on my couch in Brooklyn watching the coverage of this situation, it just feels like I can and should do something more. This is a moment that deserves witness and work. I need to be there.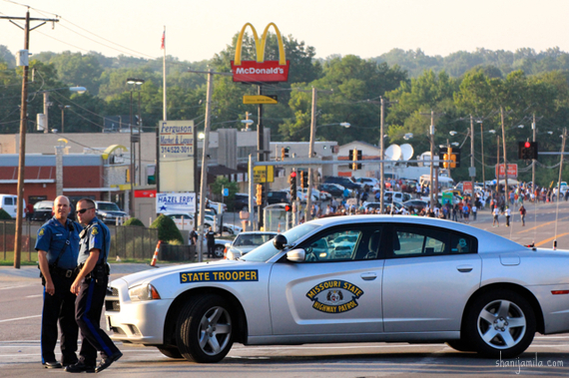 10:00 p.m./ My apartment in Brooklyn
I talk with an attorney friend who recently made the trip to ask her what it was like, and discuss how I can use my background in human rights and the arts to be useful. She connects me with some local organizers and warns me not to underestimate the volatility of the repression taking place. She feels like she has PTSD now.
After our conversation, I can't rest. I tune back into the live feeds streaming from Ferguson. At 4 a.m., I force myself to lie in bed.
8.20.2014/ 10:30 a.m./ Crossing the BQE
I take in the NYC skyline from the backseat of the taxi to the airport, and wonder what will happen before I see it again. Last night friends of mine were chased from a peaceful protest and made to lie flat on the ground as policemen pointed drawn guns at their prone bodies.
My Facebook timeline is lighting up with messages I imagine soldiers might hear as they are deployed to a war zone: "Stay safe." "We need you alive." "Thank you for your service."
Although I recognize the privilege of having a return ticket that affords me the option of leaving in 24 hours, it only takes 24 seconds for s*** to go left.
3:00 p.m./ In the sky between Chicago and St. Louis
Few of my fellow passengers on the plane seem to be talking about the epidemic of violence happening in the two cities we're traveling between. I guess I'd expected that there might be hushed conversations or even loud debates, similar to when I flew back into the country from South Africa in the wake of 9/11. But for so many, these incidents and the systemic inequities that root them only happen on the margins of their lives. They can change the channel, not click on the headline, opt out. And that is a large part of the problem. The young people who are rising up in St. Louis, and the forces that patrol them, know that they've been tracked into a segment of society that is marginalized, criminalized and written off. Mere miles from the gravesite of the plaintiff in the landmark Plessy vs. Ferguson case, their lives are still separate and unequal.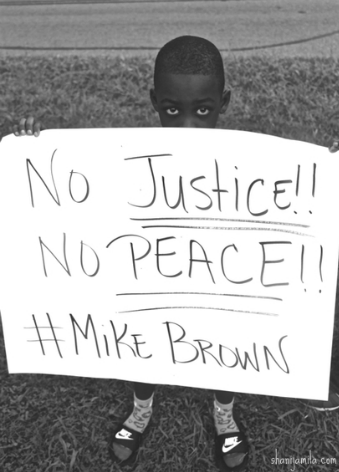 6:00 p.m./Canfield Green Apartments, Ferguson
I'm standing in the smoldering street where Mike Brown's 18-year-old, bullet-riddled body was left to lie in state, while guarded by agents of the state, for over four hours of public viewing. In the immediate wake of his death, it's been reported that police cars crushed the burgeoning memorial and let one of their dogs urinate on the flowers his mother had placed at the site. As scholars have noted, the community trauma inflicted by this series of events was reminiscent of leaving lynching victims to rot in the trees as a warning of the repercussions of resistance. Today, this notion of public punishment operates hand-in-hand with the biggest, largely privatized prison industrial complex in human history, where whole segments of our populace are secreted away. This is what I know. What I feel is a profound sense of sadness. For Mike Brown (St. Louis), Eric Garner (Staten Island), John Crawford (Ohio), Jonathan Ferrell (North Carolina), Ezell Ford (Los Angeles), Aiyana Jones (Detroit), Oscar Grant (Bay Area), Sean Bell (Queens) and all the others who've fallen.
I join the steady stream of visitors in whispering prayers for them, for their loved ones, for us all.
8:00p.m./ Greater St. Mark Church, Ferguson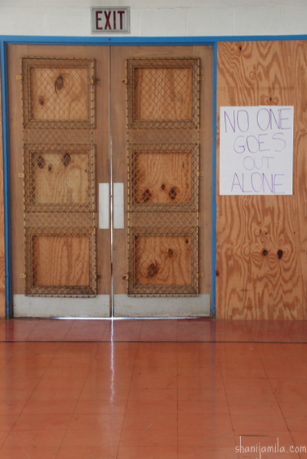 Handmade signs that hang next to the doors of the church read: "No one goes out alone." Those of us who've gathered there write the number for legal counsel in permanent marker on the inside of our arms, and arrange ourselves into small groups equipped with medical supplies. We're advised to keep any protective gear in our bags unless and until we need it, so as not to attract unwanted attention.
The sister hosting me on this trip is six months pregnant. People who've experienced the brutality that happens during the nighttime demonstrations insist that it's too dangerous for her and the baby to be out there -- but staying at the church isn't an option either, as it's been repeatedly raided. We see her safely to her car and head out to West Florissant Avenue, where our call and response chants ring through the rain soaked air of the St. Louis night:
"Hands up! Don't Shoot!" "Show me what democracy looks like... This is what democracy looks like!" "No justice? No peace! No racist police!" "What's his name? Mike Brown!"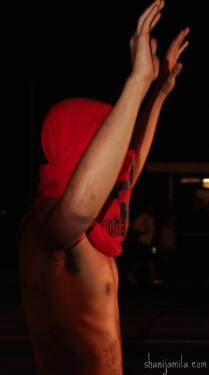 The night that I march is the first one where the crowd isn't gassed or chased away. I'm thankful. But the absence of conflict is not the presence of peace. The rows of armored tanks lining the streets, the military personnel peeking out of the tops of camouflaged vehicles with assault rifles in hand, the flash-lit police checkpoints, the officers that rim the site of our protest equipped with dogs and batons -- these remain.
8.21.2014/ 12:00/ Greater St. Louis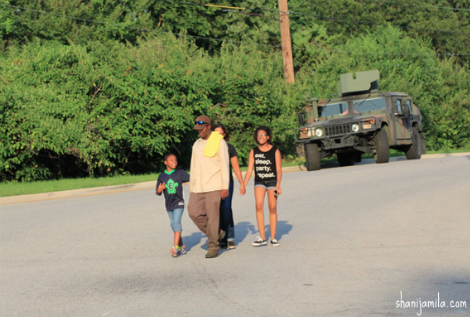 The surreal daytime dynamics we've observed makes it feel like the militaristic occupation of this American town is being sold as a new normal. Soldiers lining up their riot shields in the taped-off Target parking lot. Families strolling past bomb resistant army tanks without a second glance. Earlier, I witnessed a policeman encouraging a young girl to pet the large German Shepherd caged within the police K-9 unit van. I'm dumbfounded by the sight. It stays with me as I travel home.
8.25.2014/ 7:30 p.m./ A brownstone in Brooklyn
The day of Mike Brown's funeral, the Monday that should've marked the beginning of his college career, I participate in a report back from Ferguson for residents of my neighborhood. We discuss the demands issued by local groups like the Organization of Black Struggle and Missourians Organizing for Reform and Empowerment, as well as national groups like the Dream Defenders. We talk about the importance of organizing where we are, in addition to sustaining our support for Ferguson through donations to the Brown family or bail funds for protestors via HandsUpUnited.org. We mull strategies for maintaining community pressure on the authorities responsible for charging and convicting Officer Darren Wilson for the killing of Michael Brown.
8.28.2014/ 6:00 p.m./ My living room, NYC
The clearest lesson of my brief journey to Ferguson is that this a love story... It's about the deep and abiding love of a family for their son and the love of a community for their friend and brother. It's about a people's love for all of our Mike Browns and for the black and brown bodies we come in. It's about the love of life itself. This love is what allows us to make beauty where there was blood.
With signs that declare "I am a man, I am a woman, I am not a number," the people of Ferguson are demonstrating that we have a desire to live -- not simply survive encounters with the police. We want to live. We don't accept that our lives are expendable.
At its core, this is a righteous indignation, a resurgence of the human spirit against atrocious conditions, a claim to the human rights we are all entitled to. I think of the young boy so moved by the flower strewn memorial to Mike Brown that he took off his little baseball cap and added it to the site, while his mother shook her head in pride. I think of how the local residents, even in their mourning, seized every opportunity to affirm their humanity -- to each other, to the visitors, to the police, to the media that now floods their town.
I think of the courageous people organizing peaceful protests night after night. How remarkable it is to push through your grief, repeatedly enter into hostile conditions knowing tanks, guns, batons and gas await you, and to do it with nothing but gumption on your side. But this is our tradition. Through enslavement, Jim Crow, the Civil Rights and Black Power eras, and into the 21st century, Black people have historically shown a commitment to the ideals of the American project and a fierce desire to push this country to actualize them.
As the news cycles have begun to turn, hundreds of new school Freedom Riders from around the country are spending Labor Day weekend in solidarity with the people of Ferguson to show that #BlackLivesMatter. People from around the country have committed to keep a spotlight on these issues, to take collective action against injustice, to declare a communal vision for the future. With the leadership of the Ferguson community, we are driven by love to say "another world is possible" and here is what it might look like.
That love is why, in spite of it all, I believe that we will win.
Shani Jamila (www.shanijamila.com), a Ford Foundation Public Voices Fellow, is a New York-based artist and the Director of the Human Rights Project at the Urban Justice Center. For more information about how to support local advocacy groups and the Brown family, please visit www.handsupunited.org.