Wichita State Shockers "shocked" the country when they beat Ohio State University and gained entry to The Final Four, something they haven't done since 1964.
Even I was shocked, which should come as a shock because I was born and raised in Wichita, my dad went to college at WSU, and my brother is currently a student there.
If I had a dollar for every time a sportscaster used the word "shock" to describe the Shockers win, I would be shockingly rich.
But shockingly, there is one person who is not shocked right now: my father.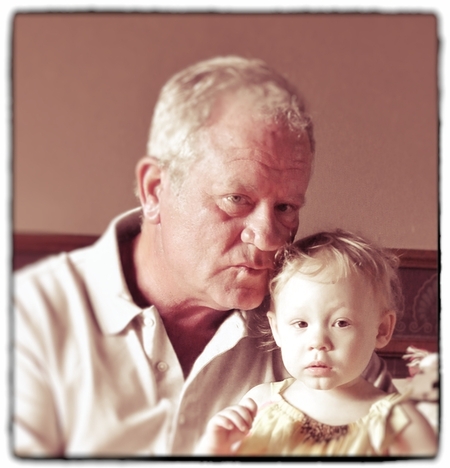 My father is a proud and unwavering fan of everything Wichita State. He believes they have the best tennis team, business school, basketball team, theater program and cafeteria food. I, on the other hand, am not. Calling me a fair-weather fan would be too nice. I don't care one way or another about the school and only watched them decimate Ohio State University because I knew the game was important to my father.
Despite this I do remember the first Shocker basketball game I ever attended. I was very young and did not want to go. I didn't understand why my dad was dragging me to a game for an unimportant basketball team. All my classmates went to games for cool colleges like the Kansas Jayhawks. I had a busy schedule of playing with my new My Little Ponies beauty salon. I went reluctantly but only because my Dad told me I could bring my favorite astronaut My Little Pony along. We sat in a tiny and mostly empty stadium. I was happy it was empty though because that meant my astronaut pony got her own seat.
I don't remember the details of the game but WSU lost. My dad started throwing his popcorn and soda around. He was livid. Then he slammed the seat next to me shut and my astronaut pony fell out of her seat and into the bottomless pit of bleachers. I was really upset but didn't say anything to my dad about it. I didn't realize how much the game meant to him and felt bad for pouting the whole time.
As I grew up, many things in my life changed but my father's love for the Wichita State Shockers remained constant. I eventually moved away for boarding school and college but when I came home for Christmas I always went to a Shocker game. They got a fancy new stadium and even won some games but I still never understood why my father cared about them so much. Then my step-mom joined the Board of Directors. She's British and didn't even go to Wichita State University. Why was she so invested?
This year my father's Shocker love created two fights in our family. When I went home for the holidays we decided to have a family get together the Saturday before Christmas. It worked with everyone's schedule except my father. He would have to miss a Shocker basketball game. We had already made the plans and couldn't change it so my father asked if we could make sure we all finished dinner and opening presents by 6:30 pm on the dot so he could attend the game. Then he suggested that we all go to the game together and let my 22-month-old daughter open her Christmas presents during the game. I got frustrated and jokingly said next time I fly to Kansas with my toddler for a visit I will make sure it doesn't conflict with the WSU basketball schedule. With a look of stone-faced gratitude my father thanked me.
The Shocker drama between my father and I came to head when he flew in town for my daughter's second birthday. After her birthday party he rushed home to get started on his bracket. He put down that Wichita State University would take it all. My sister called him and asked him to change his bracket and make it more "realistic." He refused.
After that, my dad continued to spend the night after his only grandchild's birthday arguing with my sister about Wichita State basketball. I decided I had to figure out what the big deal was. There had to be something I was missing and I needed to get to the bottom of it. Who knows maybe if I discovered why my father loved the Shockers so much I would understand him better. I did some detective work and came up with a couple of theories.
Theory One: Coach Gregg Marshall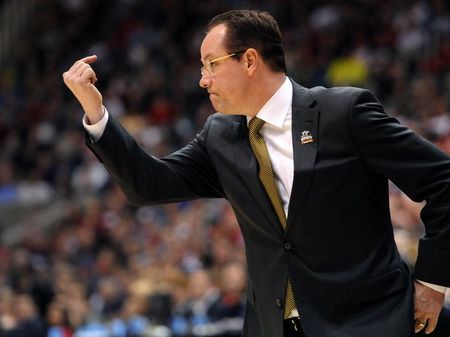 While I may not be a sports expert, I love a man with unique and dapper style. It's commonplace for college basketball coaches to wear ties that incorporate their school's colors but it usually stops there. But not Coach Marshall, he loves his Shockers so much that he went out and bought yellow frames for his glasses. Glasses are not cheap so to buy a pair to show support for your team takes commitment and confidence. Maybe Coach Marshall's special yellow glasses were infecting everyone with a strong dose of Shocker pride? While this seems highly unlikely the drama student in me loves this idea.
Theory Two: WuShock
First off, I would like to take advantage of the fact that Wichita State is in the national news to explain to everyone the awesome mascot that is WuShock. He is not hay, electricity, corn, a banana, or the angry bastard child of a yellow M&M and a rubber ducky. In the early days of WSU, students would shuck wheat to make extra money. A mascot was created to honor this. WuShock is a shock of wheat, in a black sweater, who spends his spare time lifting weights and cheering for WSU. While many colleges just choose a ferocious animal as a mascot Wichita State created their own. My big dream is that when all of this March Madness is over, I will never have to explain WuShock ever again.
That being said, isn't WuShock kinda cute? You have to admit he has some charm to him. Maybe WSU's mascot was why my dad loved his Alma Matre so persistently? But then I remembered my dad and well let's just say he's not the kind of guy who would fall asleep cuddling a stuffed WUShock.
Theory Three: Family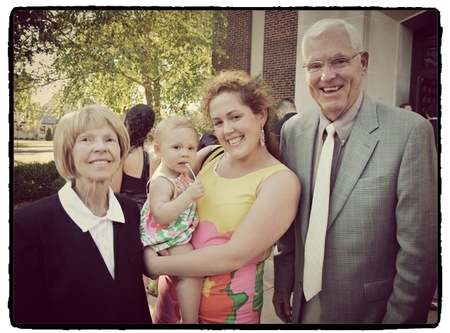 Three hours after Wichita State got their spot in The Final Four; I finally got to talk to my father about it. He was thrilled and thanked me for talking about the Shockers on facebook and twitter. The joy in his voice started to remind me of how even though I never attended Wichita State University, it has always been present in my life.
In the picture above, I am holding my daughter next to my dad's Wichita State football coach Chuck Ramsey and his wife. We had just attended the wedding of two Wichita State alums. I didn't know it at the time, but this would be the first time my daughter would see Auntie Pat and also the last. I am not related to the Ramseys but I grew up calling them my aunt and uncle. They were really fun and always supported my new adventures so I never questioned the title. Then for some reason after WSU's victory I started to wonder about this relationship and knew this must be part of why my father loves Wichita State University so much.
See my father played football for Wichita State back when they had a football team. When he was an underclassman there was a plane crash. I don't know the details of this tragedy because my father doesn't like to talk about it. I do know that 31 people died in the crash and Wichita State no longer has a football team.
I grew up going to a memorial for the deceased football players every year. I drove by the old abandoned stadium on my way to ballet class. I wasn't even alive when the plane crash happened but it affected me, as I am sure it has affected everyone who has lived in or grew up in the community.
Despite this terrible loss, my father and his classmates moved on. My father started his own company and has five kids and one grandchild. He has accomplished many wonderful things and endured many obstacles. He did all this with the family he created while he was at Wichita State University by his side. I graduated from college just seven years ago and I'm not in contact with even one of my college professors or coaches. My father's football coach was there when he got his first job out of school, when his kid's were born, when his mother died, when his daughter married and many of life's other major milestones. He was there for my father even after he was done being his teacher and coach.
And there you have it, my father's Shocker obsession explained or at least to me, his eldest daughter. Wichita State University turned out to be what many of us hope our college will be when we step foot on its campus the first day of freshman year; a second family that prepares us for life outside of school and stays with us even after we receive our diploma.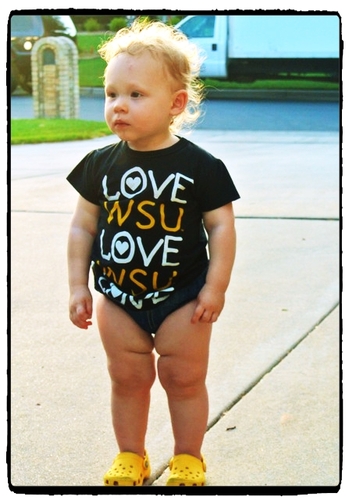 My dad received this and more from Wichita State and his children have benefited from it and last night as I watched my daughter cheer on her grandpa's team I realized she is benefiting from it as well.
So next time I am in Kansas and my father asks me if I would like to go to a Shocker game I will gladly say yes and wear my yellow with pride!
Go Shockers! May no one ever doubt you again.