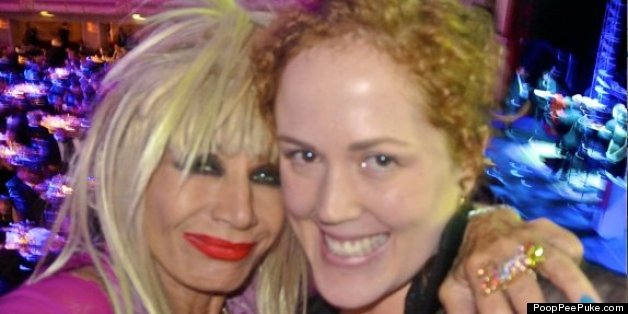 The first time I walked into a Betsey Johnson store I felt like I was home.
I was on a trip to Washington D.C. with my parents and I convinced them that we needed to take a break from sightseeing to go shopping. I lived in Kansas and my fashion options were limited. As we were walking through Georgetown I saw some neon lights with a picture of a woman in a tutu. I was interested and walked in. The black and white tiles, sequins, and surplus of pink entranced me and from that time forward I was a Betsey Johnson addict.
I begged my mom to buy me something from the store. We eventually settled on a simple green dress with a matching sweater and hat. I was only in fifth grade and the dress didn't fit me at all. I told my mom that this was a good thing because I would be able to wear it longer.
When I got home, I wore the dress to school and the second my classmates in Kansas saw me they made fun of me. I was so embarrassed that I threw the dress away. This is one of the few regrets I have in my life. I should have saved that dress! It would be special to still have my first Betsey dress. Luckily, this dress tragedy taught me an important lesson. Ignore other people's opinions and do what makes you happy. The ironic part is I have seen the same girls that made fun of me in middle school wear Betsey as adults. So either I was ahead of my time, they were just jealous or finally realized how awesome Betsey's designs are.
I wasn't able to purchase anything from Betsey again until I was in college. When I discovered my NYU dorm was within walking distance of her SOHO boutique I couldn't believe it and ran as fast as I could. I was nervous. What if things had changed? Lucky for me they hadn't and I felt the exact same feeling of wonderment as I did the first time I entered a Betsey Johnson store.
It's hard for me to describe that feeling. Walking into a Betsey Johnson store is like entering an alternative universe where grown-ups stay cool and do cartwheels in glittery tutus. No one has the time to be bothered by other people's opinions because they are too busy being fabulous. What I wouldn't give to live in a Betsey Store!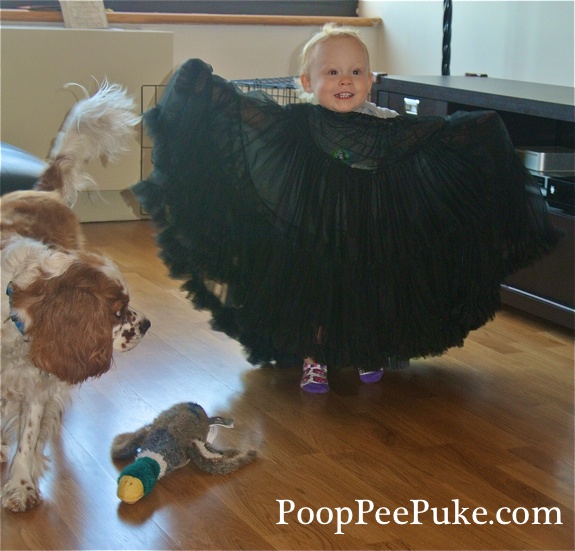 In college, I volunteered at her Fashion Weeks shows so I could watch my hero in action. When my husband proposed to me, he gave me an autographed picture of Betsey before he gave me the ring. When I got married I wore Betsey shoes. When I gave birth to my daughter, I wore a Betsey robe and socks around the hospital. When my daughter plays dress-up her outfit of choice is the Betsey Johnson tutu I sport at Mommy and Me ballet class. When I talk about Betsey Johnson I often refer to her by her first name, as if we are long time friends. That's what's so great about her; Betsey's unique designs have made women and young girls all over the world feel like they are her best friends. You don't have to look at a tag to know a dress was designed by Betsey.
So when I found out Betsey's stores were closing I went through a bit of a depression. I had always imagined I would take my daughter on a special mother/daughter date to one of Betsey's stores to buy her a graduation dress. I would lounge on a glamorous pink and leopard print chaise while I watched my daughter try on wonderful confections of tulle, ruffles and of course glitter! I may have cried when I heard her stores were closing. Ok, I cried a lot. I cried so much that my husband had to create a special "Betsey Johnson Emergency Fund" that we used to purchase tons of Betsey Johnson items.
It made me feel a little better. Later that month I attended a charity event covered in Betsey Johnson. I wanted to show off all the awesome things I had bought with my fund. Then my husband told me he heard that Betsey Johnson was at the event. So I ditched my date to go hunting for my idol.
Yes, I know I am starting to sound like a stalker. But can you blame me? No one can make you feel like a ballerina badass quite like Betsey.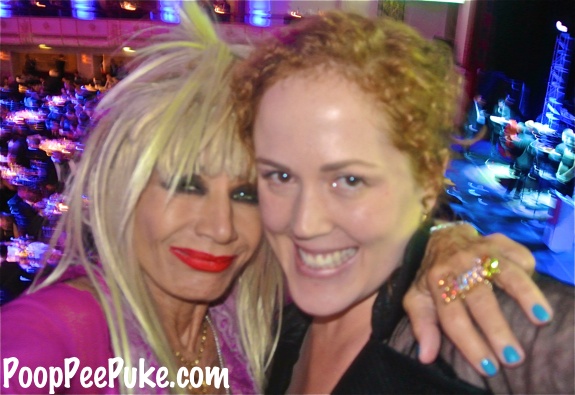 Luckily, I was wearing my Betsey Polly shoes. I don't know how these sky-high heels are comfortable but they are and eventually I found her and when I did I smoothly screamed, "Oh my God, Betsey I love you!" She invited me to her table and I talked about how much I love her and she talked about how much she loves her grandkids. Betsey was even more awesome than I had imagined and she even took a picture with me!
I was in a giddy mood for the rest of the summer but something was still missing. I thought meeting my hero would make me feel better about her store closures but instead it left me wanting more Betsey. A couple months later I found out she was doing a reality show. I was happy, but it wasn't until I learned that the show also starred her daughter Lulu that I became truly excited.
So this Mother's Day, after my daughter was in bed I sat down and watched my idol's new show XOX Betsey. It was fun to see Betsey design, deal with the sale of her company and flirt with younger men. Betsey didn't disappoint and even danced in a gold lame ruffle dress. She was every bit the fiery fashionista I have loved for so many years.
But honestly, Betsey could have napped for the whole episode and I would have loved it. But being a relatively new mom the show stuck a cord with me that I didn't expect. When my daughter was first born I felt some instinctual need to dress like a "mom." I wanted to be accepted in the playgrounds of the Upper East Side of New York so I dressed as discretely as possible. I wasn't able to do this for long and after a couple of months I went back to wearing neon colors and tutus. Seeing a mom dressing and acting the way she chooses is something you don't come across every day especially in the stereotype filled world of reality television. Thanks Betsey for being you!
Near the end of the episode I started to get a little teary eyed. How could I by crying over a reality show? Especially because I notoriously hate reality shows! Then when Betsey and Lulu went to mother-daughter "couples therapy" I realized why this show is so unique and special. Many reality shows are all about showcasing how perfect the stars life is a la MTV cribs. It's hard for me to relate to this, which is why I tend to not watch reality TV. XOX Betsey isn't about that; it's about a mother and daughter who above all love each other dearly and are too busy being awesome to worry about trivial things like perfection. Whether it's Lulu's crayon masterpiece covered furniture, Betsey's nervousness about being bought by Steve Madden or their quarrels about needlepoint, they are two working moms who for better or for worse stick together and do so while looking utterly glamorous.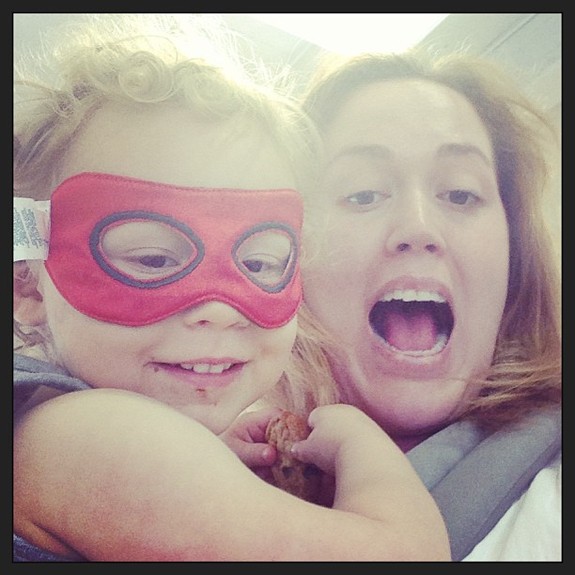 XOX Betsey provides a great example for mother and daughter duos. My only complaint is that Betsey and Lulu should sport dinosaur masks. Then I could get my 2 year old to stop watching Dinosaur Train and cuddle up next to me and watch XOX:Betsey! But my husband just informed me that a T-Rex's short arms make it really hard to do cartwheels so I guess we better leave the cartwheels to the pros!