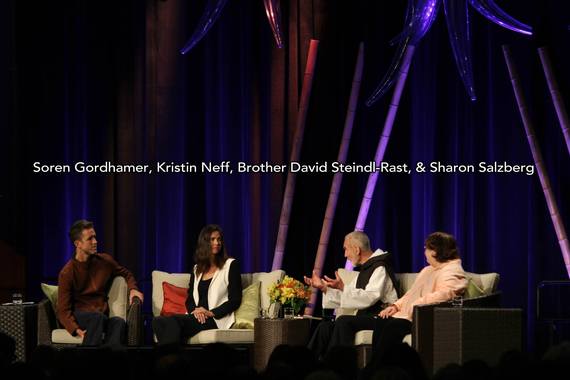 I observed new currents in the business and technology world when I attended the Wisdom 2.0 conference on Feb. 14-17 in San Francisco. In addition to escaping the heavy winter in Michigan, I was most excited to learn what thought leaders have to say about the role of wisdom in technology and business. The conference started as a 300-person event in 2009 and has evolved into a movement of mindfulness practitioners committed to transforming global awareness of the responsible use of technology and ethical business practice. This year, Wisdom 2.0 was a 2,000-person sold-out event.
I was inspired and affirmed to see so many like-minded individuals and organizations working toward a unified and more compassionate, loving, conscious and joyful world. The event brought to light for me new currents of our time, as well as ideas about where I think we could be headed with this electrifying buzz of wisdom.
One of the new currents of the digital age is that it is not monks, chaplains, imams, ministers, or counselors that are leading spiritual practices. Mindfulness pioneers like Joan Halifax and Jon Kabat Zinn have been helpful guides and resources to executives from corporations like Google, Intel, Facebook and Medium who led mindfulness practices during the conference. These executives are not only dedicated practitioners themselves, but are also rolling out these practices in their organizations to help with stress, create a happier and more productive workforce and boost employees' concentration.
What was most phenomenal to me was to have someone like Arianna Huffington lead us in a short mindfulness practice. I had always admired her for her business accomplishments, but to have her share her journey into this sacred world and how it has transformed her life was inspiring. She not only called on everyone to consider reflecting inwards more often, but also to take it out into the world. As she noted, now that we have the science to validate what we have known for millennia that life is shaped from the inside out, let's make it a practical reality.
The second current that I noticed is an emerging community of business leaders introducing a new model of business based on love and compassion. This community sees business as a force capable of solving the world's challenges. In Arianna Huffington's words, we need to change the language to "put people and planet alongside profit in decision-making."
Furthermore, while interacting with a successful young entrepreneur during the conference, she said, "I believe this is it. The next chapter of business will be shaped based on doing good for the planet and people and outsmarting technology by learning to consciously disconnect from it." Some in the conference also proposed having love as the new bottom line.
The third current that I noticed from the conference was this desire to be grounded in reality and take practical actions. While movements of change are slowly emerging, the world is far from a perfect place. How might we direct this idealistic energy and sense of goodwill to address suffering and inequality? In the Mission District, where the conference was held, hundreds of homeless people sleep on the sidewalks of one of the world's richest cities. Income inequality is at record high. Moreover, we often do not consider that the products we purchase might have been produced by a forced or trafficked child labor. We all, in some way, contribute to this reality.
This experience made me realize that mindfulness is not just about being present in the moment, feeling good, productive or living a happier or healthy life. It is also about being aware of our connection to a broader reality in which one's actions ripple out, affecting others: We should be consciously aware of how our privilege -- or lack of -- informs our worldview.
In order to take our wisdom to the next level, it is critical that we ground ourselves in this larger reality that includes an awareness of our connection to the world. Be aware and receptive to different perspectives, knowing they are formed by often vastly different experiences. In other words, our wisdom lies in being constantly aware of the fact that wisdom is a work in progress.
Note: Shairf Azami is a Program Officer at the Fetzer Institute, a Wisdom 2.0 sponsor. These views are his own.