Can you believe The Colbert Report is almost over? The final episode airs Dec. 18, which means it's approaching even faster than Christmas itself (by exactly a week).
If someone you know will be going through major Colbert withdrawal soon, put some truthiness under the tree with these Colbert-related stocking stuffers.
Official Colbert Report knit cap: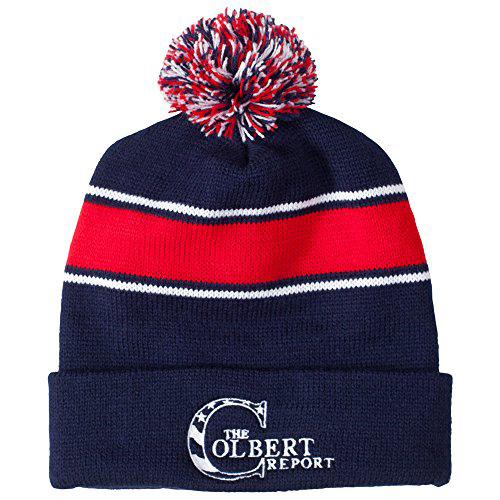 The weather outside is frightful! Stay warm with this knit cap (or "toque" as those ice-holes in Canada call it) with the Colbert "C" embroidered across the front. Long after the Report becomes a distant memory, the "C" can stand for "cold" or "chilly" or "can it be spring now?"
DonorsChoose.org gift card: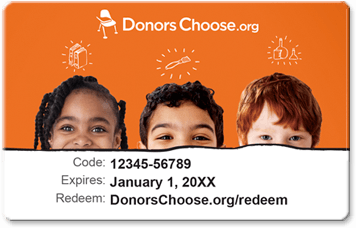 Do some good! Little-known fact: Stephen Colbert gives one of these gift cards to all his Colbert Report guests, so they can help fund classroom projects across America. He's sat on the DonorsChoose.org Board of Directors since 2009.
Bears & Balls: The Colbert Report A-Z: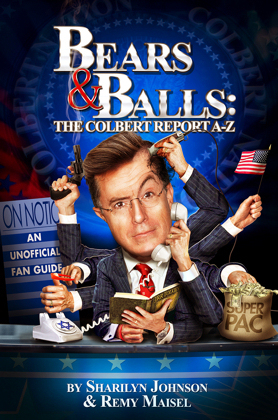 The ultimate walk down memory lane! This encyclopedia-style fan guide covering nine years of the Colbert Report is so packed with facts, even the most patriotic members of the Colbert Nation will learn a thing or two.
Desolation of Smaug (Extended Edition):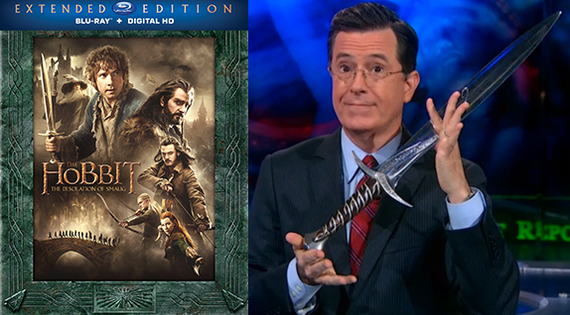 Every true Colbert fan knows that he played the Laketown Spy in The Hobbit: Desolation of Smaug. But in the extras of the newly-released extended edition, we get to see something even better: Colbert gleefully nerd out as director Peter Jackson presents him with a replica of Sting (the Elvish sword), which he later brandished on the Report.
Pistachios: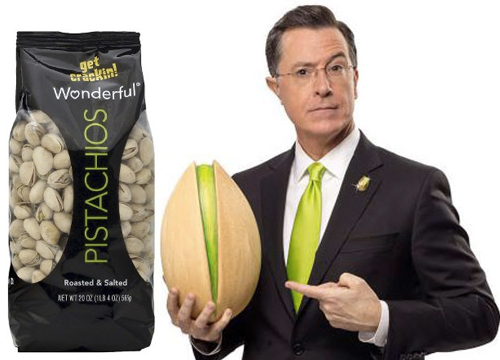 Wonderful stocking stuffer! We don't know what will happen to Stephen's series of commercials that premiered during last year's SuperBowl, but we can thank that wonderful nut for turning America on to that other wonderful nut.
Hand-painted pilsner glass: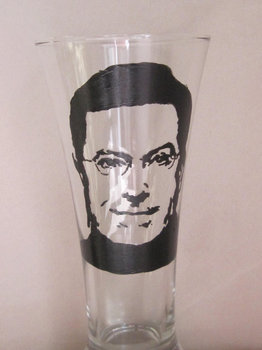 Thirsty? The Report deserves to be toasted, and if this one-of-a-kind glass isn't perfect for the occasion, nothing is. Consider filling it with Stephen's libation of choice: Bud Light Lime.
Brooks Brothers tie: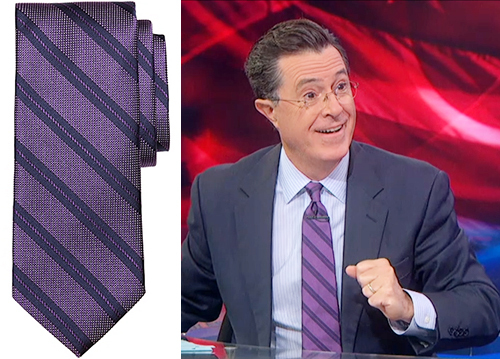 Wear your fandom proudly! Brooks Brothers has been Colbert's wardrobe supplier ever since the show premiered in 2005. Give the gift of classic made-in-America style, in the form of this purple Oxford twill number he wore on the Oct. 30, 2014 episode.
Fans may be sad that Colbert's wrapping up his show, but they'll be thrilled if you wrap up any of these!