"Be prepared."

"A stitch in time saves nine."

"There's no time like the present."
Taking those "do it now" proverbs to heart should prompt you to set about booking a trip to San Diego in September or Miami in May to attend one of AARP's "Life at 50+" national expos.
It's never too late to start confronting the process we're all constantly undergoing as we all are getting older day by day. The recent May expo in Boston was not only fun and entertaining, but illuminated why people of all ages can benefit from thinking now -- and ahead -- about the future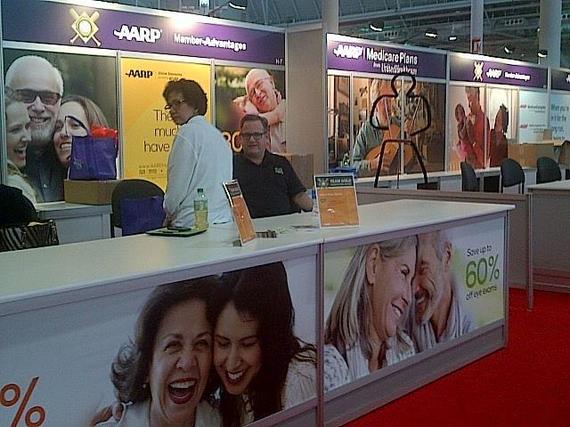 Exhibitor booths in Life at 50+ convention hall.

Chock full of well organized and overlapping exhibits, lectures, panels, volunteer activities, seminars, networking, and concerts, the expo was easily an all-day affair. Add visiting local sights to the itinerary and an "expo expedition" is a sure-fire active and informative vacation.
Here are five attractions that enhanced the three-day expo.

Information:
From tutorials on social media, to on-site tests for blood pressure and glucose, to tip sessions on care-giving, travel, managing finances, using the internet, "Life@50+" equips you to stay healthy, active, involved. Experts tested our glucose levels, listed items an "all-inclusive" resort should include, told "money rules" for meeting retirement goals, imparted tips on dating after 50, showed us how to use EMOJIs on our smart phones.
Besides scheduled sessions, an exhibition hall with over 250 exhibitors featured medical, technology, travel advice along with booths on ancestry tracing, collecting unclaimed funds and bird watching!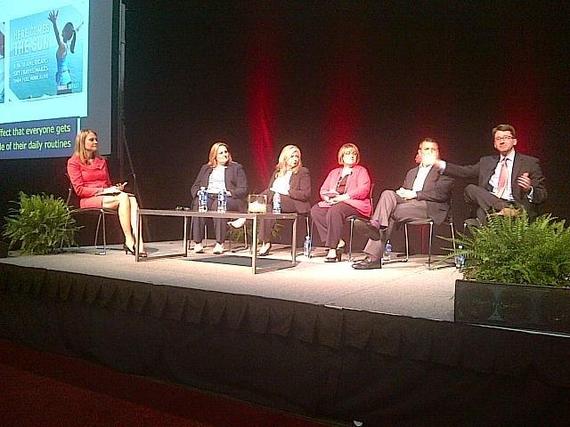 Travel experts share vacation tips.
Celebrities and notables on stage, shared "growth" experiences. Former First Lady Laura Bush advised the crowd to carry out intentions -- "Are you going to keep things on your to-do list forever?" Citing the former president's new "career" as an artist, she emphasized that you can teach an old dog new tricks. In conversation with Whoopi Goldberg, Jay Leno recalled sleeping on backstage steps while working his way up to the Tonight Show. Linda Ronstadt described how she copes with Parkinson's disease, and basketball legend, Bill Russell, Somali pirate survivor, Captain Richard Phillips, and Boston Marathon bomb survivors, Jeffrey Bauman and Carlos Arredondo, recounted how they adjusted to dramatic changes in their lives.
The "Movies for Grownups" Film Festival screened new release Million Dollar Arm and other shows, starring Michael Douglas, Robert Duvall, Tom Hanks. Evening concerts were highlighted by the Moody Blues, the Spinners and Mary Wilson of the Supremes.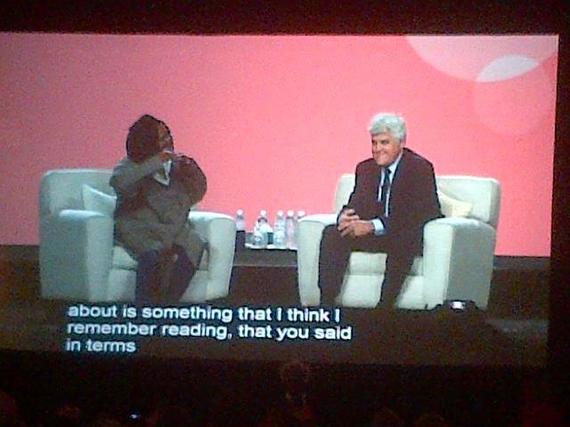 Whoopi Goldberg and Jay Leno in conversation on stage.
Games, Gifts and Bargains:
Participants filled gift bags with pedometers, eyeglass repair kits and cleaning cloths, squeezable stress balls, yoyos, foldable Frisbees and fans, ear phones, flashing ball point pens, headdresses and lapel pins. Besides the giveaway loot there were raffle drawings for computer tablets and laptops. At the travel panel session, $250 gift certificates on Norwegian cruise lines, overnight stays in Hilton hotels, weekly rental cars were among the door prizes with one attendee winning a full week all inclusive stay in the Riviera Maya.
Exhibitors Hilton, Dunkin Donuts, Liberty Travel, Houghton Mifflin, Best Western, Avis were on hand reminding participants of discounts, upgrades and special rates their brands offer to AARP members.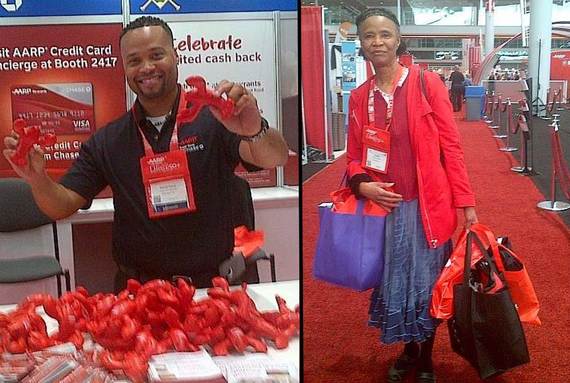 Exhibitors offer giveaway goodies and participants collect bagfuls of souvenirs and information.
A large section of the exhibit hall was partitioned into a space where volunteers packed meals for the Greater Boston Food Bank to distribute to the needy. Therapy dog Pransky stole the show from emcee Soledad O'Brien as her owner author Sue Halperin described the rewards of their weekly visits to nursing homes.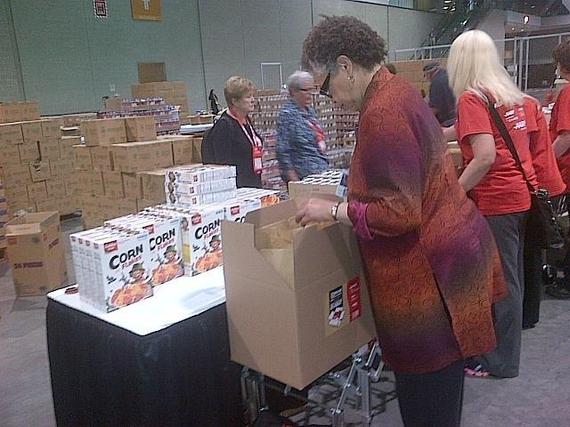 Costumed choristers and Mayor Martin J. Walsh welcomed participants to Boston with invitations to visit the nearby museums and to take a stroll along the Freedom Trail.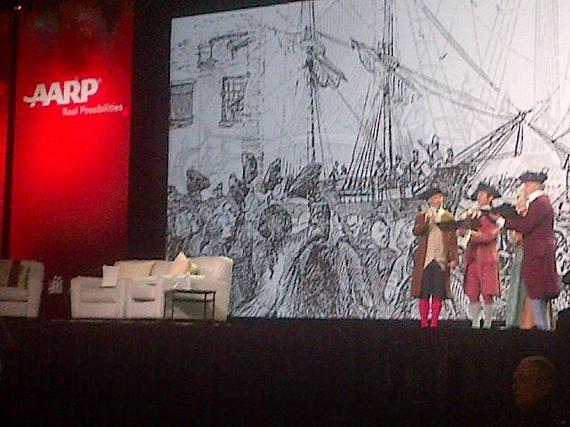 Visitors to San Diego's expo this fall can plan to visit the city's brand new 12-acre Waterfront Park with its 830 foot-long fountain, plus excursions to Old Town, the Gaslamp Quarter, and of course the famous San Diego Zoo.

Besides the expo next spring, Miami offers its stunning new waterfront Perez Art Museum just opened this year and visitors can watch concerts screened on the facade of Fran Gehry's New World Center just steps from the ocean in South Beach.