More ancient than the hills, yet too new to be listed in China guidebooks, the breathtaking and mammoth Enshi Grand Canyon and nearby Soaring Dragon Cave are only beginning to emerge as major international tourist destinations. American travelers can be "pioneers," among the first Westerners to visit the gigantic cavern and the extraordinary gorge, 60 miles long and 4500 feet in depth, cutting through the mountains of western Hubei province.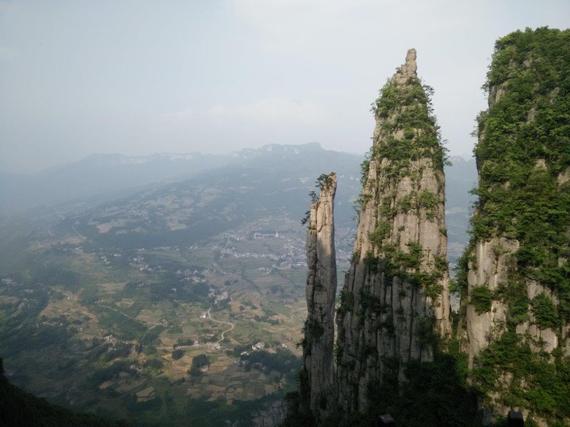 Less than a decade ago, it took more than sixteen hours to travel from the major central city of Wuhan west along primitive roads to the remote mountainous area inhabited by secluded ethnic tribes. Taking steps to improve tribal living conditions, the government set about creating what has become an emerging destination to one of the country's great national parks and what is claimed to be the world 's largest cave now as close as a four-hour 120 mph, high-speed train ride plus hour-long drives onward from the namesake city Enshi.
Arriving at Enshi Grand Canyon, visitors can spend a day or two climbing both down and up -- descending to the foot of the canyon than heading upward to explore it's prominent peaks.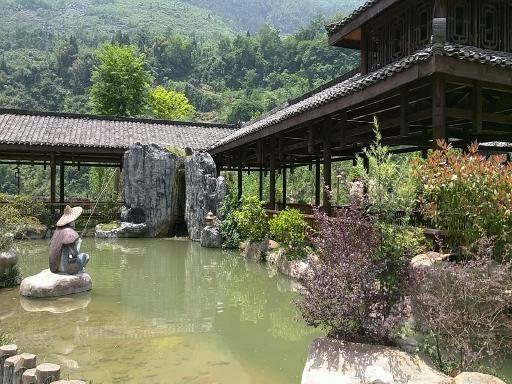 Entrance to the Enshi Grand Canyon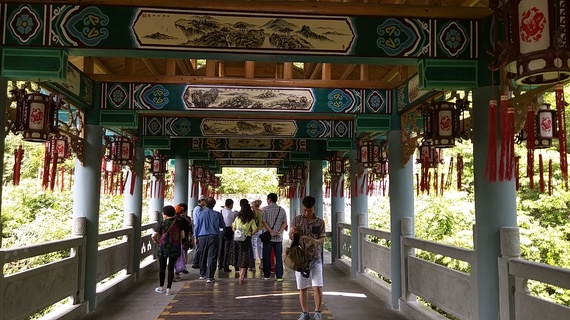 Entering Enshi Grand Canyon Park

From the park entrance midway down the gorge, a walkway leads past lush greenery and numerous waterfalls to the Qinjiang "Clear" River at the bottom.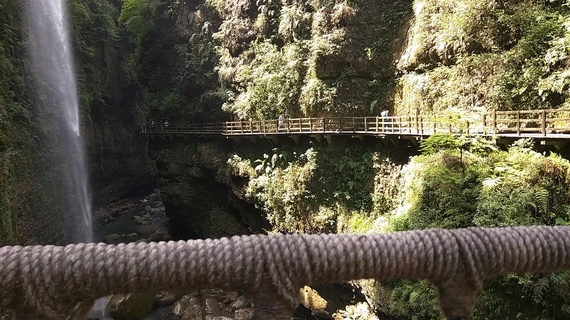 Bridge across the Grand Canyon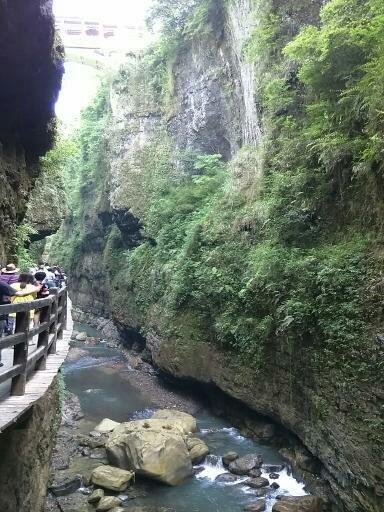 Grand Canyon bottom

Heading upward, a gondola carries passengers to a mid-point from which stone paths ascend farther past prominent landmarks.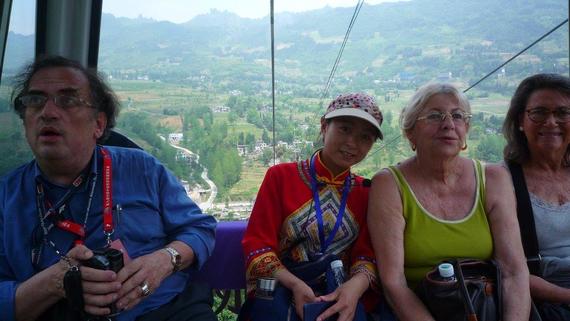 Tourists ascending in gondola
Midway along, hikers walk the Cliff Corridor hugging the side of the ledge toward the "Welcoming Pine" clinging to the edge of a knoll, the outstretched "Sleeping Beauty" rock, "Twin Peaks," and another rock configuration depicting a mother and child.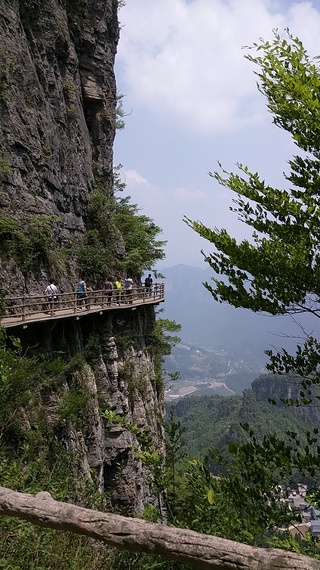 Cliff Corridor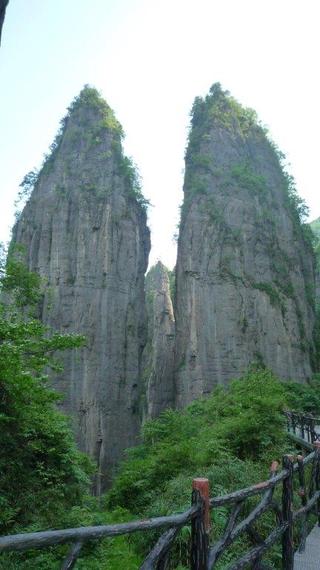 Twin Peaks

One of the trail's most notable landmarks is the solitary isolated column dubbed the "Incense Stick."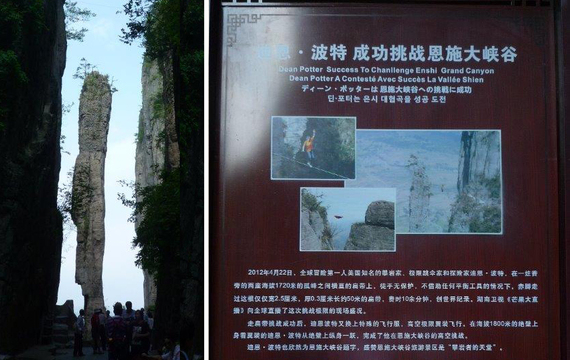 Incense Stick Plaque Honoring Dean Potter
It was adjacent to this pillar that recently deceased American daredevil Dean Potter in 2012 stretched a 150-foot long cable, refused any support, and made a mind-boggling, ten-minute passage across a chasm 5500 feet above sea level.
Trail signs suggest allowing four hours for the hike from the gondola back down to the tourist center, but although the full length is paved, both ascent and descent are strenuous and some hikers hire friendly sedan chair porters to help them along. An outdoor escalator also provides an assist for a portion of the way down.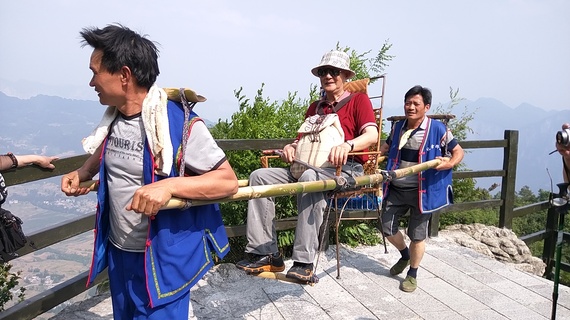 A Comfortable Sedan Chair
Intrepid hikers can trek in and stay overnight at the Xiacuchung Hotel which is perched right on the mountain. Single rooms to suites run around $100-$150.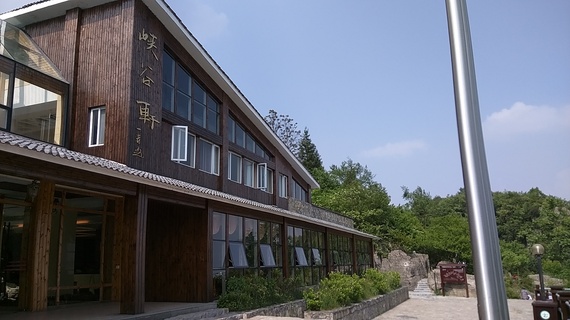 Xiacuchung Hotel
Local residents provide overnight lodging in their homes for around $30 including breakfast. Alternatively, nearby in the emerging Maidens' Village vacation complex travelers find restaurants and accommodations. Named for the local festival where single boys and girls can mingle at the fair, the brand new "village" offers comfortable rooms with balcony views out toward the precipice with rates starting around $100.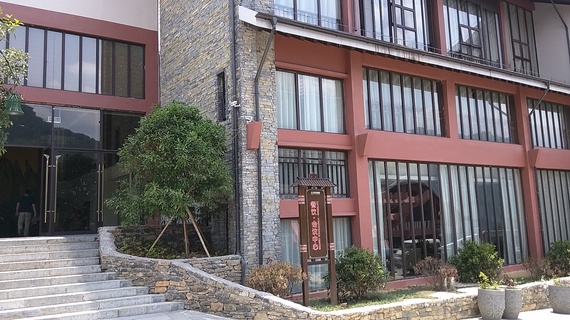 Maiden Village Hotel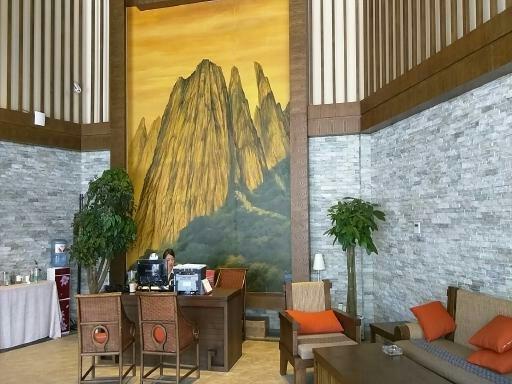 Maiden Village Hotel Reception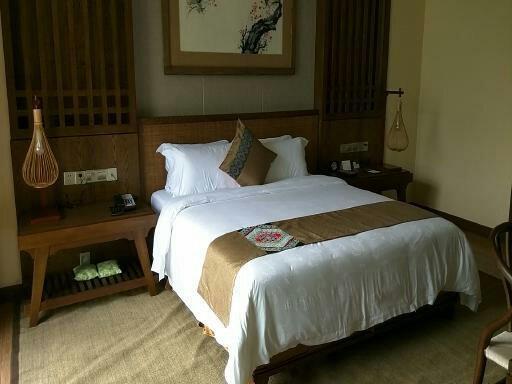 Maiden Village Hotel Bedroom

Currently many tourists chose to stay an hour away in Enshi, the bustling regional capital, a metropolis of parks and commerce spread along the same Qingjiang River that meanders through the Grand Canyon.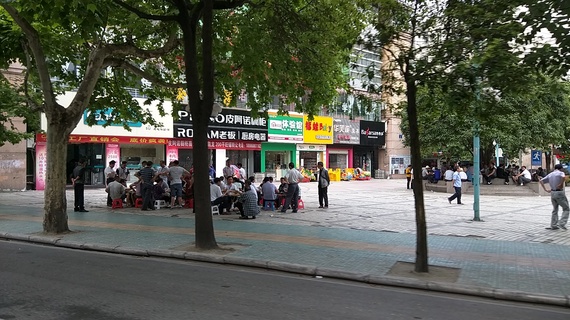 Enshi Shopping Area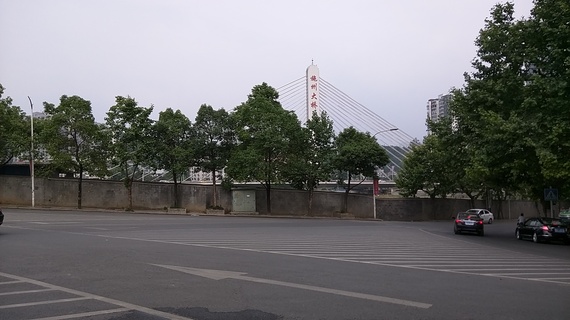 Enshi Riverside
Situated grandly in the middle of town is the Palace of the Tusi Chieftains. A complex of fanciful buildings where the Tusi peoples honored their heritage has been opened as a tourist site. Its nine levels of wooden staircases and pavilions enclose a museum of silver artifacts, depictions of the revered White Tiger, and giant sandstone statues of fierce warriors along with souvenir shops selling colorful local costumes, and an outdoor booth to vie at archery.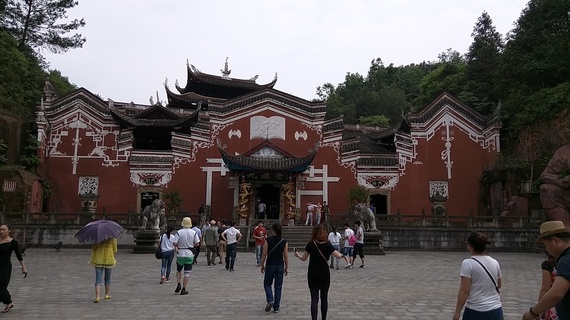 Tusi Palace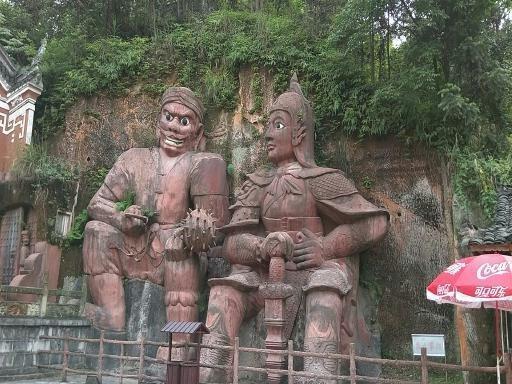 Chieftains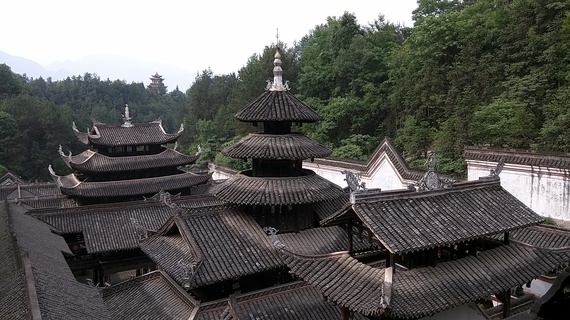 Palace of the Tusi Chieftains

Tracing the Qingjiang River further back, travelers can drive an hour west on the superhighway through thickly forested mountains to Lichuan to visit another natural wonder, Tenglongdong or Soaring Dragon Cave, claimed to be the largest cave in the world. Burrowing over 36 miles into the hill, the gigantic cavern stretches up over 750 feet at its highest point.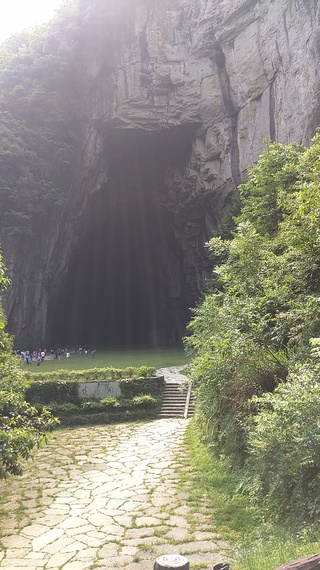 Entrance to the Soaring Dragon Cave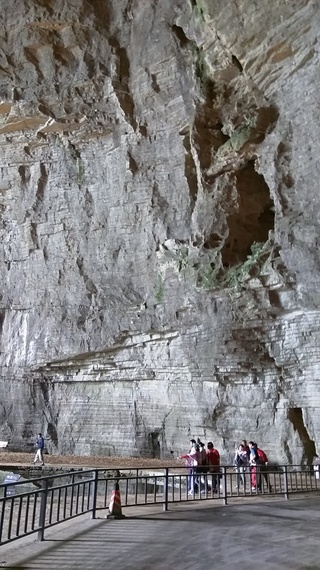 The Cave Interior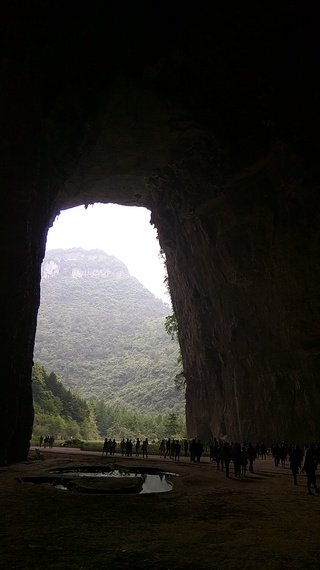 Cave Exit

Efficient electric trams take visitors through the walls to a giant cavern where a daily laser show depicts the legend of a dragon who fell in love with a woman and was banished to be a mortal. Closer to the entrance, an elaborate stage show celebrates customs of the local Tui and Ba ethnic populations depicting a harvest festival, a wedding ceremony and a dance in which young men enact the ancient warriors' test of climbing barefoot up a pole on knife-blade steps.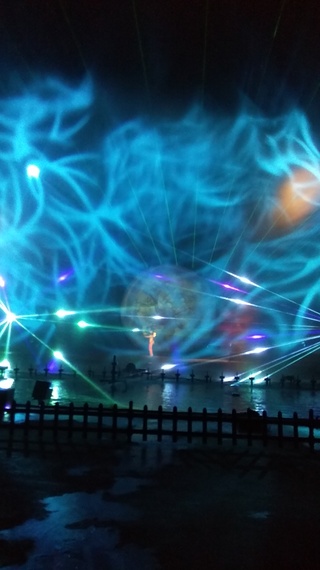 Laser Light Show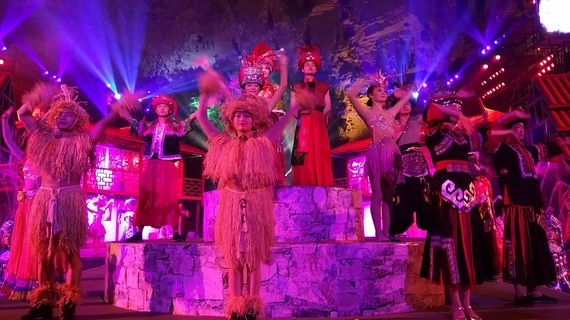 Culture Show

Adjacent to the entrance, a giant waterfall marks the start of the underground portion of the Qingjiang River which runs submerged for around 17 miles before emerging and making its way along to Enshi and beyond.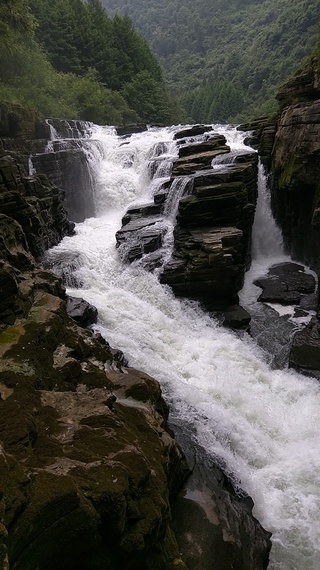 Qingjiang River Waterfall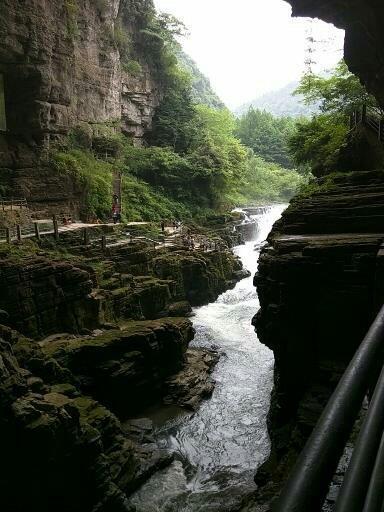 Entrance to the Underground River

Back on the outskirts of Enshi city, a prosperous local tea farmer is building a colossal hotel and restaurant complex, all its buildings and facilities interconnected by a two-mile long corridor. Rooms at the Hua Long Group Hotel are outfitted in modern versions of Oriental furnishing with all the contemporary conveniences of coffee makers, hair dryers, and over 100 channels of cable TV. A school is included within the "hotel village," and weekday mornings at 6 am guests are awakened by band music accompanying two groups of over 1500 students in their regular morning exercises.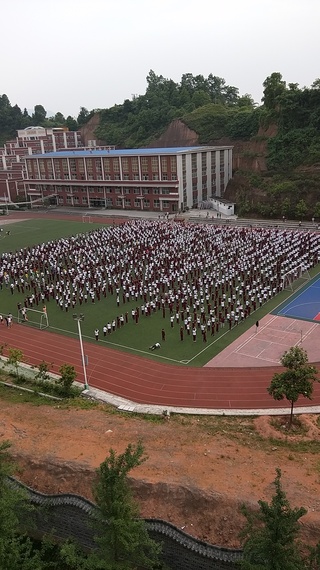 Students Exercising
It is a colorful display for visitors exploring this once inaccessible region a new "frontier" which tourists and travel agents are only beginning to discover.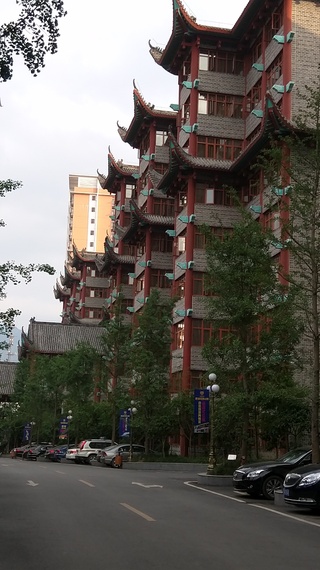 Hua Long Hotel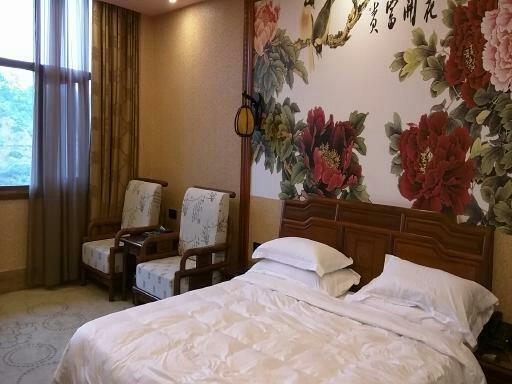 Bedroom at the Hua Long Hotel