Still Time to Visit EXPO 2015 in Milan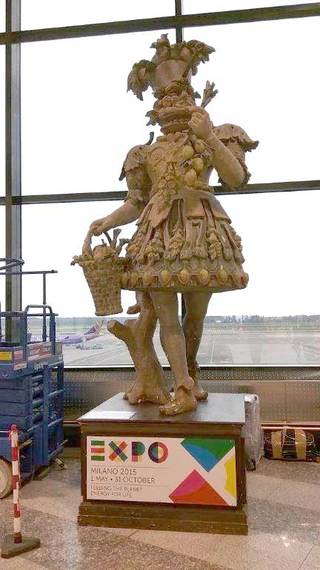 Food, one thing everyone in the world has in common, is a logical focus for the universal festival that is EXPO 2015 "Feeding the Planet; Energy for Life." And what better setting than Italy, these days popularly known as Eataly -- one of the gourmet capitals of the planet.

Since the beginning of May, inventive international pavilions representing 140 countries plus corporations and civil organizations have been celebrating foods with a focus on plans for providing enough nutrition in the future. There is one more month not to miss the combination carnival + trade show + world's fair + festival before this year's biennial world EXPO closes down on October 31.
Set up just outside Milan, on a design duplicating a Roman street plan, two main roads Decumanus and Cardo cross at the center, creating the 43,000 square foot Piazza Italia. Stretching almost the length of a mile, Decumanus "main street" is lined with national pavilions ringed by auxiliary exhibits. Each pavilion is a creative structure which houses displays of native food and crafts. Many include kitchens so visitors can sample the ethnic delicacies at indoor and outdoor cafes.
Booths advertise EXPO all over Italy and in Milan signs, posters, and arrows all make it simple to park, catch a train, or find the #1 Red Line metro stop which terminates in a long corridor leading to a plaza of trees and booths at the grand west entrance.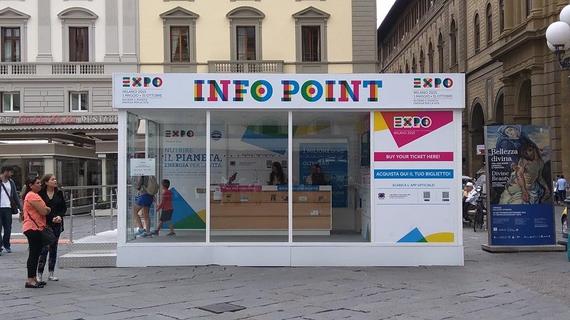 EXPO booth in Florence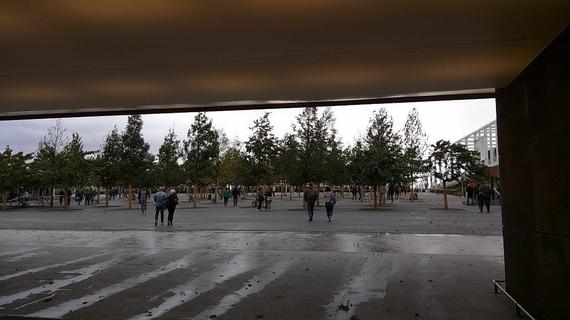 Emerging onto the entrance plaza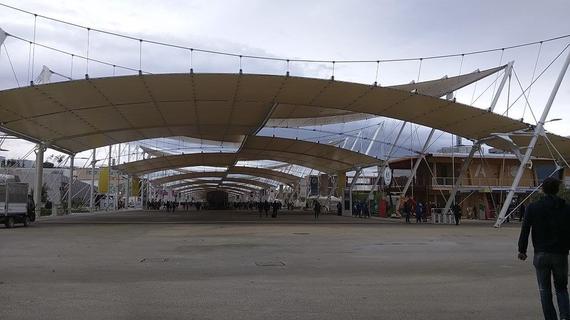 Awnings stretch over the Decumanus

Crowds throng the Decumanus corridor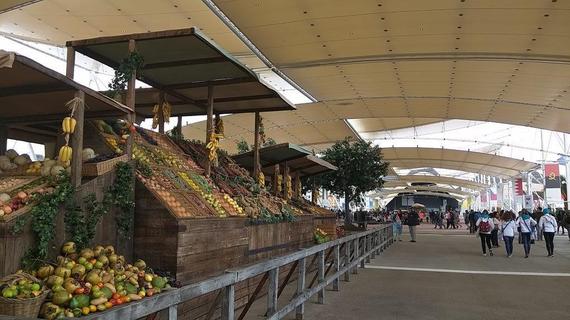 Displays of food along the Decumanus

ARCHITECTURE
The visitor's first attention is captured by the national pavilions, a dazzling and delightful array of fanciful creations housing each country's EXPO outpost. The thatched roof on the Belgian pavilion is juxtaposed with Vietnam's futuristic curves. A giant wire beehive crowns the United Kingdom's booth near Belarus' towering "Wheel of Life." Nepal built a typical temple.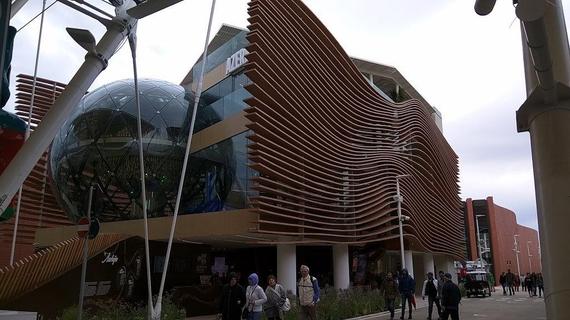 Azerbaijan pavilion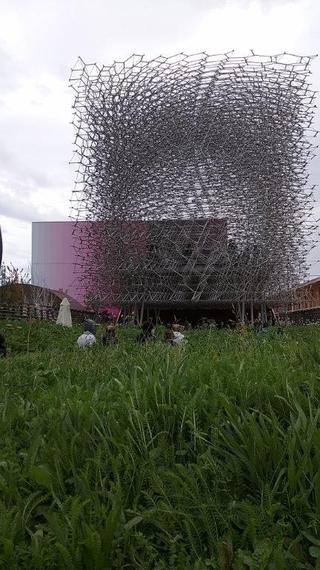 United Kingdom's beehive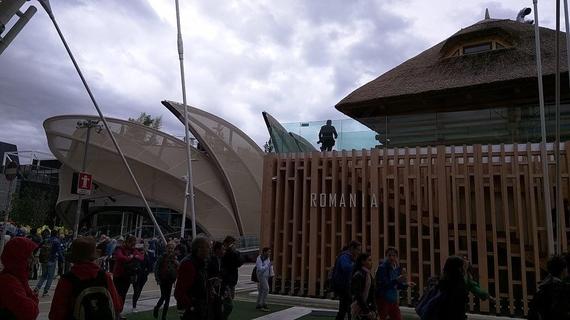 Pavilions of Vietnam and Romania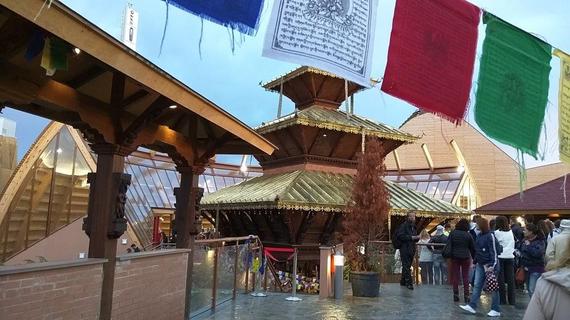 Nepal pavilion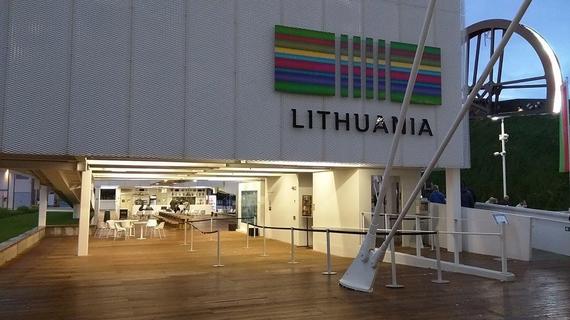 Lithuania pavilion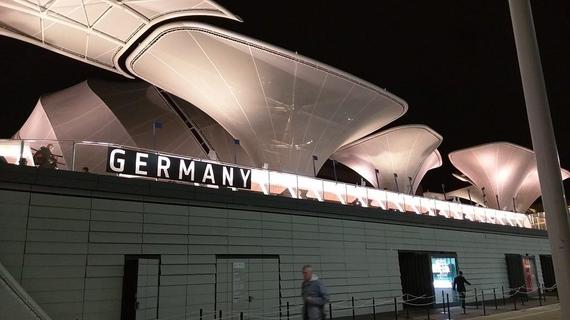 Germany pavilion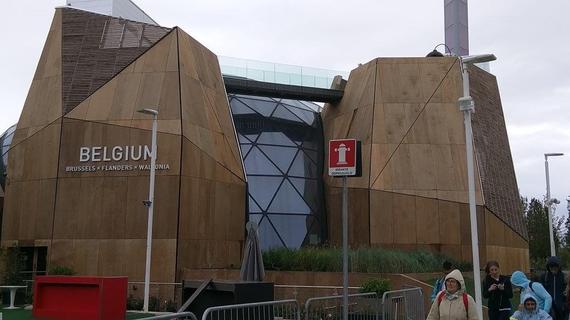 Belgium pavilion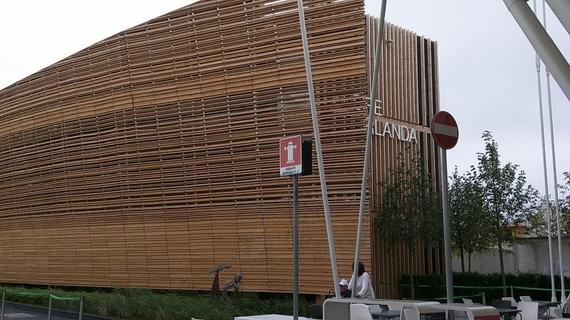 Ireland pavilion

DISPLAY
Within the pavilions, exhibits highlight favorite essential foods of each country. A rice cart illustrates the staple of Cambodia. Elaborate gardens in the French and Iran pavilions show the source of herbs and vegetables. A suspended pyramid of pots and pans honors France's devotion to "cordon bleu." In Oman's pavilion, videos of local farmers illustrate the production of dates and precious rosewater. Each booth includes a display of local crafts for sale.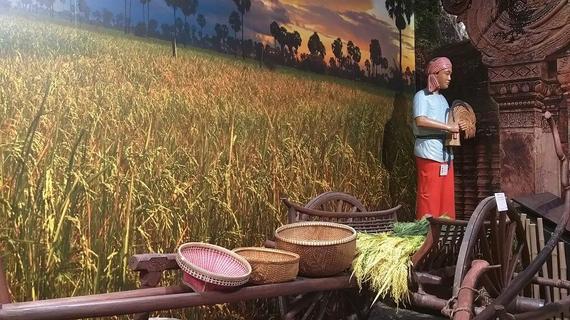 Cambodia highlights its rice production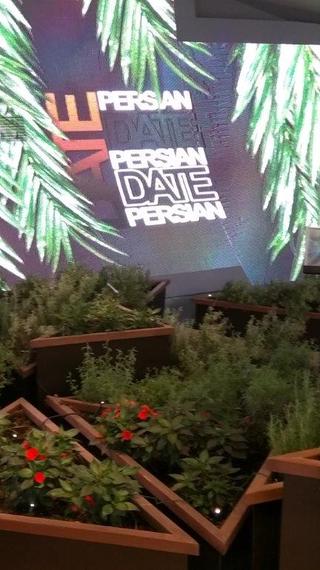 Gardens and projections in Iran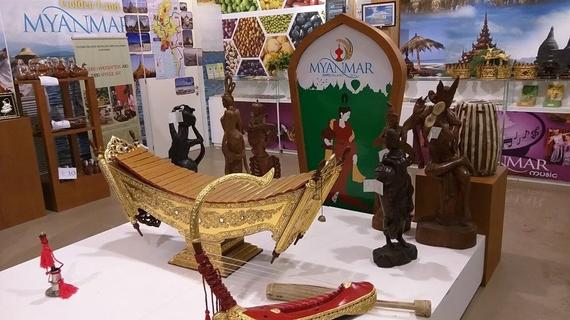 Ethnic crafts at Myanmar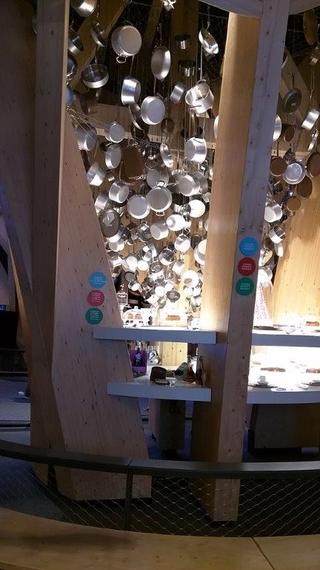 Pots and pans in the French pavilion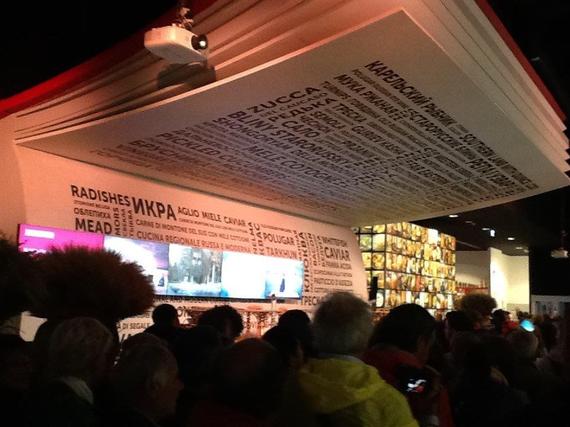 Russia display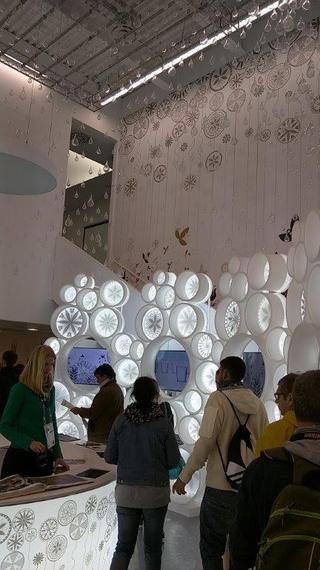 Lithuania Display

PRODUCTS
Visitors can sample Cuba's rum, sniff the fragrance of Malaysian spices, learn how multiple varieties of dates are grown and revered in Oman. Shoppers can choose food samples and colorful handicrafts.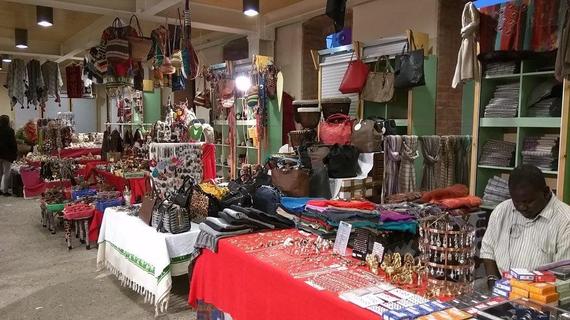 Handicrafts for shoppers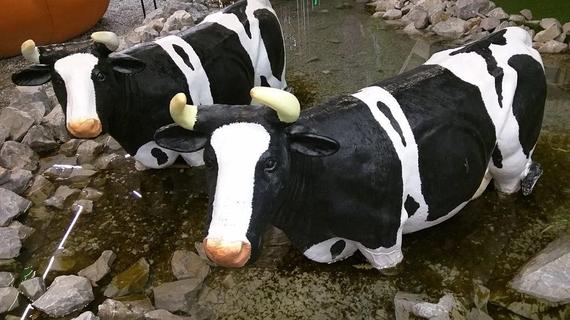 Cows promote Dutch cheeses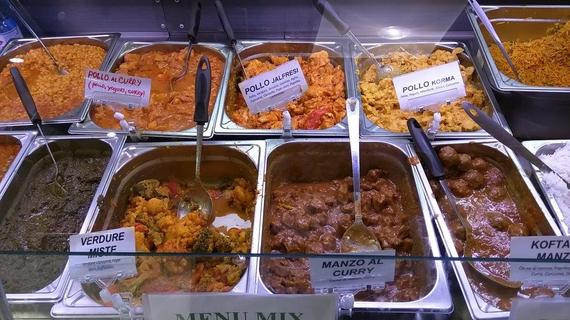 Bangladesh buffet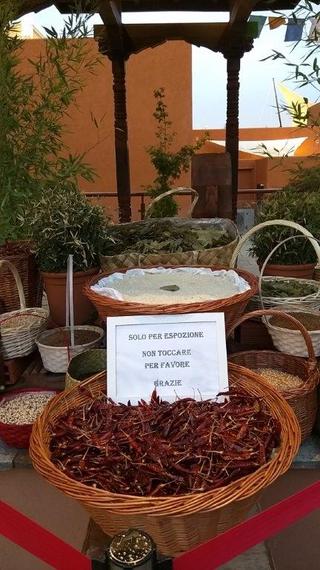 Peppers from Nepal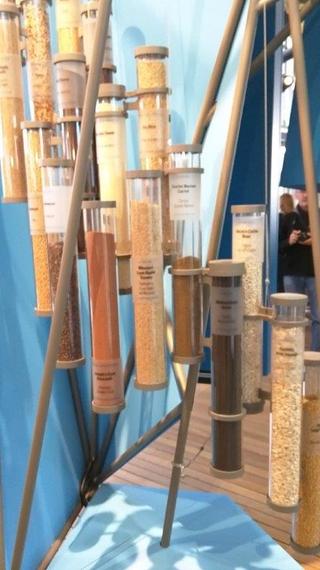 Grains from the US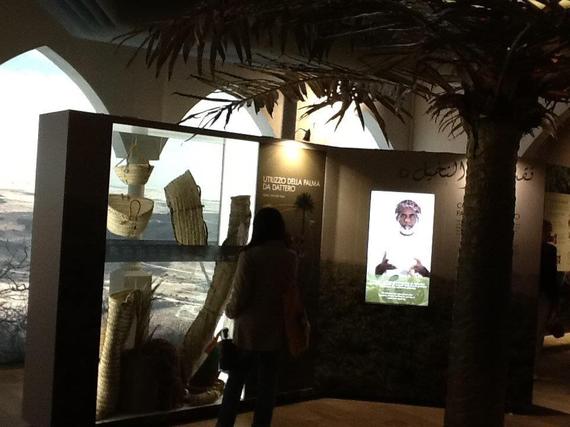 Oman dates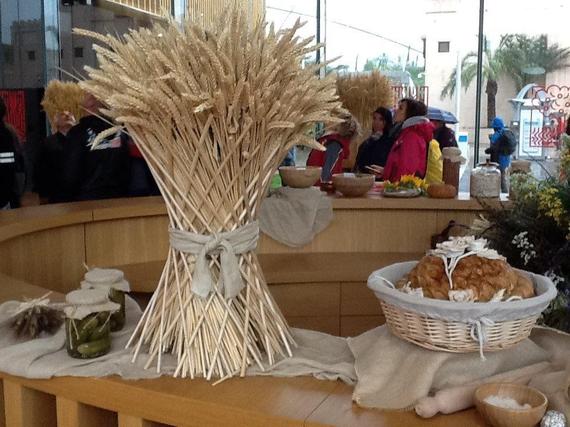 Russia bread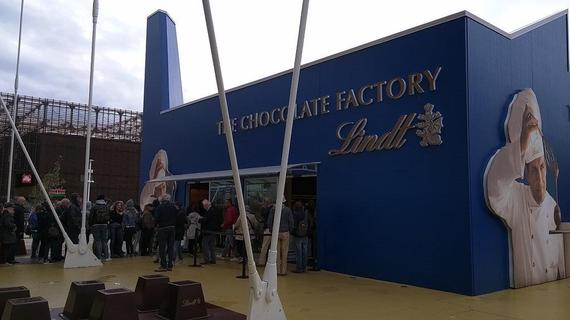 Chocolate temptation

ACTIVITY
Demonstrations help guests understand local food customs. Coffee is served in an Ethiopian ceremony. In the Hungarian pavilion, a musician performs on an elaborate sculpted grand piano. A parade of people in Renaissance costumes paraded through Italy's extensive pavilion, and in daily programs chefs demonstrate cooking techniques and recipe ideas.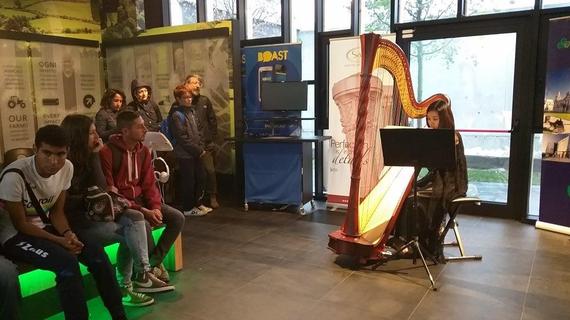 A Celtic harp in the Irish pavilion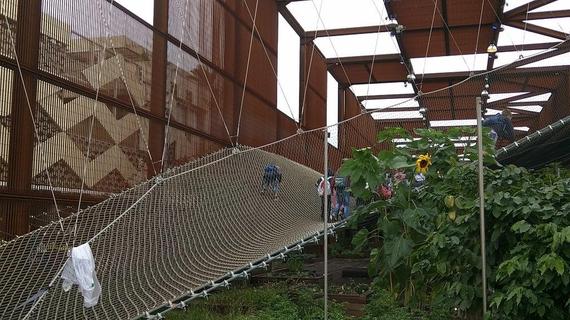 Walking the rope net to Brazil's rain forest pavilion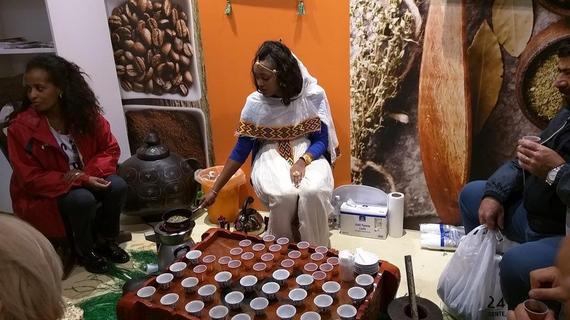 Ethiopian coffee ceremony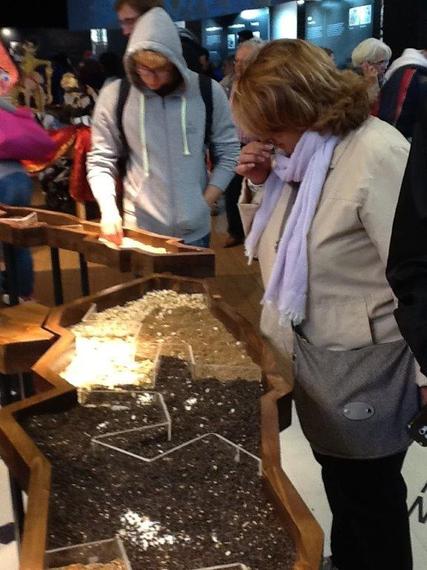 Sampling Malay spices<

UNITED STATES
Three quarters of the way down the Decumanus, the United States pavilion features an American flag and a green wall where local American crops thrive on an outdoor wall. Upstairs hot dogs and hamburgers are served on a terrace which offers views out over the EXPO. Popular downstairs is a tower of license plates where guests pick out favorite and familiar states.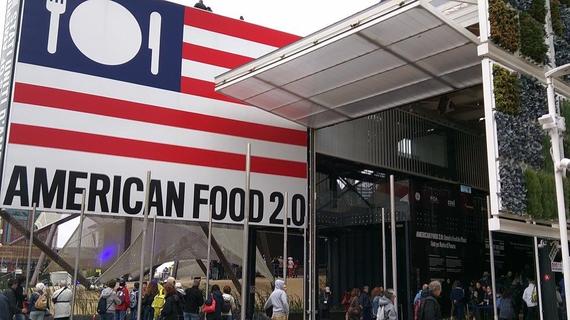 Entrance to the US pavilion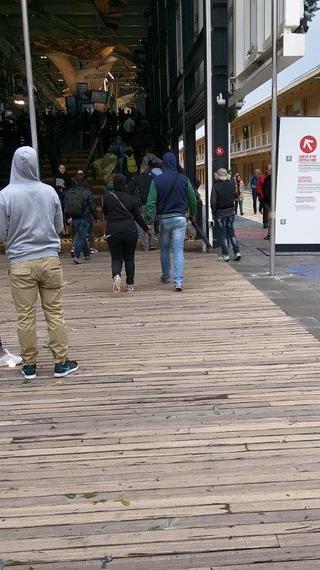 A Coney Island boardwalk leads into the US pavilion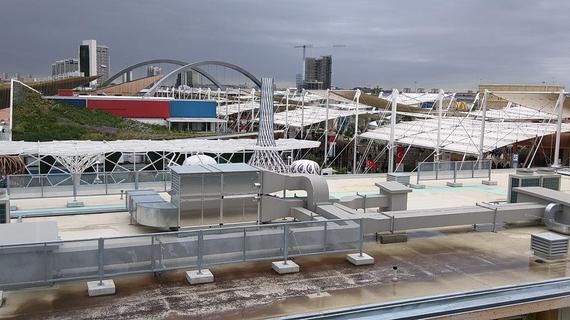 Rooftop view from the US pavilion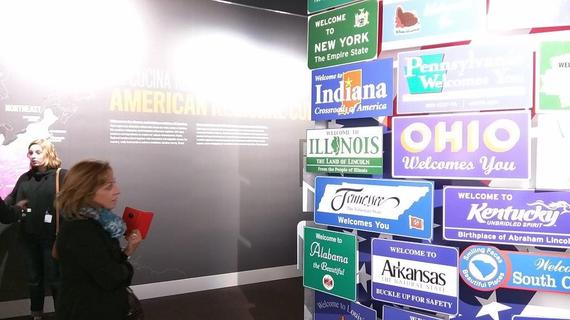 License plates display in the US pavilion

AUXILIARY
Nine special thematic clusters are devoted to coffee, rice, cocoa and chocolate, fruits, spices, cereals and tubers. Around the outskirts, pavilions are devoted to concept themes tracing human history, feast and famine, foods of the future. Giant cans of soda, pieces of meat and other models illustrate foods that make great demands on the food chain. Extra pavilions are sponsored by corporations, charities, and foundations. TechnoGym provides scattered booths of exercise machines for working off the excess calories.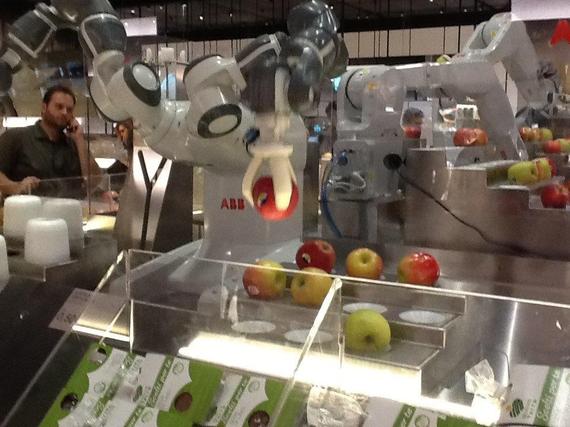 A robot sorts apples in the supermarket of the future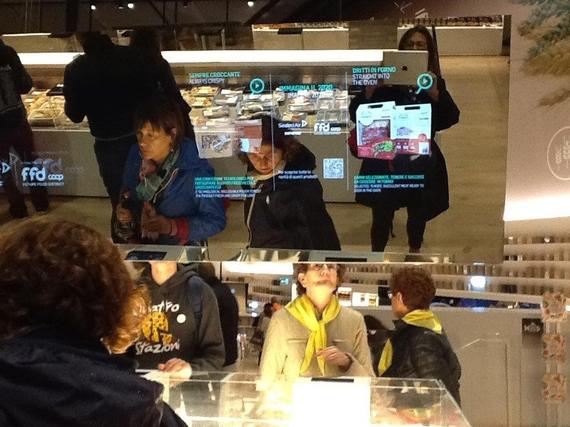 Supermarket overhead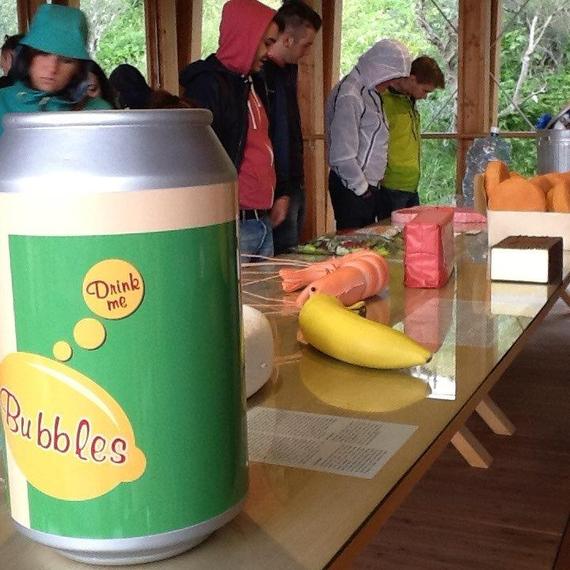 Slow food models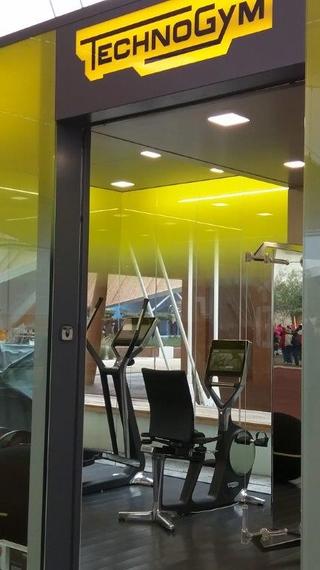 Technogym booth for working off excess calories.

FOOD
Inevitably, eating is an important activity. Patient queues wait for cones of Belgian French fries, cups of gelato, and table service indoors and out.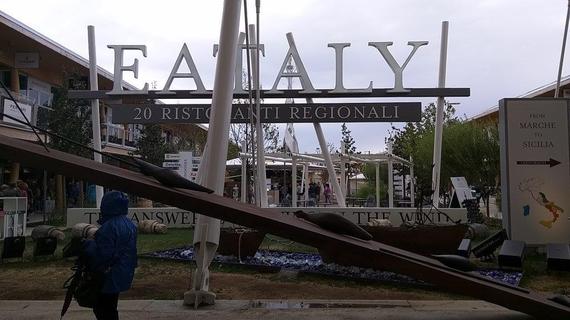 Eataly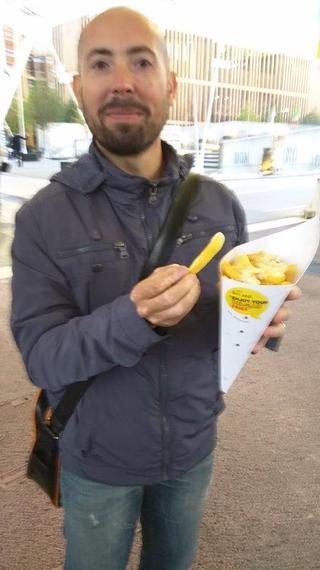 Belgian fries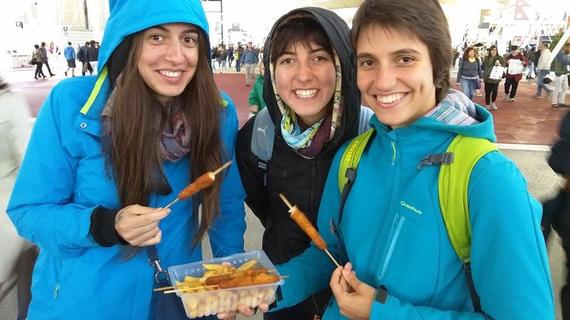 Irish fish and chips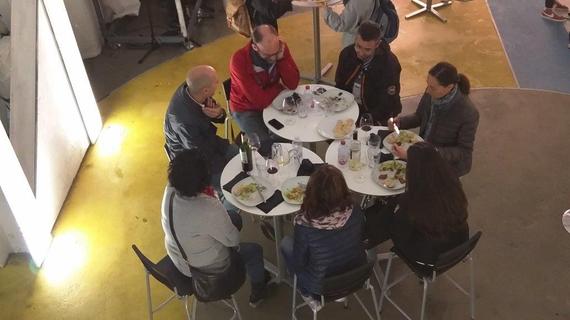 Dining in the Spanish pavilion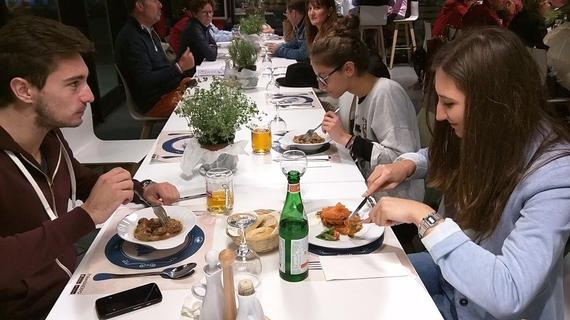 Polish fare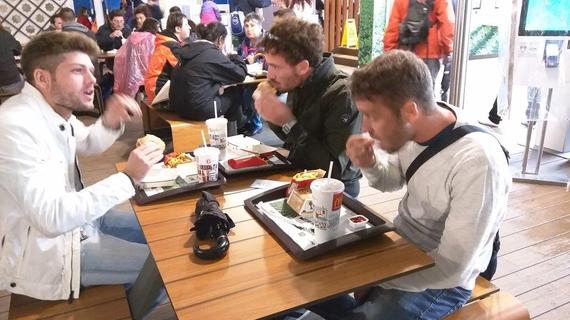 Dining at McDonald's

EXPO 2015 is open seven days a week welcoming visitors until it is dismantled on October 31 -- there's still an opportunity to feast your eyes -- and literally to feast -- at this extraordinary "world's fair."
And it's not too late to start counting the days until EXPO 2017 opens in Astana, Kazakhstan which will focus on "Future Energy."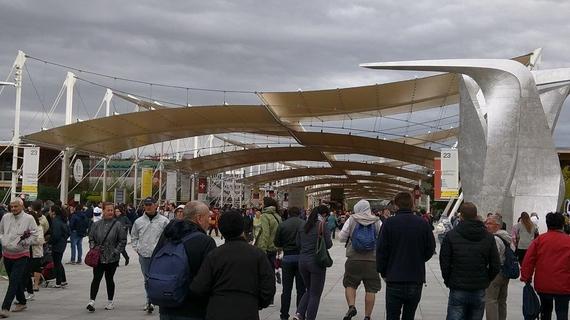 Deciding which pavilion to visit next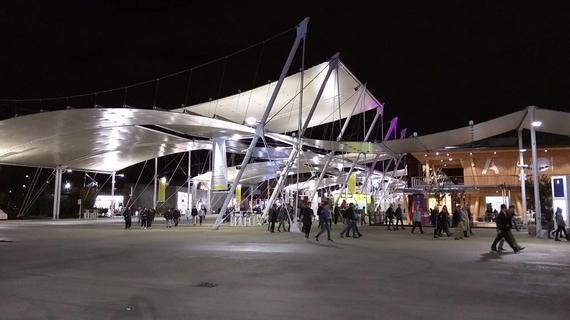 EXPO at night