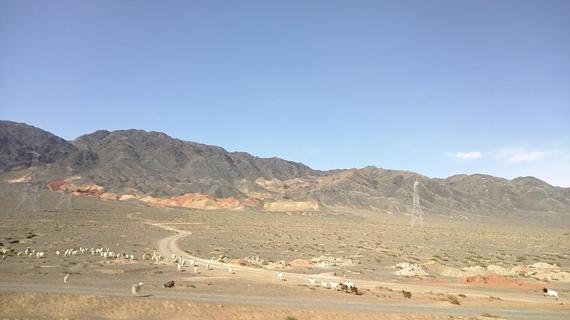 Turpan locale
One of China's most interesting tourist destinations was for centuries an important supply stop on the Northern Silk Road. A green oasis in the middle of the desert, Turpan is located in a depression over 200 feet below sea level in what is called China's "Death Valley" registering extreme temperatures that can range from 120 degrees Fahrenheit in the summer plunging down to 20 below in winter. Average rainfall is barely half an inch, but an ingenious irrigation system capturing mountain runoff results in a lush green landscape more analogous to California's Imperial or Napa Valleys. In its fertile well-watered soil melons, cotton, and grapes grow abundantly making it a land of wine and fruit -- and history.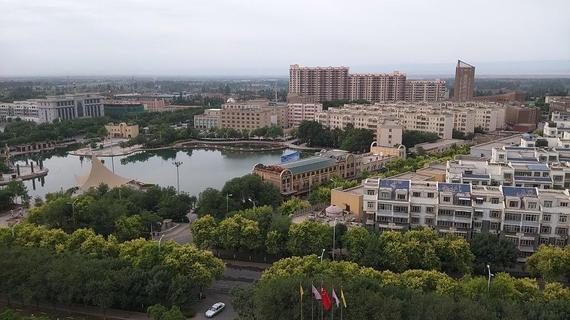 View of Turpan
Key to Turpan's survival is its extraordinary karez system. The largest underground canal network in the world, it is listed along with the Great Wall and the Grand Canal as one of the three wonders of ancient China. In an elaborate scheme dating back to the first century, groundwater has been channeled underground through an elaborate "pipeline" of submerged channels, emerging as surface canals which end in giant reservoirs to supply water all year to the arid area. Shafts 90-150 feet deep were dug, over 172,000 of them (!) for access to establish and maintain the subterranean flow.
Models in the Keraz Museum on the outskirts of Turpan illustrate ancient construction methods used to excavate the shafts and visitors can walk along a glass path suspended literally over underground channels which are still flowing today.



Keraz museum models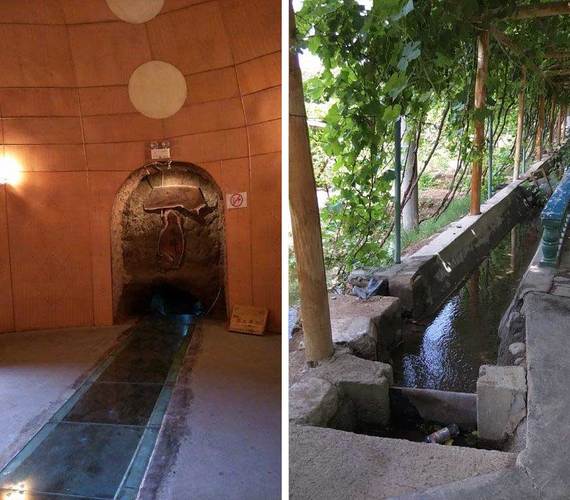 Keraz Museum glass walkway Waterflow emerges from underground channel
Without irrigation, the region registers less than an inch of rainfall per year, and the ultra-arid climate has helped preserve some of the world's great ancient treasures. About an hour's drive east of town lie the sprawling remains of Gaochang. Founded in the second century BC, it was a thriving city that served as the region's capital from 900-1400 AD. Roughly three and a half square miles, its population once numbered 30,000. Still standing are remnants of the outer walls, temples, imperial palace, and acres of chunks and columns -- remarkably intact since they are not stone, but composed of sun-baked earth.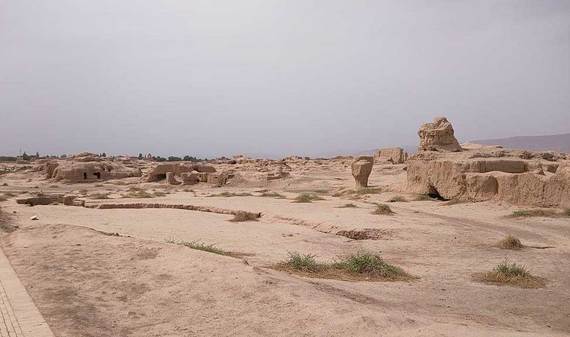 Gaochang ruins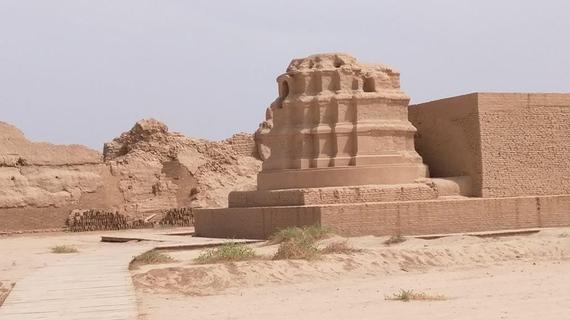 Gaochang structure
A mile away, at Astana Cemetery where residents of Gaochang were buried, the dry heat has preserved underground tombs containing artifacts and remarkable paintings of gods, ducks, birds, and landscapes. Down one passage, where they were interred centuries ago, the mummified remains of a husband and wife still lie in repose.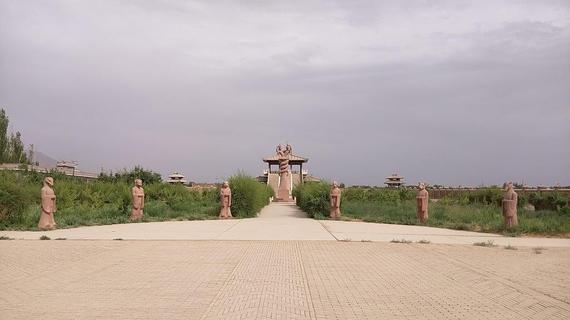 Astana cemetery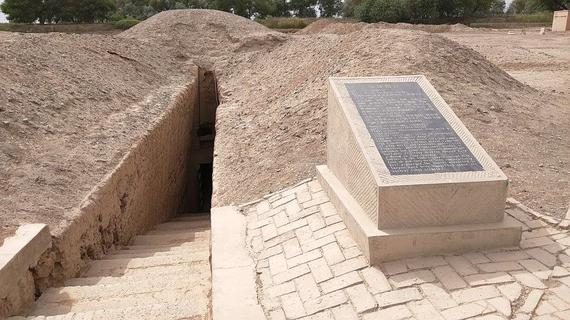 Astana Grave
Before departing on the arduous Silk Road Trek, it was a custom to pray and leave tribute for good luck. On a high cliff in the valley of the Flaming Mountain are the Bezeklik Thousand Buddha Caves, a stretch of painted caverns once marvelously adorned with paintings of nobles, musicians, gods. Peering down from overhead are rows and rows of Buddha faces, thousands in each cave. Of the original 57 chambers, 83 remain still showing traces of the vivid illustrations. Early 20th century explorers confiscated many of the paintings and several that had been sent to Berlin museums were lost during World War II bombing. But three or four caves are open to visitors and at the entrance camels wait to give tourists a ride.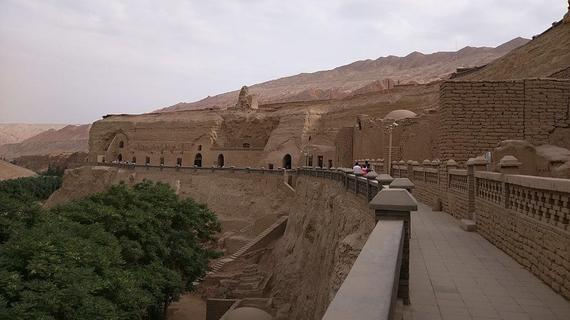 Thousand Buddha Caves Site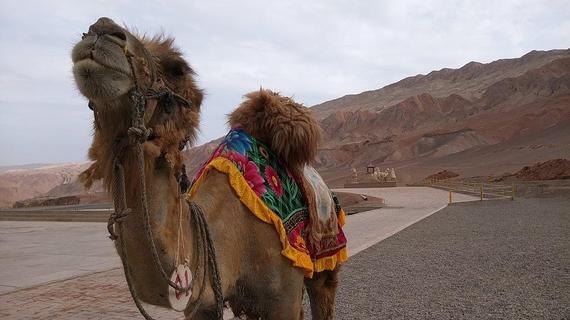 Camel at Thousand Buddha Caves
Just five miles east of town, lying between two rivers, are the ruins of the world's best preserved earthen city. Jiaohe is only a fraction of Gaochung's area, but far more of the city structure remains. Sections designated for temples and residences of aristocrats and common people are separated by a main boulevard stretching from the South Gate. Other sections were reserved for warehouses, military barracks, guard houses. Wandering along its broad 2000-year old avenues, visitors can make out windows, storage niches, temple columns, fortifications, in homes and forts that were flourishing 2000 years ago.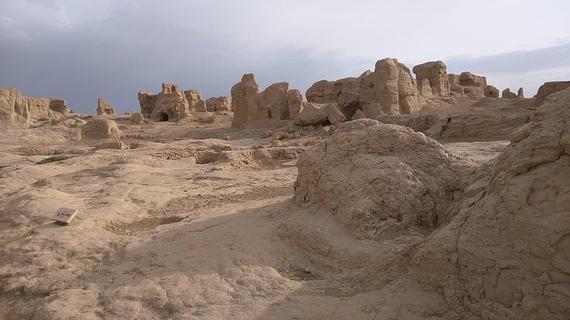 Jiaohe ruins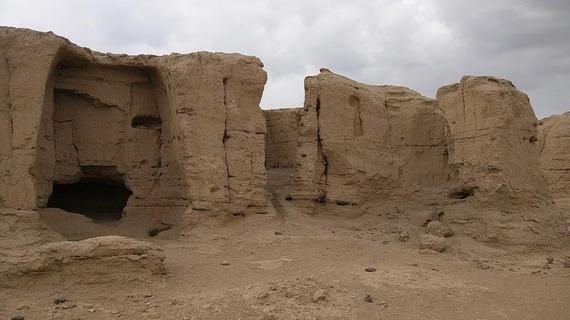 Jiaohe warehouse
While many of Turpan's historic sights can be seen in a day, travelers staying longer can visit other attractions -- the bowling pin shaped Emin Minaret is the tallest minaret in China, a Uighar village, salt-encrusted Ayding Lake, second only to the dead sea as the lowest lake in the world. Grape Valley and local wineries offer tastings. Dim sum, roast duck, pan stickers -- plus dozens of varieties of local raisins -- can be sampled at numerous restaurants and outdoor markets.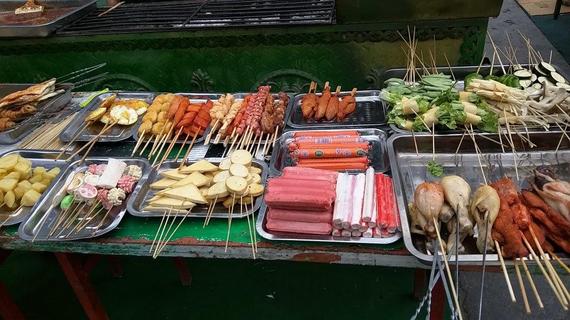 Turban hot pot stand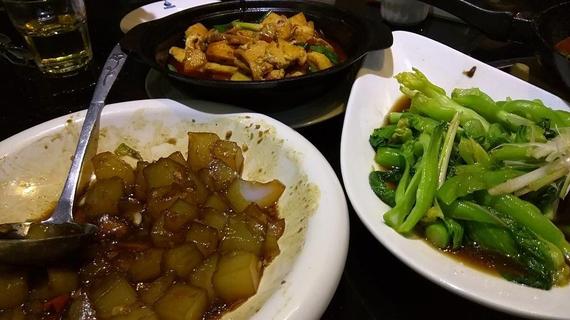 Restaurant fare
Or it's pleasant just to spend time in town the picturesque town with prosperous stores lining leafy boulevards and busy shopping streets which lie between the green expanses of Renmin Park and the lake in the center of town.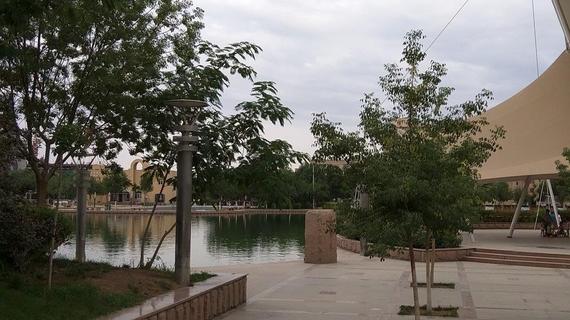 Turpan Lakeside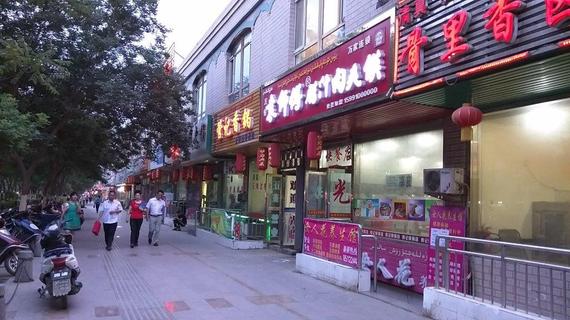 Turpan shopping street
Early morning music accompanies locals doing daily exercises in a pavilion on the lake, and all day long visitors can mingle among locals in modern dress or traditional Uighar garb -- mothers pushing strollers, children spinning pinwheels, youths chatting on cell phones, elderly gentlemen lingering at tea.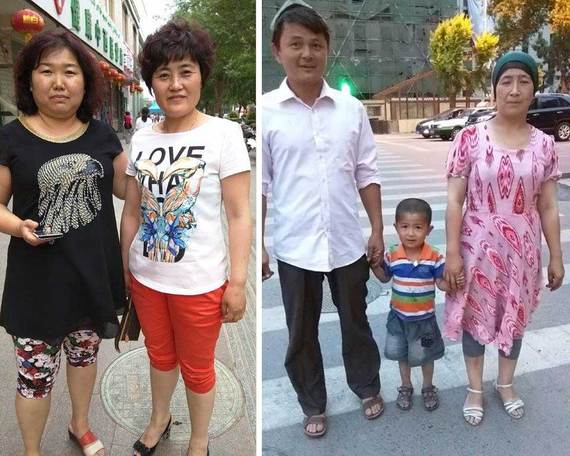 Turpan shoppers Uighur family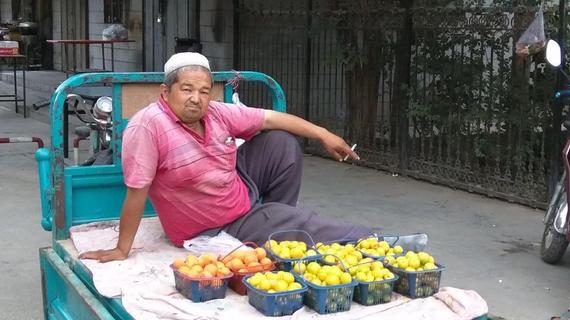 Peddler of plums

Travel advisors suggest visiting Turpan via the nearby Xinjian capital of Urumqi, either flying to Urumqi and driving down to Turpan, which takes about three hours on the new divided highway or alternatively by driving to Urumqi after arriving by train in Turpan via Xi'an. Stopping over in Urumqi, tourists have a chance to visit its outstanding Xinjiang Autonomous Region Museum which exhibits many artifacts excavated from Astana along with displays on jade, folk costumes, and the evolution of the Silk Route.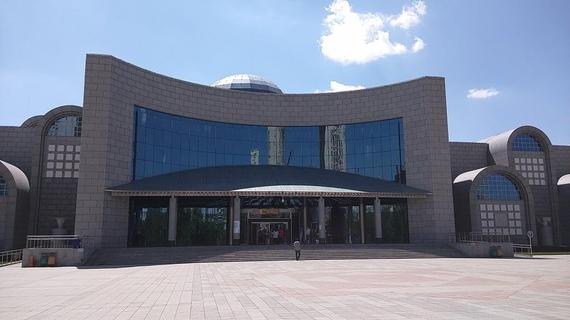 Xinjiang Museum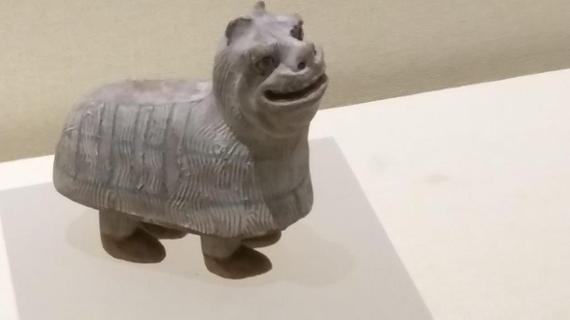 Artifact from Xinjiang Museum