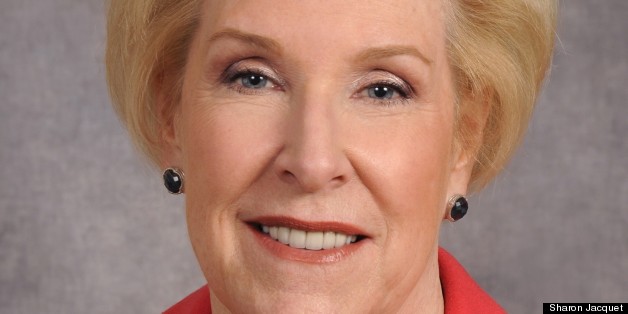 Perhaps it's because Mother's Day was so recent, but I as thought about a "Third Metric," I realized the greatest measure of my own success is being a mother.
I have two amazing daughters -- beautiful, intelligent and independent -- but they're grown up now. So over the years I've had to establish another way of maintaining the satisfaction of motherhood.
I have found that satisfaction working with young women in the bank. When I first got into the finance industry, there weren't a lot of women, especially in senior roles, whom I could look to as a mentor. Now that I'm in that position, I can use my insights to help aspiring women bankers achieve their goals. That's why I developed "Team Jacquet."
These young women work directly for me, and I teach them everything I know about the business. The women who come through this program are like daughters. We spend so much time together at work and outside of work. They come to me with problems, I offer advice, and we work together to find solutions.
There is so much to teach them. In addition to finance, I help them develop the skills to become trusted advisors. This is especially important since, for our clients, banking is such a personal experience. Our clients come to us for advice on investing, on business, on passing their wealth to future generations -- it can't help but become personal. My clients have to be very understanding and trusting of the young women who are working with me, as I involve another personal in our close relationship. For the most part, the clients have understood that these women have my trust and are the laboring oars -- enabling me to continue in my senior role in the business.
Some clients still only want to hear from me, perhaps because of the long track record we've had. But most understand what I'm doing with these women -- teaching and mentoring -- and that these young women will be serving the clients and reporting to me.
And as they develop their own relationships with the clients, and learn more and more, eventually, I have to determine when they're ready to head out on their own. I literally refer to it as "pushing them out of the nest." Once they're ready to fly, and they've absorbed what I've taught, I really want to promote their success within the institution.
I'm so happy that my career advanced the way it has, because otherwise the mentoring I do wouldn't be possible. Everybody in this world needs people, and sometimes women starting out in a male-dominated profession need direction. I am proud to know that I've guided these bright, hard-working women through this industry, and I still revel in achievements.
And it's a relationship lasts well beyond their work with me. Even nowadays I hear from the original Team Jacquet members, who've moved on to managing director positions, running teams of their own. They'll call to chat, and they'll still look to me for advice, and we still retain our closeness.
Just like with my own grown daughters.
This post is part of a series produced by The Huffington Post in conjunction with our women's conference, "The Third Metric: Redefining Success Beyond Money & Power" which will take place in New York on June 6, 2013. To read all of the posts in the series and learn more about the conference, click here. Join the conversation on Twitter #ThirdMetric.