I've always viewed country music as a fringe community that I would never feel a part of. Growing up as a young gay man in the South, the connotations that "country" brings up include hearing gay slurs, being afraid, and most importantly, feeling "other." Even though I was around people who listened to country music all the time, I never felt like I could connect to the lyrics; what do I know about loving god, my pick-up truck, and my high school sweetheart? Which is why when Budweiser invited me to the Budweiser Country Club at Stagecoach Music Festival this past month, I was skeptical. I assumed it would be a fun weekend filled with debauchery and a lot of plaid, but I also feared for my boyfriend and I's safety. Would we be accepted by the country music community? Would I be able to hold his hand in public? What I found was actually that a lot of my fear was invented by myself. Once I grabbed a leather koozie and played a few rounds of corn-hole, I stopped worrying about my sexuality and started caring about taking in the experience of it all.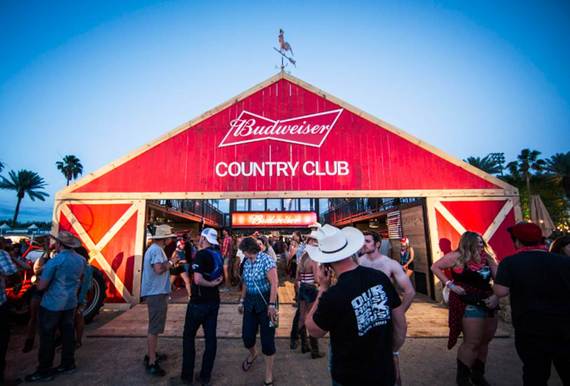 1. No One Notices You More Than You
I went into the experience thinking it was going to be a breeding ground of homophobia and nasty looks being thrown my way, when, in fact, it was quite the opposite. No one at the music festival even noticed my cut-off shorts were black and I was wearing Doc Martens instead of cowboy boots. No one cared if I liked dudes while we played corn hole at the Budweiser Country Club, and definitely no one fulfilled my idea that country music fans were one American Flag away from a hate-crime against me.
2. Country Music Fans Are Pretty Chill
Furthering my point above, no one at Stagecoach even gave me a second look as I led my boyfriend by the hand through the crowds of people. No one tried to call me a name or even make me feel uncomfortable. Everyone was too busy enjoying the music and things like Japanese Inspired hot dogs at Sumo Dogs to truly notice that I was kissing my boyfriend as "God is great, beer is good, and people are crazy" blared over the sound system across the festival grounds.
3. There Is Something Behind This Americana Culture
When I reached out to Riccardo Marques Vice President of Budweiser, he had this to say on
why Budweiser is nurturing a new generation of the American spirit by bringing back Americana, and why the "other" people should never be wary of it:

'We brew for people who like to drink beer, regardless of gender or beliefs. Beer brings people together like nothing else--it's the original social network--and our goal is to unite as many people as possible around cultural passion points, like music, food and sports.'
Instead of fearing the American Flag, cowboy boots, and bandanas, I started to see it as a sign that America is changing; if only I allow myself to see the progress we've made in terms of LGBT rights.
4. Being Brave Doesn't Mean Being Ready to Fight
Maybe the biggest thing I learned during my time at Stagecoach that sometimes being brave doesn't mean being prepared to defend your honor. Sometimes, being brave means trusting in humanity enough to let your guard down. The more time I spent with my fellow Stagecoach goers, the more I felt like I was one of them. Sure, I had a limited idea of who was playing, and only knew a few lyrics, but the beer was flowing and there wasn't a bar fight in sight. In the past I had entered situations like these with a fighter's mentality, ready to strike at the first sign of diversity. But by taking a step back from my ego and trusting that maybe it was my preconceived ideas of these people that was the problem I was actually able to enjoy myself!
5. Any type of music can be fun when you want it to be.
Maybe it was all the free Budweiser I was getting to drink, maybe it was the euphoria of realizing that I was in a space that everyone could enjoy and they were actually pretty chill, but I was able to let myself go.
When I stopped caring so much about bucking the system, and rejecting country music because of its overtly heteronormative themes, I actually started tapping my foot. The gift that Stagecoach, and by extension, Budweiser, gave to my boyfriend and I is piece of mind that the world is changing and authentically growing. We may not be totally out of the woods yet, but by stepping out of my comfort zone and into the Bud Country Club with a new generation of fans, I was able to remind myself that sometimes people are more good than bad, that people can be
more fun than judgmental, and that sometimes I am actually able to let loose and
enjoy country music.