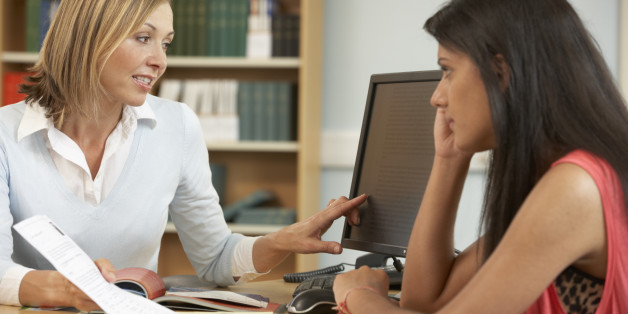 Sexual harassment, bro-culture and college are on my mind.
It's probably not surprising that sexual harassment -- and just misogyny in general -- are on my mind. Turn on the computer and there's the Bill Cosby story and now the Uber story. About a month ago, it was Microsoft CEO Satya Nadella telling women that their pay gap issues were just a case of bad karma. Then there was Anita Sarkeesian getting mass shooting threats for talking about gender and video games in Utah. I know there's more, but it's late and I'm tired.
And college is on my mind because I'm the mother of two boys who are a junior and senior in high school. For the last few months, my husband and I have been helping our oldest prepare for SATs, fill out applications, collect recommendations, and set up interviews. So the realities of higher education, from the costs of tuition, room and board, books, and travel, to testing and application fees, not to mention the enormous amount of time we will dedicate to helping our son continue to navigate the higher education labyrinth, are never far from my thoughts.
Meanwhile, there are other college thoughts. The increasingly prevalent hook-up and rape cultures at college campuses, the tragedy at UC Santa Barbara (now becoming an-almost-distant memory), and the most recent story of University of Virginia assaults, are alarming examples of the intersection between life at colleges and universities, our society's views of both men and women, and how the genders relate to each other.
In her article about Uber two days ago, editor-in-chief of Silicon Valley's PandoDaily Sarah Lacy said, "... I've seen an ever-worsening frat culture where sexist jokes and a blind eye here-or-there have developed into a company where the worst kind of smearing and objectification of women is A-ok."
Frat culture.
I don't believe it's a coincidence that the behavior of certain males in the tech world, the bro-culture, is often compared to that of frat boys. It's time we seriously consider how colleges and universities are impacting behavior in our society-at-large. As parents, we need to start asking why we are so diligently supporting an education status quo that not only cannot keep our children safe, but is perhaps contributing to a world that does not correspond with our values. And I'm not just talking about the sexual harassment and assault.
Though that's certainly bad enough, I believe those issues are connected to something deeper. As the mother of two high school aged sons, I constantly question the value of our family's potential tuition investment. However, if I had daughters and knew that the rate of return on that high-priced education would pencil out to as little as 70 percent of their male counterparts', my faith in this rite of passage would decrease even more. If I had daughters, I'd know that no matter how successful they were academically, that education would likely not translate to the same level of success that it would if they were men. And even if they reached the same professional level as men with the same degrees, their salaries would not equal male workers in the same jobs, Satya Nadella's sage advice notwithstanding.
And colleges do it, too. Although women are outpacing men in college enrollment and graduation rates for every degree, and they make up over 40 percent of full-time faculty at higher education institutions, only 28 percent of full professors were female in 2009. That same year, 35 percent of female faculty members were in full-time tenured positions, compared to 48.6 percent of male faculty members. And in 2006, including all types of college institutions, 23 percent of college presidents were women.
Colleges discriminate against women on all levels -- in violation of existing laws. According to Title IX, the Patsy T. Mink Equal Opportunity in Education Act, "No person in the United States shall on the basis of sex, be excluded from participation in, be denied the benefits of, or be subject to discrimination under any educational program or activity receiving federal financial assistance."
While most people are aware that Title IX prohibits discrimination in sports in schools, and many have become aware that it also prohibits sexual harassment and assault on our college campuses, Title IX also covers discrepancies in faculty pay and promotion, family-related protections for college students and employees, and a myriad of other situations where women are often denied equal rights in a federally-funded educational setting.
Title IX turned 42 this year, and Patsy Mink, one of its authors, who was born ten minutes from where I'm sitting right now, will be honored with the Presidential Medal of Freedom posthumously on Monday. It is because of Title IX that college enrollment and graduation rates are so high and that so many more girls and women participate in sports than they did forty years ago. Yet the full promise of the law has not been met. And this is important.
And not just because womens' legal rights are being violated on campuses every day.
It is important because when women's rights are violated at our colleges and universities, the administrators at those institutions send a clear message about how important those rights are. If enforcement and implementation of Title IX regulations were a priority on college campuses, female students and faculty would have access to vital supports that would support their long-term success in innumerable ways. Perhaps more importantly, by intentionally addressing pervasive gender biases, colleges and universities would contribute to shifting what is now often clearly a very hostile environment for women.
Our colleges cannot be held responsible for all of our social and cultural ills, including a consumer culture that relies on sexualized and exploitive marketing, entrenched economic inequities, and biases that affect both men and women. However, I'm beginning to wonder if campuses are a reflection of harsh realities in the larger culture, or are in fact one of the places where serious social problems begin.
Certainly, the only place where someone can be an actual frat boy is on a college campus.
Higher education administrators need to recognize and acknowledge that institutionalized gender discrimination -- combined with a sense of privilege and entitlement for men -- cannot be separated from the sexual harassment and misogyny that women experience both on campus and after graduation.
Considering the amount of money that American families invest in education, perhaps it's time we use our market influence to demand an educational environment that prepares our sons and daughters to create a saner, healthier, more equitable world rather than the superficial, self-indulgent, destructive bro-culture it seems to be preparing them to live in now.