This post first appeared on Mom-Mentum in February 2015.
Two years ago, a consulting job advocating for childcare providers made me realize how much motherhood had changed my life. Ultimately, it was that realization which led me to interview dozens of other mothers and fathers and to the creation of an ebook that grew into 30 first-person narratives with embedded multi-media research.
Finally, I feel as though I have a handle on what it means for a woman to become a mother, how motherhood changes your place in the world socially and economically and how women's leadership can make our society a better place for mothers and their families.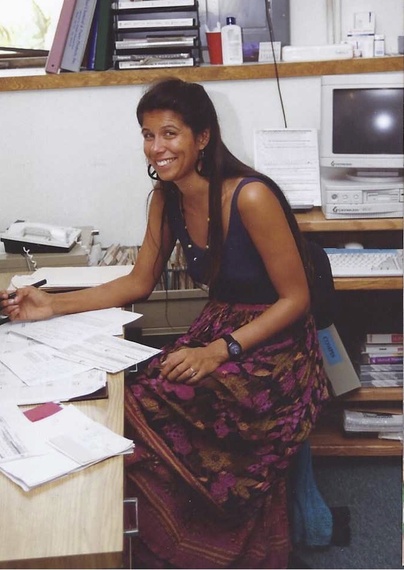 When I arrived on Maui 23 years ago, I immediately learned to appreciate life in a small community, where it felt easier to make an impact. Within two years, I had worked on a young candidate's mayoral campaign and been named a "Catalyst for Change" by the local paper for registering new voters.
Two years later, I was married and pregnant, and my husband was running for State Senate.
Because we had no idea what parenting really entailed, we believed that since the legislature was only in session for four months out of the year, a state senator would be the perfect job for a new dad. I now know that had my husband won the election, I would have been alone with a newborn while he served in the legislature on a different island. Thankfully, he lost, and for the last 18 years, we've both been able to work at home while raising our two sons.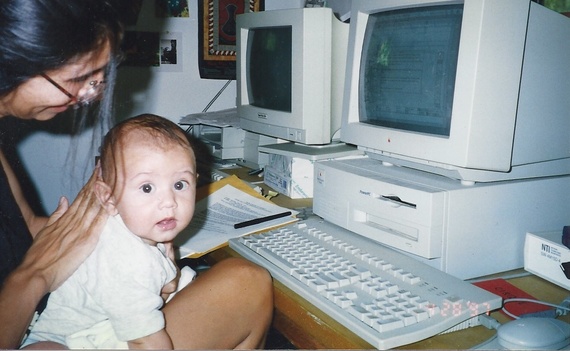 Then in early 2013, because of my work advocating for childcare providers, I began interviewing parents about how they balanced their professional careers with family needs. Throughout the interview process I was constantly surprised by how much these stories affected me. The "childcare workarounds" described by parents reminded me of my own struggles maintaining a work-life balance when my kids were small. The stress of finding caregivers, figuring out child care swaps with other parents and working late at night to make up for missed work still felt like yesterday to me.
Even when their children can be cared for by others, most parents I spoke with relied on a complicated and often inconsistent patchwork of caregivers such as other parents, family members, child care providers and nannies -- all overwhelmingly women -- in order to continue to earn a living.
In fact, as one of my more recent interviewees has stated: "Women are used to leaning on each other both on a personal level and professionally. [They] organize carpools, help each other out with kids in emergencies, and know that they can rely on each other. They lean on each other so they can lead. And by being examples and providing concrete support, we know we can propel the whole group forward together."
After my contract in childcare advocacy ended, I was inspired to continue my research, and in my interviews with parents (mostly mothers) -- who included students, teachers, venture capitalists, studio executives, professors, software CEOs, lawmakers, health care professionals, engineers and more -- I found numerous common challenges and glimpses of potential solutions. I began to see that many of us make false choices in order to reconcile our desire to engage with our children and the world. It also became clear to me that the 'state of the family' cannot be separated from the 'state of the economy.'
One of the most amazing aspects of this project has been the opportunity to build a movement with other women, mothers and parents. The ebook I've written -- Lean On and Lead, Mothering and Work in the 21st Century Economy -- provides support and research that helps women and parents make sense of their lives, but it also provides the information and solutions needed to create a better way to participate in the economy and our communities while we parent.
Life has led me down a very different path than I imagined when I first arrived on Maui 23 years ago. My goals, my perspective and my day-to-day life have truly been shaped by my journey as a parent.
As a mother, I've now come to realize the importance of sharing our experiences to help build better communities. Using my own voice to make that happen and capturing the voices of other parents is now not only my vision, but my reality.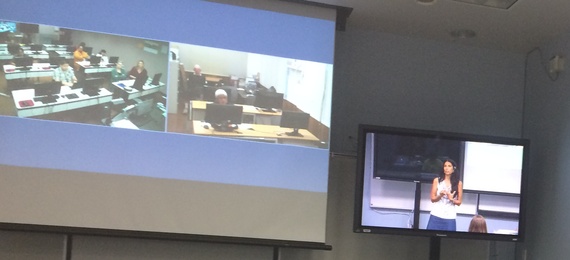 Shay Chan Hodges is the author of Lean On and Lead, Mothering and Work in the 21st Century Economy, an interactive collection of first person narratives providing deep, personal portrayals of what it takes to significantly participate in the 21st century economy while raising children.
She resides on Maui with her husband and two teenage sons. She was also just recently a candidate herself for her district's vacated State House Seat. Connect further with her on Facebook, Twitter, and Pinterest.