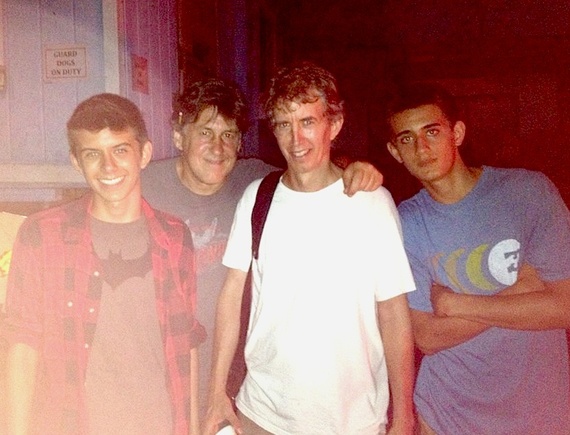 In October 2013, my husband and our two teenage sons were invited to spend a couple days at Bumpy Kanahele's village, Pu'uhonua o Waimānalo, to watch the filming of Cameron Crowe's recently released "Aloha." (Pu'uhonua translates to "place of refuge" in Hawaiian.) My younger son, who wants to be a director, didn't quite work up the nerve to get a selfie with Emma Stone, but he spoke briefly with Crowe about filmmaking. My older son reflected on the experience this past December in an essay for his college applications. Some of the history he described is likely unfamiliar to mainland audiences:
"Last year, I accompanied my dad to a native Hawaiian village at the foot of the Ko'olau Mountains on the island of Oahu to observe the production of a major Hollywood movie. There we met Emma Stone, Bradley Cooper and Cameron Crowe, but it wasn't the star studded cast or famous director that left a lasting impression on me. Instead it was the charismatic leader of the village and the work he had done with my father almost twenty years ago.

"We were there at the invitation of Bumpy Kanahele who had a role in the movie based loosely on his life. Bumpy is a Hawaiian rights activist and peaceful revolutionary who had obtained the land for his village twenty years earlier from the state of Hawaii in exchange for ending the peaceful occupation of Makapu'u Beach. My dad met Bumpy the year the occupation ended when they worked together to successfully delay an acquisition by Bank of America, one of the most powerful banks in the world and worth over 30 billion dollars. After months of legal battles, the Federal Reserve eventually compelled the bank to put forward money in order to meet the needs of low income Hawaiians.

"Growing up hearing about Bumpy's struggles and never-ending efforts and about his and my father's victories taught me that a small group of motivated individuals can indeed make a difference."
Two weeks ago, our family was excited to attend an early screening of "Aloha" with people from Bumpy's village, many of whom were involved with the movie. Watching a Hollywood film in a Honolulu multiplex where the majority of the audience was native Hawaiian was surreal to say the least. It was a "chicken skin" moment, as we say in the islands. The "set" was their actual village -- where they raise their keiki (children), respect their kupuna (elders) and work to restore their culture and sovereignty. To see facets of their story on the big screen was extraordinary. And not surprisingly, when Bumpy first appeared in the film, the crowd burst into applause.
With "Aloha," Cameron Crowe made a heartfelt effort to present a cultural narrative that has not been attempted before in a star-studded Hollywood production. The scenes with Bumpy and other residents of the village are the most authentic depictions of what Hawaii looks like, sounds like, and feels like of any feature film I've seen. In a review in The Atlantic entitled, "Aloha's Hawaii Shoots for Magic and Realism," Lenika Cruz writes:
Kanahele speaks on his own turf and in his own words with Gilchrist and Ng about the problems and concerns of native Hawaiians, before inviting them to eat and drink with the rest of the community. It's a touching, if short-lived, vignette that indisputably stems from genuine reverence and compassion for the people of Hawaii. Besides, when was the last time a major motion picture even glanced at the lives of America's indigenous people with something other than mockery?
When it comes to cultural sensitivity, "Aloha" has been criticized for its title, lack of Asian representation, and Emma Stone being cast as a mixed-race character. Yet, the people I sat with in the theater two weeks ago shared the rare experience of seeing their realities reflected in a major motion picture -- including ongoing tensions between the struggle for sovereignty and the power of multinational corporations that operate as if they are above the law.
In many ways, the true magic of "Aloha" is its hyperrealism. Had critics of the movie done their research, they would have discovered that in order to obtain the land for this village two decades ago, Bumpy and some three hundred Hawaiians occupied a well-known beach on Oahu for fourteen months and began building homes for the homeless in the process. In my son's college essay, he describes how my husband, Bumpy, and other activists took on Bank of America for discriminating against Hawaiians (and Filipinos) in its lending practices. What most filmgoers couldn't know is that in the scene where Bumpy, Cooper, and Stone are discussing promises made to the Hawaiian people, just outside the camera's view is a shelf full of files regarding Bank of America's unfulfilled commitment to the Hawaiian people, reminiscent of the numerous broken treaties the U.S. government has had with indigenous North American tribes.
Perhaps it was Cameron Crowe's job to provide the context for these scenes, and I certainly agree with critics who thought that the storyline with Bumpy and native Hawaiians should have played a larger role in the film. Had moviegoers understood the import of the scenes at Pu'uhonua o Waimānalo for people in Hawaii, perhaps the criticisms about cultural representation would have been more nuanced.
Then again, maybe not. Maybe it's safer (and far less work) to focus on a lack of Asians in a movie that takes place in a Hawaiian village and on a military base, than to explore cultural and political themes like illegal occupation, Hawaiian sovereignty, and broken promises to indigenous peoples.
In any case, I would like to suggest the next project for Cameron Crowe: a dramedy/thriller about the battle between native Hawaiians and Bank of America. And when they cast the role of me -- activist girlfriend turned writer/wife/mother who happens to be Chinese/Mongolian/Norwegian -- please hire Olivia Munn. Then maybe the politically correct will pay attention to the real story.