Last week, I was involved in the debate about ethnic and cultural representation in Cameron Crowe's movie, "Aloha," and I wrote a post about my family's connection to aspects of the film. When it comes to representation, however, I usually write about gender. For example, though the Hawaii legislature is ethnically diverse, women are underrepresented in elected office, and bills mandating paid family and sick leave were gutted again this last session. In response to these issues, I ran for a vacancy in the state House in February, and I wrote about the experience for BlogHer in March. Below is a reprint of that piece.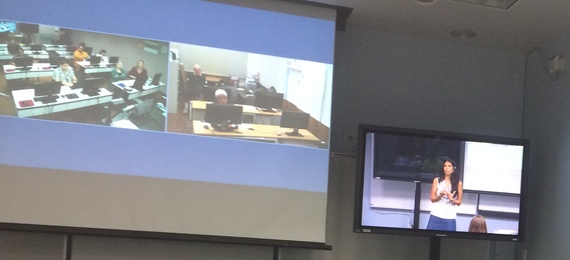 Explaining why I wanted to serve in the State House
I had expected February to be another month of juggling book promotions for my iBook, Lean On and Lead, Mothering and Work in the 21st Century Economy, not to mention college applications for my oldest son, but instead, I spent the better part of the month running for the Hawaii State Legislature.
It was a quick and wild process because a seat was vacated unexpectedly with the untimely passing of State Rep. Mele Carroll. The application rules were announced on February 1, with candidate applications due five days later. On February 14th, I -- along with 12 other district Democrats -- had ten minutes to make our cases to some twenty officers of the Democratic Party. That afternoon, the panel sent a shortlist of three finalists to the Governor. He made his choice that week.
Representing our Maui County district in the Hawaii state legislature is particularly challenging. It encompasses three islands -- the Northeast shore of Maui, Moloka`i, and Lana`i. Moloka`i is known as the last Hawaiian island; Lana`i is owned by billionaire Larry Ellison, and the Maui portion of our district includes the surf town of Paia, Haiku, and remote communities in the Hana area. I live in Haiku, where my husband grew up and where we've raised our children. Our part of the North Shore has a reputation for hippies, surfers, and environmentalists, but it's really a community of families who appreciate a slower rural lifestyle.
I decided to jump into the race because it seemed like the logical next step in my professional and personal life. For the last two decades, as an activist, parent, and professional, I've focused on preserving our unique community, as well as raising children who are capable of doing the same. As someone named a "Catalyst for Change" by our local newspaper twenty years ago for coordinating a "Rock the Vote," campaign, I'd always thought about political office, and now that my children were a junior and senior in high school, it seemed like the perfect time.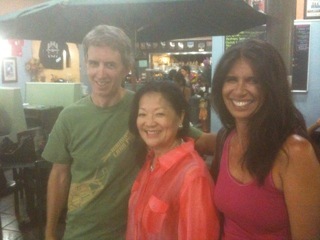 With my husband Ian Chan Hodges and US Senator Mazie Hirono
One of my primary interests in serving in the legislature was the opportunity to amplify the voices of working families. In 2010, 49 percent of Hawaii households included children under 18. And a significant number of state policy decisions -- whether related to education, health care, social services, economic development, innovation, or renewable energy -- have a direct impact on parents and their children, who in turn are vital to the economic health of our state.
Yet though families and children are extolled during political campaigns, once elected, lawmakers often seem unwilling to make the changes necessary to truly help parents. Furthermore, the crucial role of working mothers and fathers as key drivers of a healthy economy are consistently ignored. In Hawaii, there is still a 17 percent gender wage gap, no mandated paid family or sick leave, and families struggle mightily with access and costs when it comes to childcare, higher education, health care, and even basic utilities -- particularly in our district.
Out of the thirteen people who applied for the State House seat, nine were female, and ultimately, three women were on the list sent to the Governor. While I was disappointed to not make the list, I was pleased with my effort and happy that a woman would represent our district -- particularly since seven out of nine legislative seats in Maui County are held by men. Statewide, out of seventy-six legislators, 71 percent are men.
More significantly, the majority of our legislators either do not have children or their children are adults. About a dozen dads are raising kids while they legislate, but only five legislators are women whose children are under eighteen. Not surprisingly, all five working mothers live on Oahu, where our state government is located. Thus, if appointed, I'd hoped to add to their ranks, while adding a neighbor island perspective.
Even though 70 percent of mothers work outside the home, women are still primary caregivers in most families with first-hand knowledge of on-the-ground consequences of legislative decisions. Furthermore, mothers tend to nurture relationships with other parents, teachers, administrators, doctors, health care professionals, and other key community members. And because women lean on each other for much-needed support, they see the impacts on families, and as a result on our economy, of a multitude of ill-conceived decisions.
As a resident of a "neighbor island," however, serving in the legislature would have been problematic. The session runs for four months, and I'd have had to live on Oahu -- a thirty-minute flight away -- during the week. Since my sons are sixteen and eighteen, I wasn't worried about my husband surviving as a single dad for a few months -- but that was definitely a consideration when I'd thought about running in previous years. And though legislators receive a travel stipend, there is no easy economical way to live part-time on a different island. If I'd had to stay in cheap accommodations in Honolulu, I'd be dealing with uncomfortable and possibly risky situations that a male legislator wouldn't.
In my iBook, Lean On and Lead, I discuss how women and parents lean on each other and on supportive policies in order to lead. Interestingly, one of the eight other women who was also running for this seat was a young activist and mother from Moloka`i. Even though her children are considerably younger than mine, and her travel time would have been longer and more challenging, I heard that she had family on Oahu. Having that support could have made a big difference if she'd been chosen, in spite of the other hurdles.
All in all, I'm very glad I threw my hat into the ring, and I hope I not only brought attention to legislation that working families need, but also to the fact that our state is losing out by not fully utilizing the creative and intellectual capacity of all our residents. My short run for office gave me insight into the particular challenges facing a woman and mother serving in public office, and provided yet more evidence that our lawmakers need to engage with parents and citizens from the neighbor islands -- individuals clearly underrepresented in the legislature -- by creating policies that support our participation in the political process, not just as voters and citizens, but as representatives.