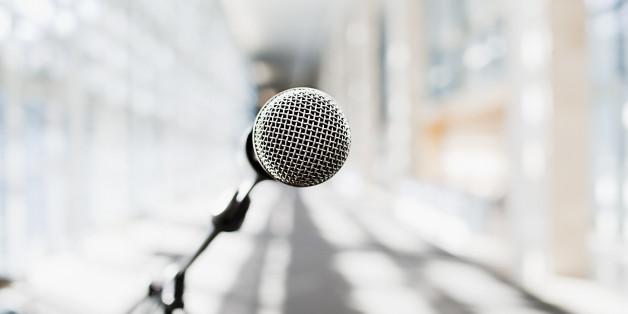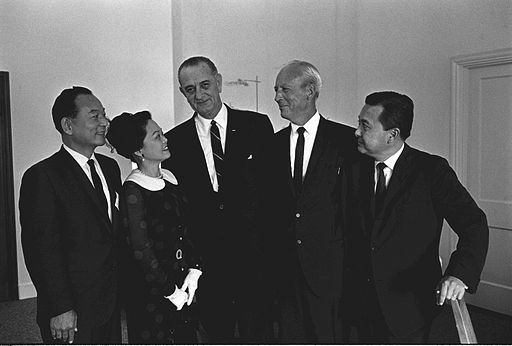 President Lyndon B. Johnson posing with Congr. Spark Matsunaga, Congr. Patsy Mink (first woman of color in either house of Congress), Pres. Johnson, Gov. John Burns, Sen. Daniel Inouye, 1966 (Public Domain)
U.S. Senator Kirsten Gillibrand recently released Off the Sidelines: Raise Your Voice, Change the World, "a playbook for women who want to step up, whether in Congress or the boardroom or the local PTA." It's both a call to action for women and a personal memoir.
While the book's purpose is to encourage women to engage more, the media recently focused on Gillibrand's descriptions of sexist behavior by some of her male colleagues in the U.S. Senate. Apparently, several demeaning incidents took place while she was pregnant and soon thereafter, including one where a senator squeezed her waist and told her: "Don't lose too much weight now. I like my girls chubby!" According to The New York Times, "people with knowledge of the incident" identified that senator as Hawaii's Daniel Inouye.
This revelation raises more questions than it answers. In light of recent events in various industries, at least ten come to my mind:
1. Is "men behaving badly" the norm?
As I'm sure was the case with most women, when I heard that Senator Gillibrand had been the object of inappropriate remarks and gestures by several senators, I was not surprised. Based on human nature, statistics, and my own experiences as an adolescent and woman over the last 40 years, I know that these kinds of claims almost always end up being true.
2. Is sexism really a generational issue?
While certain behaviors are more common among men of older generations, sexism is just as prevalent among younger men, who are generally less overt than their older colleagues. However, as we've been reminded in the last couple weeks, in certain industries such as tech and video gaming, not only are younger men also out-of-touch, they can be openly threatening towards women.
3. Do perpetrators of sexist behavior really ever act alone?
According to The New York Times, "people with knowledge of the incident" have confirmed the claims about Senator Inouye. Does this mean that these individuals were in attendance when the remarks were made? I wonder, did they stand idly by while Senator Gillibrand was humiliated? Did they tell the older male senator that his actions were not appropriate or did they play along?
The behavior and attitudes of those within earshot or who are within a perpetrator's social and professional circles are very relevant. We live in a culture where sexist and demeaning behavior is tolerated and therefore condoned - and where women have to ignore sexism or laugh along with it if they want to continue to be taken seriously and keep their jobs - in situations where they clearly are not being taken seriously.
4. Will solving real issues ever trump titillation?
Senator Gillibrand is not interested in revealing the names of her sexist colleagues because, as she told The New York Times, "it's less important who they are than what they said." Further, "it's important to have a debate about how women are treated in the workplace. I'm not alone in having someone say something stupid."
5. Is it a coincidence that the only name revealed is someone who is deceased?
As a Hawaii resident, it was disappointing to hear that this remark was attributed to the late Senator. While I did not agree with a number of choices he made as a politician, I had and still have great respect for him. It's very convenient, though, that he's not able to respond to these press reports since he passed away almost two years ago.
6. Why can't the media be part of the solution for a change?
Ironically, just like the senators they are hoping to expose, the media also undermines the credibility of female professionals and politicians by reporting on their looks, clothes, and accessories, using demeaning adjectives that would never be applied to male counterparts, and raising issues about working mothers' responsibilities and abilities.
7. When will we acknowledge that discrimination is an economic issue?
In 2012, women made up 47 percent of the civilian workforce, and 70 percent of mothers worked outside the home. That same year, in 40 percent of households, the mother was the primary breadwinner. It's high time that cultural norms around personal behavior, state and federal legislation, and the media reflect these realities, not just out of fairness to the women themselves, but in order to support the strengthening of our economy.
8. When will running for office be the norm for women?
We need more women leaders because we need better policies that support families and a strong economy. Yet even though the number of female voters has exceeded the number of male voters in every presidential race since 1964, out of one hundred US Senators, only twenty of them are currently women. And though the ratios are better on some state and local levels, women running for office must always negotiate a very different landscape than men.
I've interviewed quite a few female state legislators for my iBook, Lean On and Lead, Mothering and Work in the 21st Century Economy, and many of the stories I've heard would likely sound familiar to Senator Gillibrand. One female legislator told me about voters deriding her for running for office while she had young children (though men do it all the time). Yet another described how as a newly elected representative, male and female legislators felt comfortable giving her unsolicited advice about how to time future pregnancies.
9. What makes someone a sexist?
Despite the generation he grew up in, and whether or not he behaved in a sexist manner towards Gillibrand, Senator Inouye supported electing more women to the US Senate. Prior to the recent hotly contested Hawaii senate primary, Inouye supported a female to take over his seat: Congresswoman Colleen Hanabusa. Had Rep. Hanabusa won, she would have been the 21st woman in the US Senate - not to mention the third woman of color in the history of the Senate. In this instance at least, Senator Inouye supported changing the culture of what is predominantly a (white) boys club.
And this is no small thing. Though it does not justify other inappropriate behavior that may have taken place, it's still important.
10. Whose job is it to find solutions?
I've also had the opportunity to interview both Rep. Hanabusa and her opponent US Senator Brian Schatz (who won the primary) for my iBook, Lean On and Lead. In the book, they both speak about the need for more women in politics, and describe additional challenges that females face:
"I wouldn't want to speak for women when it comes to the added challenges of pursuing public service," said Schatz. "I do believe, however, that the US Senate in particular has an obligation to look like America in terms of gender and ethnic diversity. There has been improvement in the raw numbers of women in office in recent years, and particularly in the leadership. Leaders who are mothers and grandmothers are currently among the Senate's powerhouses."
"When women get into office, they are also trying to balance the sacrifices they have made and the changes they want to enact with the fact that they have to work twice as hard to fight stereotypes and be taken seriously," said Hanabusa. "They worry about being soft on issues. They also worry more about failing because they are working to pave the way for other women. And sometimes women's strongest critics are women themselves - because so much is riding on their success."
Clearly, as a society, we need to make significant cultural changes - and we still have quite a long way to go. All men - particularly those in power - need to understand that sexist behavior is unacceptable. So yes, as Senator Gillibrand encourages, women need to run for office and contribute loudly to the conversation.
But that's not enough. Men continue to dominate government and the media, and as was clear in the recent news about Microsoft CEO Satya Nadella and media critic Anita Sarkeesian, men continue to patronize and bully women who speak up.
Changing the culture is going to require more than 50 percent of us.
I would like to suggest that men also need to "get off the sidelines" and "raise their voices" loudly against sexism -- especially when they see it happening to their colleagues. Until they do, sexism will continue to be seen as a woman's problem instead of a malignancy that is hurting our sisters, mothers, and daughters, and which is undermining our society and threatening the vitality of our economy.