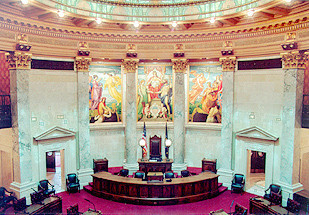 A complaint was filed by the American Civil Liberties Union (ACLU) with the Department of Justice (DOJ) on June 7, 2011, on behalf of three disabled children who were discriminated against by private schools when they attempted to enroll using state vouchers. The complaint was against Wisconsin and these private schools. Next, an investigation by the DOJ began.
And Then...
Nearly three years later, just yesterday, the Wisconsin State Senate finally caught wind of the investigation through the media, and decided to inquire further. On May 14, 2014, a letter signed by eight Wisconsin Senators, was sent to the Superintendent of Wisconsin's Department of Public Instruction, stating:
Over the past few weeks we have read several media accounts of the United States Department of Justice's (USDOS) ongoing investigation into Wisconsin's parental choice programs.
The Allegations and Law
In the initial ACLU complaint, several private schools that received federal funds, but discriminated against disabled students were listed. This is a violation of the Rehabilitation Act because the Rehabilitation Act requires any institution that receives federal funds for any purpose not to discriminate, exclude or deny benefits to the disabled because of handicaps. This requirement extends to private and public schools alike that receive federal funds.
The Letter
The Wisconsin Senate letter stated:
While private schools in the parental choice program certainly need to be held accountable for the education they provide, we are doing that at the state level. Allowing the federal government to dictate state policy in this area is not the answer.
This statement by the Senate presumes the federal government enforcing federal law is the same as dictating state policy in education. How is this so? Policy and law are not the same. Policy is general principals by which a government is guided in its management of public affairs. Law is not merely what we are guided by, but is what we are required to do. Dictating state policy and enforcing federal law are entirely two separate things altogether. The two should not be confused.
The Wisconsin Senate expressed frustration with the lack of information they received about the investigation from Wisconsin's Department of Public Instruction, as they stated:
Our concern is with the lack of information being provided regarding this ongoing investigation, and the potential ramifications it may have on participating families and schools.
The letter then closed asking for updates regarding the investigation:
We ask that you please update our offices about changes the federal government is demanding be made to our parental choice program...
It was as if the Wisconsin Senate was blindsided. Now that they have new information, what is their next move? Will they make the right one?
For a related story see here.