From July 25 through July 30, anti-poverty advocacy group ONE joined 10 bloggers who made their way through Kenya to see what life is really like for moms in the developing world. Follow along and check their progress at http://one.org/us/actnow/moms.
"We believe this is a place of light and hope. We believe there is hope in perseverance," declared the pastor and headmaster of Mwangaza Tumaini.
Today the ONE Moms visited a school in Makuru, a slum in Nairobi, Kenya. This place of light and hope is also a place that reeks of raw sewage. The restrooms or latrines are built over, and empty into, the small stream that runs through the schoolyard. Rickety boards create a walkway over the flowing, filthy water.
The school's compound consists of a small yard, a chapel, and two small classrooms built with dirt floors and aluminum walls. It was started in 2003 by the slum community. The people saw an educational need for their children and so they began a school.
Since that time it has continued to grow and now educates students through grade eight. This has been accomplished by what the teachers and administrators call "well-wishers" -- those who give time and money to assist their community.
As ONE Moms we learned about a program that ONE supports through USAID. USAID has a program called Education for Marginalized Children in Kenya. As a mother, a former school teacher, and a member of ONE, I find it very satisfying that USAID and ONE are Mwangaza Tumanini's well-wishers.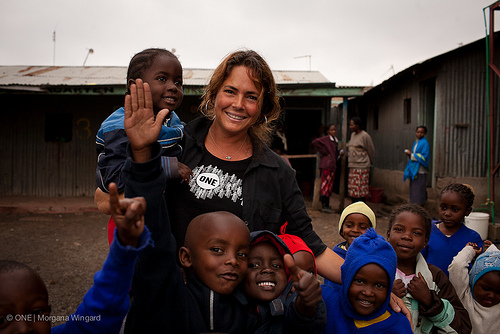 I may not be able to ever make it back to the slums of Makuru and help build a classroom or read with a child, but I can continue to be a well-wisher of this small school that creates hope and light in a very difficult place.
As a ONE Mom, my currency is my voice. I can continue to tell the stories of families who need basic things such as learning to read. I can continue to spread the word that what we do at ONE is about real people in a real place. I am grateful and full of of joy that I got the immense pleasure of laughing, holding and talking with some of these real little people in Makuru today!
Daily Action: Today the ONE Moms met with teachers and students in Nairobi. Watch our video "Chieftainess" about a remarkable woman who is teaching her community about the importance of education. Then share the video with your friends and leave a comment.
Living Proof | Chieftainess from ONE Campaign on Vimeo.