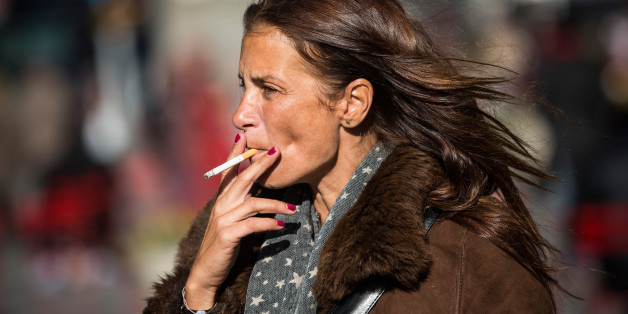 This month, the U.S. Surgeon General's report on The Health Consequences of Smoking reminded us just how far we've come over the last 50 years in our efforts to control tobacco use and prevent our youth from smoking. Smoking rates are dramatically lower than in 1964 when the first Surgeon General's report about the dangers of smoking was released (42 percent compared to 18 percent in 2012). Tobacco control and prevention efforts have saved eight million Americans .
Despite these significant gains, our fight to reduce tobacco use is far from won, and the Surgeon General's report tells us just how much is at stake. Despite tremendous progress, cigarette smoking kills even more Americans than previously estimated (about 480,000 a year, up from 443,000) and causes more deadly cancers and chronic diseases than we thought 50 years ago. Because of changes in how they are made and what chemicals are added to them, cigarettes are even deadlier and more addictive now than when they were first introduced. The risk of developing the most common type of lung cancer has increased substantially since we first learned that smoking causes lung cancer.
If the current smoking rates continue, 5.6 million American children and teenagers who are alive today will die prematurely from smoking. We need to do much more to prevent youth from becoming addicted, help smokers quit, and protect non-smokers of all ages from the senseless death and disease caused by smoking and secondhand smoke.
The Surgeon General believes, and the NYC Coalition agrees, we must expand the use of proven, evidence-based strategies that lower smoking rates and protect our youth. These strategies include--hard-hitting media campaigns, high cigarette prices, bold smoke-free policies, and robust tobacco prevention and cessation programs.
Any effective tobacco endgame strategy must consider who is still smoking and why. Our community education and outreach must be culturally sensitive and targeted if we're going to lower smoking rates among populations who bear the burden of tobacco use disproportionately.
In New York City, the NYC Coalition is working with its partners and community stakeholders on two initiatives that will address disparities in local communities across the City around smoking rates.
First, we are committed to an LGBT Smoke-Free Citywide Initiative. An estimated 33 percent of Americans who identify as LGBT smoke and spend an estimated $7.9 billion on cigarettes each year. The Director of the Network for LGBT Health Equity, Dr. Scout, has said, "We're spending more on something that kills us than everyone else is spending to help us." In 2011, the New York City smoking rate for lesbian, gay, and bisexual adults was 64 percent higher compared to heterosexuals. The smoking rate for lesbian and gay youth is more than twice as their straight peers.
To address this health disparity, the NYC Coalition in partnership with the American Cancer Society and the NYC Department of Mental Health and Hygiene formed the NYC LGBT Smoke-Free Initiative. Fifteen local, statewide, and national LGBT organizations have signed on to support the initiative and participate in regular meetings and activities that raise awareness and educate community members and decision makers alike about high LGBT smoking rates. On March 20, 2014, we will host an LGBT-specific Kick Butts Day event in New York City, which will be an opportunity to share resources, offer support and mobilize the community.
Second, we have begun an Asian American initiative to address the disparities between Asian Americans and New Yorkers as a whole, as well as disparities among Asian American sub populations. While significant progress has been made here in New York City over the past decade to reduce smoking rates, smoking rates among Asian Americans haven't changed.
The NYC Coalition has initiated a collaboration focusing on three predominantly Asian-American neighborhoods: Manhattan's Chinatown, Sunset Park in Brooklyn, and Flushing, Queens. With the help of local partner organizations, the Asian American Smoke-Free Initiative will expand to reach people living or working in all five boroughs of the City while targeting efforts in the three areas with the most concentrated Asian-American population.
Community outreach that is culturally appropriate and accessible to non-English speakers is critical, and the Asian American Smoke-Free Initiative will work to educate those who are part of traditionally considered hard-to-reach populations. For instance, rather than simply translate anti-smoking ads into Mandarin Chinese, we will work with groups most familiar with Asian American sub-populations with higher smoking rates to create culturally relevant images and messages.
We agree with Acting Surgeon General Boris Lushniak when he said "enough is enough."
We join the Surgeon General in his commitment to revitalizing the fight against Big Tobacco and reducing smoking rates to less than 10 percent for both youth and young adults in 10 years.
"The clock is ticking," Lushniak said. "We can't wait another 50 years."
A tobacco-free generation is within our grasp. It's time to commit to ending the tobacco epidemic once and for all.