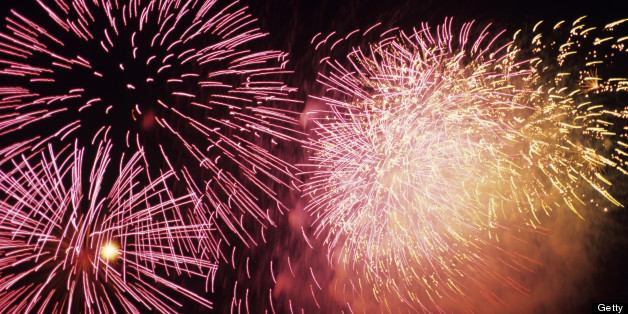 We drove to Delray, parked at my friend's house and walked to the beach. It was much more crowded than the other day, we were at the north end, where public parking is more available. Large groups of people were having parties. One gathering had a tent festooned with red, white and blue balloons. Most of the group were wearing flag bandanas, T-shirts or shorts.
The water was rough. I walked along the shore, watching adults laughing as the surf knocked them to the ground. I love the sound of the beach when the surf is crashing. It mutes everything else, the sound of children laughing, seagulls squawking. That's all background noise to the rolling, thunderous surf.
After a swim for hubby and a dunk for me, then a nap for the both of us, we continued our walk down Ocean Avenue to town. Atlantic Avenue was closed for the festivities. An Eagles cover band was playing on the stage along the beach. "On a dark desert highway..." We were dying of thirst. I was feeling the martinis I had the night before, pear vodka with muddled strawberries. We had kicked off the 4th of July festivities at a happy hour further down Atlantic Avenue. A fresh squeezed lemonade stand appeared like an oasis in the desert, re-energizing us.
Tents were set up, local artists displaying their work. The usual food choices-sausages, kettle corn, hot dogs, cheese fries. We found an empty bench and people watched for awhile. My husband had found a free Real Estate for Sale magazine. One beachfront property was actually being offered for 17 million dollars.
The horn for the drawbridge over the intracoastal let out it's loud, high pitched bellow. The steady flow of pedestrians headed towards the beach where the evening's fireworks were taking place, slowed to a trickle. Ten minutes later, the bridge descended and the gates lifted. A huge sea of people headed towards us, a thunderous, rolling wave. A surfer's dream. Apparently, the Delray fireworks are quite an event around these parts.
As I watched this throng of people pass by my bench, I thought about what a strange country America is. We are the largest experiment in democracy the world has ever known. In the last few decades, we have become more divided than ever. We constantly argue about what democracy is. Does democracy give a woman the right to choose? Does democracy give everyone the right to carry simply a gun or does it include an AK-47? Where can you buy that gun and do you need a background check to purchase it? Some of the very same people who believe a woman should have a vaginal probe before having an abortion also believe they should be able to buy an assault rifle at a gun show without a background check. America. It's a confusing place at times. I sometimes wonder if the founding fathers were so wise to leave the Constitution "open to interpretation." I think most people need specific instructions. Twenty four hour news and talking heads don't help. It's just background noise to the rolling, thunderous sound that democracy should be.
The beach was packed with people, the sand fleas were arriving, the air was still hot and humid. Hubby and I agreed the traffic out of here was going to be a nightmare. It could take hours to get home. We bailed. When we got to our car, a young couple had just arrived. "Aren't you staying for the fireworks?" they asked. "No," we shook our heads. In the car my husband said, "We're fifty five. I don't need to stand with a mob of people on the beach watching fireworks, then deal with bumper to bumper traffic for an hour." Apparently he is more comfortable with the Post 50 category than I am.
We stopped to get a pizza and ate it at home, while catching both the Delray Beach and Lake Worth fireworks from our back deck. We fell asleep to the sound of firecrackers and the deck door above us sliding back and forth, back and forth. Tomorrow we would continue house hunting.