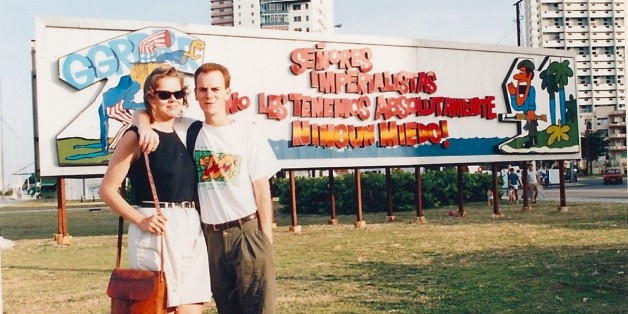 Today is my wedding anniversary.
Yep, it was exactly 23 years ago that I eloped with the man of my dreams, tying the knot wearing jeans and a black turtleneck in a tiny attorney's office in Antigua, Guatemala. (The ceremony was in Spanish, so my fluent husband had to keep nudging me each time I was supposed to say "sí." I still sometimes wonder if we really are married.)
Yes, we're both American. But we wanted to start our lives as foreign correspondents with a bang. And I knew there was no way in hell I'd ever get my atheist husband to agree to a church wedding.
In fact, initially I hadn't even been sure I'd ever get my husband to agree to much of anything. One of the most courageous things I ever did in my life was ask him where our relationship was headed -- we were both in our mid-20s -- after we'd been dating nearly a year. He stunned me by saying with a straight face, "Uh, I have a lot of partying left to do in my life. I'm not ready for any sort of real commitment with one woman."
The question wasn't the courageous part. The courageous part was, after hearing his response, saying goodbye, taking a deep breath, and moving across the country to take a job at a newspaper in Connecticut. I cried most of the way there, but I knew in my heart that if I had stayed and nagged him, we would have had no chance as a couple.
Giving him space allowed him to fully realize how much I actually did mean to him. It took a whole year, but eventually he called, bought me a plane ticket to come see him and -- with tears in his eyes -- told me before we even left the airport that he'd made a horrible mistake. He had become caught up in the myth of what men in their 20s were supposed to be doing -- dating lots of different women. But it really wasn't the life for him. He'd already met the person he was looking for. He just hadn't realized it until that person was no longer around.
During the first 10 or even 15 years of our marriage, we never failed to celebrate our anniversary in a splashy manner befitting of a young couple very much in love. I remember once my husband gave me a package of six ballroom dance lessons, a staggeringly romantic gesture from a man who, once released from the awkward rituals of dating, seemed determined never to set foot near a dance floor again. I also remember the time he gave me a nice engagement band since my wedding ring, purchased in Guatemala, cost precisely $5. (And, no, I'm not kidding.)
But as the years wore on, the reality of three children and two full-time jobs started to encroach on our couple time, and I began to really wonder how people stay together forever, happily in love. It seemed that the honeymoon period in our marriage -- and in many other marriages -- did indeed have a shelf life. Our twice-a-year weekends away as a couple that used to be so much fun to plan eventually turned into one weekend a year that took a lot of effort to organize. And now? The last time we went away together as a couple was to St. Lucia, about two years ago. Or was it three?
All marriages go through rough patches. I admit there have been times, even in this past year, when I wondered, "Where is our relationship headed?" It's the same question I asked more than 23 years ago. My husband's never been the type to say "I love you" first. But lately it had me wondering, does he really love me? Why are those three little words so hard for some people to say? Should I be worried?
Now, like all those years ago, I have remained calm instead of clingy. I've been home sick with pneumonia this week, so it's given me a lot of time to think -- and to observe. My husband may not have said "I love you" every single morning, but he cooked dinner for the family every single night. He made countless trips to the pharmacy at my behest. He helped with homework. He did the laundry. He cleaned. And he fussed over me. Believe me, there's nothing sexier than a man who leaps out of bed to run downstairs to fetch you a glass of water, without being asked, when he's woken up by your coughing.
After 23 years, do we still love each other, even though we don't say "I love you" as much as we used to? You betcha. Our actions, not our words, tell the story. Being able to count on this man is worth its weight in anniversary chocolates any day of the week.
Yes, we definitely need to plan a weekend away -- it's long overdue. But for today, I'll settle for the following, which my husband said to me this morning: "Hey, you've been cooped up all week. We need to get you out of the house tonight. It will make you feel better. Whatever you want to do is fine with me. I just want you to be happy."
He cares. He loves me. And I love him as much, if not more, than I did 23 years ago. Happy anniversary, honey!