I love it when something new in my life suddenly intersects with something I've been doing a long time, for example, home swap and yoga. My family has exchanged our home 14 times in the past 12 years, however yoga flowed into my life only recently. So when my yoga instructor used the term asana, I pondered it for a few weeks and then applied the concept to home swap.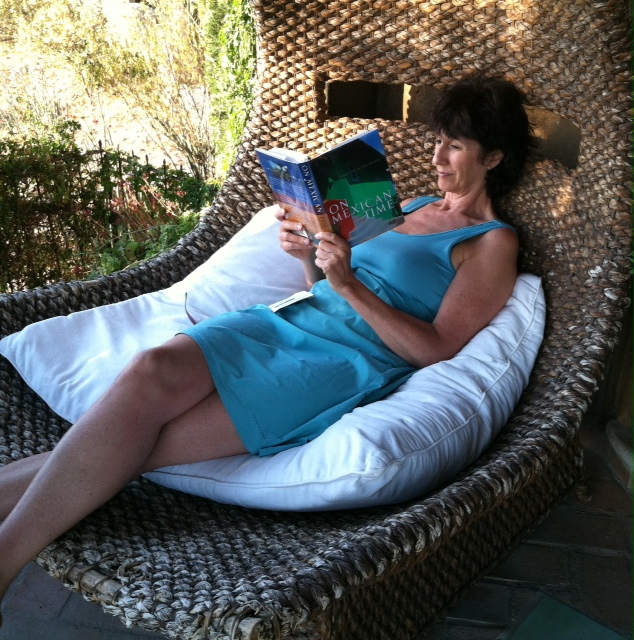 San Miguel de Allende, Mexico - This was my favorite chair during our home swap in Mexico. Ahhhhh...
During class my yoga teacher, Lisa Hampton, wanted us to find a comfortable seat; she used the word asana. Later when I asked her about it's definition she said, "To me asana means to be where the body and mind are grounded. Connected, calm and free of effort." She paused and smiled, then said, "You know, easy... comfortable."
"So it's a yoga pose?" I asked.
"Well, it doesn't have to be a yoga pose," she said. "It could be lying in a meadow or walking along the beach. It's when we line up with our true self."
"I see," I said, even though really I didn't. Not right away.
A few days later while I was online looking at a home swap photo, Lisa's explanation began to make sense. It was a chair. A chair in the photo. Without even realizing it I was envisioning myself sitting there, in that chair, in my favorite position -- with my feet up resting on an ottoman.
When I sit in a comfortable chair and put my feet up, I'm happy. Like Lisa said, I feel calm and free of effort. If a view comes with that comfortable chair... well, that's the best. Put the comfortable chair, with a view, in a lovely home in another country, heaven on earth.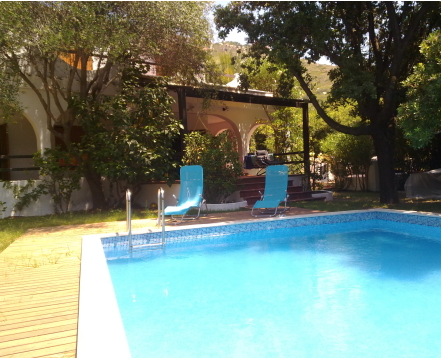 Sardinia, Italy - Can you imagine yourself sitting in one of these chairs? This 4-bedroom/2-bath home is available for swap with 1st Home Exchange.
I think realizing what specifically brings us happiness is HUGE. Ask yourself this question, "What brings me happiness when I travel?" If you can figure that out, then finding the right home swap will be that much easier.
Now, going forward when I research home swaps you can bet I'll be looking for that comfortable place where my body and mind are grounded. And my feet are up.
Home swap has enriched my family's life; it can do the same for yours. If you want to learn more about home swap have a peek my blog at Home Exchange Expert or follow along on Facebook.