As we approach Cinco de Mayo*, 5th of May, I'm borrowing a Spanish phrase I've always loved, "Si, se puede!" or "Yes, you can!" It's my rallying cry to tell you, "Yes, you can home swap!"
Often in life we need someone to encourage us to achieve our goal: we can run that race, apply for that job, or even ask someone on a date. Well, I'm here to tell you that you can travel the world and stay for free! My family and I have enjoyed 15 home swaps in 13 years; we've traded our home in San Diego, California with families who live in places as diverse as Hong Kong and Cape Cod.
If world travel is a dream of yours, consider house exchange.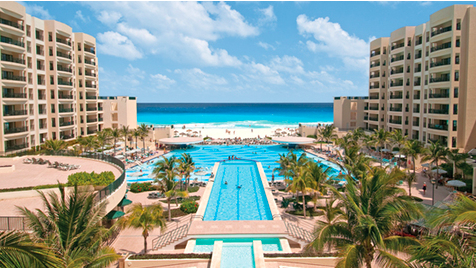 Cancun, Mexico - A 2-bedroom/2-bath home swap is available in this fabulous resort.
You can find it on HomeExchange.com
The house exchange vacation concept is simple: you stay in my house and I stay in yours. Mi casa es su casa. It all began in 1953 when David Ostroff developed the idea of swapping homes with fellow teachers and family. He typed the first list of exchangers on his manual typewriter and mailed it to participants. Originally the list only included people who lived in the U.S. After all, it was the 50s. Who would have ever thought that people would home swap with someone in another country? Through the decades that's just what happened and Ostroff joined forces with people around the world who shared the same vision of traveling the world and staying for free. Today it's estimated that there are 70 home swap clubs throughout the world. The average membership price is $100 per year. The largest company is HomeExchange.com and they have 45,000 members in 154 countries!
Love Home Swap, an exchange company headquartered in London, reports that the average savings per house exchange vacation is $3,487. Numbers like that get my attention! Last fall, I conducted my own survey and reached a similar conclusion. If you visit New York City and stay in a hotel for nine nights your vacation fees will look like this: hotel $2,736 + hotel tips $75 + eating out $936 = $3,747. You can read my full article here: Powerful Proof That You'll Save Big Money On Your Next Vacation When You Home Swap.
However, with home swap, it's not only about the money. It's about living like a local--in a neighborhood, not a commercial area. Like with trees and yards and families. And you'll get an entire home, with a kitchen and a living room. If you swap with a family with children you'll get toys!
Once you try a house exchange you'll wonder why it took you so long.
So go ahead, invest some time this week. Research house swap clubs, and join one. HomeExchange.com offers a Reverse Search feature and in 60 seconds you can find out who wants to do a house exchange in your community. You'll be thrilled by the fabulous choices. HomeLink.org, celebrates their 60 year anniversary this year. The HomeLink website makes it easy to tell which of their members respond to home swap requests. Yep, it's labeled the Response Rate.
As you begin thinking about vacation and wondering if you can make a home swap happen, let me be the first to tell you, "Si se puede!"
Home swap has enriched my family's life; it can do the same for yours. If you want to learn more about home swap have a peek at my blog at Home Exchange Expert or follow along on Facebook.
*Cinco de Mayo commemorates the Mexican army's 1862 victory over France at the Battle of Puebla during the Franco-Mexican War (1861-1867).