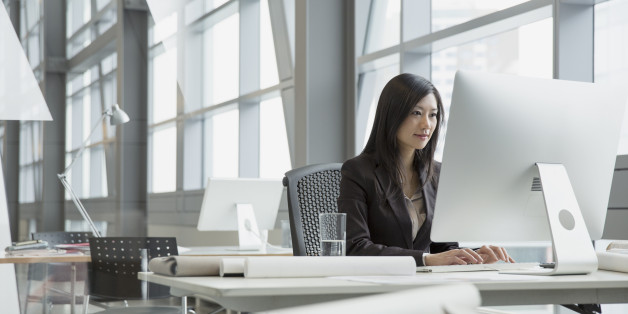 When I was 21, I had a female mentor that I wanted to emulate in every way possible. I wanted to dress like her, I wanted to talk like her and I wanted to be the best business development person in the world, because she was the best. One of the things I always questioned though was -- if you have a family, why are you never with them? Why are you always working? She said something to me I will never forget. "My family will wait... this is my time for work."
I didn't understand, but I thought -- she's happy, she doesn't complain about a bad marriage or her kids doing bad things, so it must be OK. Unfortunately, a few years later, she had a family tragedy. And the worst thing that could ever happen... happened. I went with her to the funeral and I held her hand...and she's never worked since.
It was my first real moment of clarity and began my journey to finding what the good life at work meant for me. I taught myself to never work to live and to never have regrets. Think forward in your life, and if you're going to regret missing something, don't do it.
The second and most defining moment of my career happened around 14 years ago, when I had risen in the leadership ranks and was seated at a table of men discussing the changes impacting the research business. Our methods at that point were captured by pen and pencil and by doing telephone interviews... very old school. I remember suggesting that we should migrate research to the Internet, and they all looked at me like, "Huh? Only wealthy old men with broadband are on the Internet... hardly a representative population... Nah, it's not the right time."
Well, I thought to myself, when is the right time? Again, my heart pounded and I heard thunder in my ears. My female intuition stabbed at me -- do something! And I did. I went into work the next day and I resigned. My husband was just starting out and we needed my salary, so it may have been a crazy decision, but he fully encouraged and supported me. So I left! I started my own company, and was one of the first to pioneer online research. I had to get people to believe in me and what I was doing and where I wanted to go. But first, I had to believe in myself and know that I brought something special to the table and could be a great leader.
I built a company with passion, purpose and process, but most importantly, I discovered what the good life at work is to me: It's always about the people. As the founder, I was able to create my dream team and create rules that were exactly the opposite of what I hated in corporate America. I don't do time sheets; I don't do "nine-to-five." My number one rule? Just don't ever leave your team there all the time. Pick up the slack if your co-worker needs to leave early to make their kid's soccer game and know that they'll cover you if you have a birthday party or are just running on empty.
Most importantly: Find a way to complement each other without being afraid to shine.
As one of four daughters, maybe I was looking to recreate that same kind of sisterhood-in the process, I wound up creating a new one -- a sisterhood for the workplace. An informal sleepover party at CES two years ago spurred what became The Ipsos Girls' Lounge, a go-to destination that meets at several industry conferences a year, including Cannes Lions and the 4As. Hundreds of women have joined us to share their stories, their triumphs, their failures and what they would never do again -- so that we can learn from one another. That's the good life at work in action.
It's an exciting time for women. There is tremendous momentum to discover, share and empower confidence. Sheryl Sandberg has opened a global dialogue encouraging females to take a seat at the table. Arianna Huffington is challenging us to pursue a life beyond money and power and to thrive with health, wisdom and wonder. And we're finding that traits like empathy, generosity and patience -- previously written off as "feminine" and therefore, best left at home -- turn out to be very effective leadership qualities.
In order to keep growing, it's essential that we define what the good life at work means. Is it flexibility? Recognition? Travel? A promotion? It may mean something different to each of us, but it's something The Girls' Lounge and our friends over at the Equal PayBack Project are intent on defining. Join the dialogue and share what it means to you.