I've become obsessed with politics lately. Some days I eat, sleep and talk little but politics, deluding myself into believing that my obsession can change the fate of the nation. This obsession was triggered by my outrage at the unpunished crimes of the Bush administration, but that doesn't matter with an obsession which doesn't always need a great cause to take root. I now read about politics and write about it often at the expense of other activities, such as finishing this memoir which I began to write a year ago, or getting past page 30 in the great new biography of Picasso that I have been reading for what seems like months now. Obsession is nothing new to me. When I was a small boy in the late 1930s, I was obsessed with dogs. As an asthmatic child, prone to frequent attacks for which there was then no remedy, I was forbidden contact with the canine world by a stern pediatrician and my worried parents. They feared that fur and dander and drool would leave me gasping and possibly dying on the immaculate blue linoleum of my bedroom floor. I was forced to bury my yearning like a bone, only finding relief in the popular dog novels of Albert Payson Terhune.
I dreamed dogs. I longed for dogs. I whined for dogs. I wept for dogs. Since this direct approach to my parents accomplished nothing, I hinted at dogs on every occasion, sometimes subtly, often broadly, spoke obsessively of the value of a dog; life saving when on the beach a large ocean wave might take me out to sea; then who, who but a dog, my devoted dog would swim out to rescue me? When that failed to work I reached deeper into my small arsenal of arguments and proposed that a dog would keep rats out of our kitchen in our city apartment. My mother was horrified; no rat would have dared to invade her spotless kitchen, scoured as it was by stiff brushes, Old Dutch Cleanser and Murphy's Oil Soap. So no dog scampered into my young life. Once, in response to my demands for a pet, I was given a tiny, stinky turtle with my name painted on its back, purchased at the local Woolworths, but it soon disappeared down a hole in the radiator pipes and Sherman the turtle found an early unmarked grave much to my relief.
As I grew older and left home for college where I met Joan, my future wife, I put aside the idea of owning a dog as impractical, a needless burden on my soon-to-be-fascinating, adult life. It was long past the time when I had cried for anything, whether in sorrow or in joy. I was a young American of the 1950s, and I knew from my reading of Hemingway that my role was to be stoic, brave, reserved, romantic yet self-possessed; and if I wasn't able to test my mettle in the long passed Spanish Civil War or on Mt. Kilimanjaro, I could still do a good job of impersonating someone who could contain his fears, tears and other unseemly emotions. This somber pose, hard for me to keep, was at odds with my natural tendency towards easy laughter, and my instinctive knowledge that the world was an absurd but fascinating place that demanded a smile, a hug, some tears, or a wise-crack to survive it.
I was no longer asthmatic, and enjoying the good health and high energy of my early 20s. I wanted to travel the world; and a dog would be an impediment to all the adventures in Europe that I had in mind. But I had not counted on my new wife, Joan. We had married right after my graduation from Bard College, where we had fallen in love, and decided to spend our lives together, which we have now done for over 50 years. Joan hadn't spoken much of dogs during our college days, I can only recall one warning sign when she bent down on the damp campus grass to play with an elderly professor's lively young Springer Spaniel on our way to a prom, indifferent to her white pique ballerina skirt, so caught up in this puppy love that she failed to notice that her new skirt was now stained with patches of green.
For the first few months of our marriage I thought that Joan's many stops into pet shops and animal shelters, the frequent kneeling in the street to fondle a passing poodle, a fox terrier, or praise some appealing mutt, was enough to satisfy the longing she had for a dog. I had not counted on the fact that she had been raised with dogs from earliest childhood and that she was lonely without a dog; she felt incomplete without one, and as much as we loved each other, two is a most imperfect number which soon reveals its inadequacy after a few months of cohabitation.
One day Joan saw an advertisement in The New York Times for a five month old Miniature Schnauzer placed by the owner, claiming that no reasonable offer would be rejected. "Don't!" I warned. "I won't buy that dog," she assured me, "I just want to look." I am certain that at the time she meant it. At least I wanted to believe that she did.
When I returned home from work the Schnauzer pup was there to greet me. He cocked his head sideways to take me in better, as if looking at me on the diagonal would provide more information about this tall, very skinny guy, than a straight up and down glance. I saw a bundle of rough cut salt and pepper fur with two round gleaming black eyes, a raisin nose poised over a handsome grey moustache and beard, which strangely made him look younger, rather than old. His short, clipped upright ears, and his red tongue hanging out to the side, much as my tongue hung to the side when I concentrated on catching a fly ball in the outfield as a boy; all this was his snapshot portrait. His excitement at seeing me resulted in a tail wag of such enthusiasm that it would have fallen off if nature had not fused it to his hind parts so ingeniously. His bark, if you could call it that, was not the yelping sound one expected from a small terrier, it was downright conversational. He was small, but not too small, square cut, beautiful as any animal that I had ever seen, he moved with a swagger, a natural confidence that I knew I lacked. Moreover, he was clearly a liberal Democrat; those compassionate eyes, the scrappy disposition, ready to take on a fight in a good cause, and the desire to get in that last bark, all pointed to his political preferences which corresponded to mine. The question now was not if I would accept him, but would he, noble dog that he was, accept me with all my failings.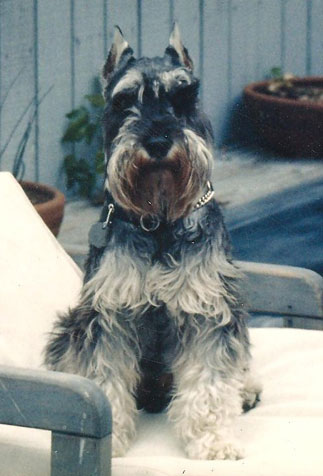 "Is he housebroken?" I asked Joan, hoping to conceal my admiration and regain lost ground by finding some flaw in this amiable creature. After all she had broken her word and I could not let her off quite so easily.
"Do you think that woman would have sold him to us so cheap if he was?" Joan replied, amazed at my stupidity. "She kept him locked up in a dark, damp basement so he wouldn't soil her ugly orange colored shag carpet. She hardly ever walked him. Says she couldn't even paper train him. Some people! Trust me -- he'll be trained in a week or two."
"What's his name?" I asked.
"The woman called him Wee Gordie. Pretty dumb to give a Scots name to a schnauzer, isn't it? He comes from a fine Maryland breeder, want to see his papers?"
"I'll take your word on that." I replied, declining the chance to admire the genealogy of an animal whose pedigree would undoubtedly top mine in every way.
. "He's from the Esterhazy line of champion Schnauzers," she continued, ignoring me as she reached into her handbag and was soon brandishing his AKC certificate.
"Esterhazy was the name of that vicious anti-Semite who was responsible for the persecution of Dreyfus in the Dreyfus affair," I reminded her, trying to regain the upper hand.
"Are you going to blame this innocent, loving creature for some anti-Semitic scandal in nineteenth century France?" she replied, astonished by my historical pettiness.
"Okay, what do we call him?"
"I was thinking Augustus. It has a certain Roman dignity, and when you shorten it to Gus it has a friendly Germanic sound."
"There is no friendly Germanic sound," I contradicted.
"Now there is," she asserted.
So Gus it was.
That evening I walked Gus along the esplanade overlooking the river bordering East End Avenue. He sniffed at everything in sight. The city was a festival of new smells to him.
Soon he raised his leg on a fire hydrant in the grand canine tradition and again on a tree establishing his bone fides as a dog. Within a week or two he was housebroken, exactly as Joan assured me he would be. But when he looked at me that first night I knew that he was better than housebroken, he was mine. It was on my side of the bed that he curled up and rested; my tattered leather slipper that he was gently chewing; my face he washed with his rough tongue when I opened a sleepy eye in the morning to reach for a cigarette in those long ago days when everyone smoked, all the time, even your doctor.
Every evening, returning home from my job as an editorial assistant at a small magazine, I walked Gus in the park, and later, after dinner I sat at my desk, busy at work on a new play, and Gus took up his established position, resting his chin on my shoe under the desk. Joan may have bought him, but I knew that I was his true owner. Of course if you asked Joan she had another story about whose arms he rushed into as she returned from work, and even now, a lifetime later she will still falsely claim that it was her side of the bed on which he slept.
Gus brought me into a new world of city dog owners who met each evening at Carl Schurz Park near Gracie Mansion, the mayor's house, three city streets from our small, inexpensive apartment overlooking the East River. Despite all the signs warning pet owners to keep their dogs on a leash and off the grass, there was an ad hoc playground here for the animals. Gus quickly established his natural leadership among the canines of that group, and he was soon featured in a Life magazine article about dogs in the city, his star quality shining through. He avoided the nips of the German Shepherds and the bossiness of the poodles, always amiable and playful. I was intensely proud of him, and worked hard to conceal it amongst the owners of these clearly inferior animals.
East End Avenue was an out-of-the-way spot in the city. Elegant art-deco limestone apartment houses with East River views, built in the twenties and thirties, occupied the streets down to 79th. Above 86th Street there were well preserved 19th century brownstones with high stone stairs leading up to old wooden doors guarded by landings with stone flower boxes. All this was only a block east of York Avenue but a world away from the nearby tenements of Yorkville where German and Hungarian families established this neighborhood in the 1880s. It was a feast for the eye to walk Gus into Yorkville with its hodgepodge of buildings, its European style restaurants, all of which let him inside to eat with us in those easier, dog friendly days;. There were family delis and sweet shops so wonderful at Christmas with their shiny marzipan fruits and animals, together with elaborate gingerbread houses filling the store windows. Nearly all of this Yorkville would disappear in the housing boom of the following decades; a boom that destroyed or watered down the essence of so many New York neighborhoods. The tenements would be replaced by anonymous white brick high rise buildings, inhabited by anonymous high-rent tenants; old store-fronts gave way to the Gaps and the Starbucks, and the blank glass windows of commercial banks; banks that seemed to swallow the old city and its neighborhood people overnight in one gulp. Perhaps worst of all, those wide streets for walkers were narrowed to make way for more car traffic. And they called it progress.
Our life with Gus began many years before the realtors and Wall Street wizards took possession of my New York. It was still a city where schoolteachers, salesmen, secretaries, small business owners, and young people like me who lived from paycheck to paycheck at low paying editorial jobs could afford to make their home. East End Avenue was also the home base for many international theatre and film stars, the Hampstead Heath of New York. Out for my dog walk with Gus I might see the legendary theatre stars Alfred Lunt and Lynne Fontaine, long married and strolling hand in hand, or Rex Harrison and Lily Palmer, also married, standing beside but clearly not with each other, waiting for a taxi and a divorce. Sometimes one could catch a glimpse of the elusive Greta Garbo in her solitary nightly walks on the esplanade beside the river, walks which happened to coincide with my walking of Gus. My nodding acquaintance with these notables had nothing to do with me, an aspiring playwright, but with the incredible appeal of Gus the irresistible. At one time or another each of them had stopped to pet him and declare that he was such a beautiful animal. I instinctively understood the rules of that game; I was supposed to thank them and show no sign of recognizing who they were, other than fellow dog lovers. I was a natural at doing this. Not annoying the famous was bred into native New Yorkers at that time.
Not all of these were your run-of-the mill star passing in the street encounters. I lived then in that small, rent controlled pre-war riverfront apartment near the limestone and canopied grandeur of a building that sheltered Bea Lillie, the beloved British comedienne and Broadway star. Her great career on London's West End and on Broadway in popular musical revues was drawing to a close. She had married into the peerage and as Lady Peele settled into her large East End Avenue flat, a widow, alone, her only companions a surly looking chauffeur, and an amiable brown Dachshund named Elizabeth. Gus and Elizabeth were fast friends; they spotted each other at a distance, the sightings followed by great tail wagging, followed by Gus's not-so-subtle attempt to mount that low slung, irresistible Dachshund, treating her as both a chaise lounge to rest upon and a sex object with which to mate. All of this embarrassed me a bit but merely amused the worldly Miss Lillie. Gus was now in his adolescence, and remembering my own, which was not so distant in time, I found it difficult to condemn or control his sexual longings, or even gently admonish him for them.
Bea Lillie was the most affable of women, and our walks together, though infrequent, were made memorable by her singing bits and snatches of music hall songs to Elizabeth, Gus, and me, followed by her naming the obscure revues on Broadway or the West End in which that particular song was first heard. This was sometimes accompanied by a question to herself, "Now was that me, Noel, or Gertie Lawrence who first sang that song?" Since I was not expected to answer, nor did I know the answer, I waited for her reply to herself. "No, couldn't be Gertie, could it? She didn't have the voice for it. And Noel only liked to sing his own songs, and that's not one of them, so it must have been me! You're quite right my dear, it was me!" she concluded looking at me approvingly, as if I had provided the correct answer on the subject in a popular quiz show. These scatterbrained comments sometimes took the form of two party arguments as she conversed with herself, and this seemed at first a mark of the cultural and age differences between us, but I was soon to learn better. One fine spring evening I came upon Miss Lillie out walking, still talking and singing to her dog. The trouble was that there was no Elizabeth in sight. After a minute I felt compelled to inform her that her Dachshund was not attached to the leash. Miss Lillie turned to look at the empty leash in her hand, registering her wide eyed amazement.
"Silly me, I forgot my pup, but not to worry, darling, I remembered to bring along my pussy."
This said she raised her skirt to her waist revealing both an absence of panties and the presence of her pubic hair, accompanied by a look of pure delight on her face, as she studied my shocked bewilderment. It was in no way a sexual invitation; it seemed a brilliant improvisation, the work of a woman who had learned how to turn life's small and large misadventures into occasions for irreverent laughter, one who had long ago stopped caring about the proprieties. Almost as soon as she said it, her chauffeur-keeper appeared behind us carrying Elizabeth in his arms, then he silently attached the leash to Elizabeth, and taking Miss Lillie firmly by her arm he lead her towards her apartment building, glowering at me as if I was somehow responsible for the woman's public pubic display. I knew then what I had only half suspected before, that she was suffering from the early stages of dementia. I was not to see her again, and Gus would never again encounter that hump-worthy sofa, Elizabeth. I assumed that Miss Lillie lived out her remaining days in England, sinking deeper and deeper into her sad fate, remembering fewer and fewer of those long-ago tunes, and finally losing all the names of her beloved theatre friends, including her own.
It was my fault, this time. All my fault. Trust me, I had fair warning. It was clear that Gus's lust was now a heat seeking missile, not to be countered by my imperfect radar and ineffective anti-ballistic shouts of "Stop it, Gus." He was in full canine puberty, and since we had hopes of eventually breeding him we had not had him "fixed." One Sunday summer evening while walking along the river path I was training Gus to heel without a leash, and he was managing it well, brilliant student that he was, me shouting "heel" while he rushed to walk beside me, his head tilted upwards for praise, followed by a dog biscuit that I extracted from my pocket. I thought nothing of it when I saw a man walking ahead in the far distance with another dog. Later I figured that the dog was a female in heat. Gus ignored the biscuit and rushed towards the other dog. I saw the man look back at me once, then scoop Gus up in his arms, look towards me again, and run from the walk, rushing like the devil up the steps that would take him over the raised foot bridge that linked the walk to the street beside the river highway, his own animal close behind him.
I raced after them, my heart beating in my chest, my lungs ready to explode, shouting for him to stop, but they were too far ahead for me to catch up with them, and when I arrived over the footbridge there was no Gus, no man, no hope. Nothing. They had disappeared from sight into an empty street. I scoured the neighborhood. Asked doormen. Dog-walkers. Questioned anyone I saw if they had seen my...but they hadn't. I returned to Joan an hour later. "Where were you? I was worried sick," she said. Then she looked around, and asked uneasily, "Where's Gus?" I told her what had happened knowing that I was fully responsible for the loss of our beloved dog, and that she might forgive me in time, but that I could never forgive myself.
"Maybe the guy thought he was a stray and took him to the ASPCA," Joan proposed, hopefully. We called the pound." No Miniature Schnauzer had been brought in. I told her that the man had definitely seen me with the dog, that this was no misunderstanding; Gus had been stolen, dog-napped.
I was unable to forgive myself for my carelessness, and the loss that had come upon us. Joan suggested that we post a missing dog notice on the various light posts and trees from 81st Street down to 60th Street, the kind of notice that would appear beside home made ads for French lessons, cut rate moving services, missing diabetic cats that were in desperate need of their medications, and offers of cheap classical guitar instruction. I typed up two dozen copies of our notice in the boldest type allowed by the old Smith Corona Selectric:
LARGE REWARD FOR RETURN OF SALT AND PEPPER MINIATURE SCHNAUZER. NO QUESTIONS ASKED BY HEARTBROKEN OWNERS. LAST SEEN ON RIVER WALK BETWEEN 79TH AND 70TH STREETS."
Beneath it was our telephone number, Lehigh 5-3894. We went around the neighborhoods late that night hastily posting these notices. Our doorman Terry, ever genial and positive, tried to provide some comfort, "Wherever that dog ends up he's gonna be loved," he offered. That was no consolation for me. Sure, he might be loved by anyone, but what of me, infinitely less lovable, and unable to consider a life without Gus.
That night the phone rang and a man on the other end asked if I was the owner of the missing schnauzer, only in his rough nasal voice he called it a "schnotzer" as if my beloved Gus was something nasty that had accumulated in a storybook giant's nostril. I assured him that I was that owner. He began to praise the dog lavishly. "That's some little pup you got there," he told me. "Beauty, isn't he? Pedigree schnotzer, right?" he continued.
"Yes, he is," I replied, knowing that my caller was edging closer and closer to the all important reward question. I backtracked, seeking some proof that he had the dog, and when he mentioned the special dog collar Gus had been wearing -- a small leather sailor's collar that Joan had bought for him -- I knew he had our dog.
"I could get two hundred bucks for him," he continued. "You got two hundred bucks?"
"No. It's Sunday night," I replied. This was years before ATM machines flooded the city with instant money. And two hundred dollars then was a helluva lot of money then, the equivalent of a thousand today. "Banks are closed. Stores are closed so I can't cash a check. I won't be able to get the money for you until tomorrow, but if you return him to me now I'll get you your two hundred on Monday. I'll write you an IOU if that makes you happy. My wife and I are heartsick," I continued, appealing to the better nature of the man, immediately suspecting that was non-existent, only to be interrupted by a sharper tone in his voice.
"Monday's too late. I already have an interested party willing to pay me two hundred bucks for this dog tonight. He's got a very sick kid with a birthday comin' up, maybe it's that kid's last birthday, and the kid saw Bullets and fell in love."
"Bullets?" I asked. "Who's Bullets?"
"I call him Bullets. The way he ran towards me and my dog it was like he was shot from a pistol. I'm a dog lover myself," he said, his voice softening into a shoddily manufactured kindness. "So I'll give you the chance to match Dr. Moran's offer."
Dr. Moran? He had put a name on the imaginary bidder for Gus with the crook's expert use of the specific. He made it clear that my fellow bidder for Gus was a rich doctor, motivated by love for a dying child, no piker like me who didn't have two hundred dollars on him on a Sunday.
"Look, I'll get as much cash as I can for you. I'll get you your two hundred bucks. Just bring back my dog." I gave him my address but he had no interest in meeting me there, suspicious of who might be waiting there for him.
"I'll meet you in Carl Shurz Park at 11 tonight, near the benches on Eighty Fourth Street. And don't do anything funny if you want to see the dog again. No police," he warned, hanging up on me. I felt that I was trapped in some absurd gangster film but I knew enough about life in my mid-twenties to realize that life often mimics art, mostly bad art.
The thought of Gus becoming Bullets Moran was more than I could tolerate. Joan and I had 17 dollars between us until our next paycheck the following Friday, which meant a week of spaghetti dinners with loaves of Italian bread every night. My family was away on vacation, friends were off for the summer weekend; there was nobody close to us whom we could turn to for help. So I buried my pride and went from door to door in the apartment house, a desperate pan-handler begging dollars from neighbors, some of whom hardly knew me, accepting small change, anything I could get from wary strangers. Many of them peeped at me through a metal door chain and refused to invite me inside. I explained my situation, reduced it to a pitchman's spiel. "Dog stolen. Wife heartbroken. Thief demands cash." A few of these neighbors, long annoyed by Gus's a capella barking during our absence from our apartment, appeared to be relieved when they learned that he had been taken, even in that nefarious manner, and they claimed to be short of cash themselves on a Sunday. Others looked at me with disdain for the panhandler I was. A few were more merciful, reaching into wallets and purses, moved by my desperation. We had divided the building between us, Joan taking the south side, me the chillier north. She was far more successful at obtaining money from neighbors; her calm beauty gave her an authority that I lacked. I even approached Terry the doorman and he gave me a 20, the largest contribution that I received. At the end of the day we had managed to collect 87 dollars and fifty cents for the ransom of Gus.
Joan wanted to go to the meeting place with me. "What if he doesn't really have the dog with him?" she warned. "We don't know if he isn't just planning to rob you of two hundred dollars and leave you in the park with your skull bashed in by a baseball bat?"
"No, we don't know," I replied, annoyed by her distrust, and the reasonable scenario she had just suggested. "But I believe he has the dog. He knows about the collar. Besides, he has the voice of a kidnapper, not a mugger," I advised her. She gave me a look that said "You wouldn't know the difference." But I insisted that I would go alone to the drop, if drop it was. Seeing two of us waiting there might frighten the dog-napper away. I assured her that I would know what to do, and that I would not return without Gus. I understood how much she loved this dog and that if I failed to return with him it might not kill our young marriage but it would certainly wound it for years to come; I would forever after be the feckless fellow who lost our beloved companion. I took the leash with me, as if holding that length of leather in my hand was proof of my future success.
I arrived at the park early that evening and made my way to the appointed meeting place where I would wait for 15 minutes. My great fear was that the man would not appear, that it was a done deal with Dr. Moran, that Schnauzer loving Midas with the sick child, and that Gus was already Bullets Moran. Once, a policeman patrolling the park passed by and looked at me, sitting nervously and alone on a bench in the evening holding an empty leash. He regarded me with some suspicion. The cop left. And within five minutes the man appeared.
He was a small, squat, muscular man in his mid-forties wearing a grey porkpie hat set far back on his round, fleshy, hairless head, carrying a large wooden orange crate in his arms, the crate sporting a colorful paper Sunkist label, a sun rising over a bright, juicy orange. The crate was tied securely with some clothesline rope. He put the crate down on a nearby bench when he saw me, taking my measure as he did so. I rose hesitantly. I was then six feet one in height, but a mere one hundred and thirty eight pounds, a string bean with a baby face, 25 but looking at most 17, a look that was made no tougher by the cigarette that perpetually hung from my lips. I clearly represented no threat to him, and he approached me confidently.
"You Yellen?" he asked.
"Yes," I replied. "Where's my dog?"
He gestured towards the box. There had been no sound coming from it, but when I spoke again Gus heard my voice and began to bark. I went towards the crate but the man placed himself between me and my dog, holding out a hand to stop me.
"You got the money?"
I nodded and handed him an envelope. He opened it and looked through it suspiciously, counting out the bills and the small change silently, slowly, his lips moving until he finished. Then he began to speak angrily.
"I said two hundred. You only got eighty-something here. Where's the rest?"
"I told you on the phone that I didn't have that much on me. What I got I borrowed from my neighbors."
"What you gots not enough. I told you about Dr. Morgan, didn't I?
"You said his name was Moran on the phone," I replied.
"Morgan, Moran, what the hell's the difference. Why should I take a hundred twenty less from you than I could get from him? Gimme one good reason."
"Here's one," I offered. "Because if you don't untie that fucking orange crate and give me my dog now I will fucking kill you."
I could hardly believe that these words were coming from me, Sherman, a guy who rarely cursed because he loved language too much to debase it, and yet I heard these words in my own voice; harsh, brutal, and authentic, and I knew that I meant every word. My hands were quite steady as I took the leash and twisted it into a hangman's noose as I approached him. I was filled with an overpowering rage, one that has popped up from time to time in my life, my scary jack-in-the-box temper that astonishes and frightens me as much as the recipient of it. The man looked up at me, and held up the palm of his hands in a gesture of amiable submission that said, "Hold your horses, young fellah. No need to go crazy." He bent over and untied the rope that held Gus inside the crate, and lifted the lid, stepping aside. I knelt over the box as Gus leapt into my arms overjoyed by his release from his captivity. As I put the leash on his collar the dog washed my face with his tongue, and the man walked away briskly mumbling about crazy people. He was quite right. I was a crazy person that night, and he was right to be wary of me. As soon as I saw that he was too far away to notice, and Gus was safely in my arms, I took a deep breath and for the first time in my young adult life I began to weep for joy. *
*This is the first part of Gus and Us, condensed and adapted from "Spotless," a memoir by Sherman Yellen; a work in progress.