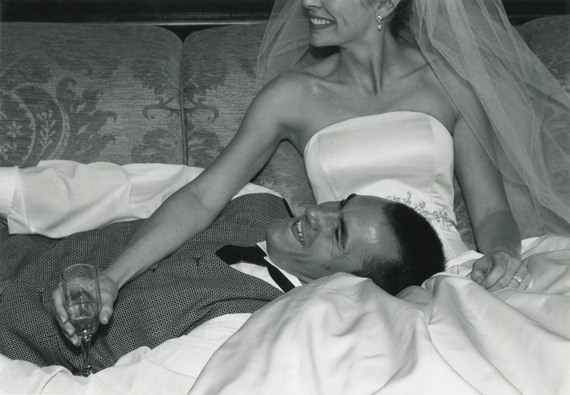 Moments of that day play in slow motion in my mind when I think back. Early May, 2002. The sun was shining so brightly for that early in May, teasing us with the possibility that summer might be just around the corner. Laughter, high-fives between the young men in tuxedos who were there to support one of their own. All of them, really still just kids on the inside.
But not the groom. He was intense and intelligent and knew things, almost like he had lived a hundred years already. The spark in his eyes when you spoke to him, regardless of the subject, was something you never forgot.
Pat Tillman. Even then, we knew he was something special. Something raw and different, someone who wasn't afraid to ask, to question, to teach, to laugh, to break the rules or to live.
The beautiful bride and her bridesmaids gathered in the waiting room, chatting and laughing, anticipating the events ahead. So much love in that room, centered on the bride, who it seemed was living her fairy tale. Young love had morphed into that next phase of forever and I do. The young ring-bearer, my nephew, was running all around the room, charming the 20-something ladies as they sat in their gorgeous gowns with sweet-smelling bouquets resting in their laps.
The music kicks in. Red rose petals are scattered along the aisle. The little ring-bearer holds my hand as we walk the aisle and stops here and there to pick them up ever so gently. As we walk, there are smiles and waves. We all feel it that day, that the incredible wave of emotion and happiness surrounding this couple is real and intense. The ceremony is emotional and moving, their private emotions and laughter spilling over into the crowd.
But then, another beautiful day in early May, two short years later. Sun shining a bit brighter than expected but the mood not so bright. Bagpipes play in the distance, getting louder as they approach.
Family members and friends gathering. Celebrity sightings in the crowd, but nobody seems to care about their presence other than to assume he'd made an impact on them, too. Hundreds of fans and on-lookers, camera crews and reporters. A surreal mixture of intense grief and ceremony.
Nothing private about this day. And yet, the same overwhelming and heavy feeling of emotion and love we all felt just two years prior is now drowned in a blanket of grief and disbelief. Rose petals carpet the ground from hundreds of rose bushes in the Municipal Rose Garden where the memorial service takes place. The former ring-bearer, not so small anymore, takes my hand as we walk past the huge pictures of his uncle and talk about each one.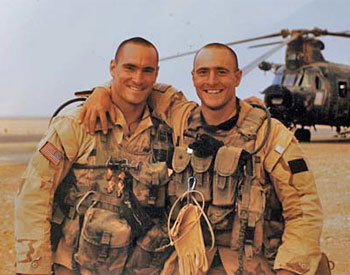 Former NFL star Pat Tillman, who walked away from his professional football career with the Arizona Cardinals to serve with the Army Rangers, was killed in Afghanistan on April 22, 2004.
Ten years ago today.
His death left an incredibly huge hole in the lives of my brother and his family, in the lives of those who were close to him as friends, in the teams he played on and the units he served in.
In the life of his wife, Marie.
It's not often in this life that you meet someone who has the conviction to do what they think is right. Who has the honor and integrity to take the lone road, make their own choices, do in the end what is not just the hard thing but the right thing.
A person who takes the time to learn about other people, their beliefs, and their lives.
Pat was a man of incredible honor.
My son was in fifth grade when Pat died, and already in awe of this larger-than-life man who was serving our country. The last time we saw Pat, he was in Army fatigues at a family baptism, holding my then-infant nephew and gazing into his eyes, like he could see into his soul and was drinking it all in. Strength and compassion, side by side, in this man who would live years too short, but leave a legacy for the future.
And as my son has grown through middle school and high school, then on to college the honor and courage that Pat showed has carried forward as a lesson on how to live your life. Pictures and articles still adorn his bedroom mirror.
We discuss difficult choices and how to do the right thing, even when it's the hard thing.
Thank you Pat, for your service to our country -- and for leaving a legacy of honor and courage for the younger generation to follow.
The Pat Tillman Foundation supports active-duty service members, veterans and military spouses by investing in higher education through the Tillman Military Scholars program. To date, 290 Tillman Military Scholars attending 85 academic institutions nationwide have been awarded over $4.6 million in scholarships. These scholars demonstrate extraordinary academic and leadership potential as well as a desire to impact change for their communities and their country.