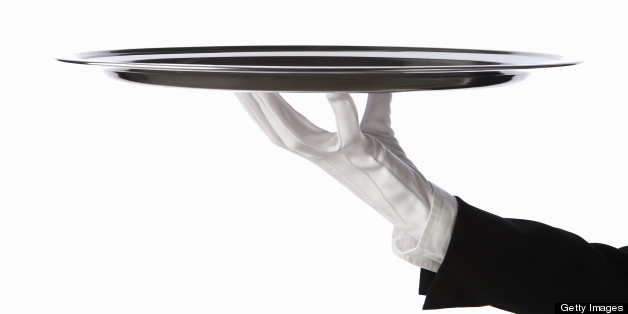 Sadly, Downton Abbey is over for the season. But it is still fun to fantasize about how great it would be to have a personal staff to take on all those tedious daily tasks, such as pouring one's own coffee or filling one's bathtub. While having a permanent live-in staff is not an option, many luxe hotels let you hang out with your very own butler while on vacation.
What exactly do these folks do? A classic British hotel butler has been known to arrange a formal crystal-laden dinner and meet guests at the airport in a Rolls, while his Southern Californian counterpart will deal with all the surfing needs of a guest. And almost any butler worthy of his or her title will expertly unpack a pile of suitcases, customize a room and run the perfect bath. One other piece of good news -- the services of the hotel butler are usually included in the price of the room. It seems there is a butler service tailored to almost every location and type of traveler:
The Umaid Bhawan Palace (Jodhpur, India) -- the hotel was originally built as a Maharaja palace and butlers are trained in giving every guest the royal treatment. Hotel butlers cover all the basics, but also escort guests on sightseeing trips around town with chilled drinks and samosas.
One & Only Ocean Club (the Bahamas) -- butlers here embrace a Caribbean vibe as they drive around on golf carts to respond to a guest's every need. They wrap Christmas presents, drop the kids off at the kid's club, arrange golf outing, and personalize hotel suites with requested drinks.
The Ritz Carlton Laguna Nigel (Dana Point, CA) -- if you are in Southern California, then the butler you need is obviously a beach butler. These butlers help you get your surf gear together, carry your beach bag down the bluff and will even build sand castles with the kids.
The Lanesborough (London) -- a classic British experience. Butlers are uniformed in a morning suit and will greet you at the airport in the hotel's Rolls Royce Phantom. They will then unpack your bags and arrange for your favorite tea time treats to be served.
Sandals Grande Riviera Beach & Villa Golf Resort (Jamaica) -- butlers in the All-Butler Riviera Villas can provide the Honeymoon crowd with anything that a new spouse is too dew-eyed to perform, such as arranging for a perfect romantic dinner or setting up a couples' massage.
Jade Mountain (St. Lucia) -- Butlers in this luxury retreat are available 24 hours a day and can be summoned instantly using a "Firefly" wireless device. These butlers will set up breakfast in bed and candlelit dinners on the beach, as well as arrange for island tours and make sure your favorite cocktail is waiting for you in your room after a tough day at the spa.

Jumby Bay, A Rosewood Resort (Antigua) -- The best way to get around the resort is by bike, so of course a bike butler is provided to all guests. Your bike butler will outfit you with perfect bike, deliver it to your room, help you if you get a flat tire and help the junior set to customize their wheels with ribbons.