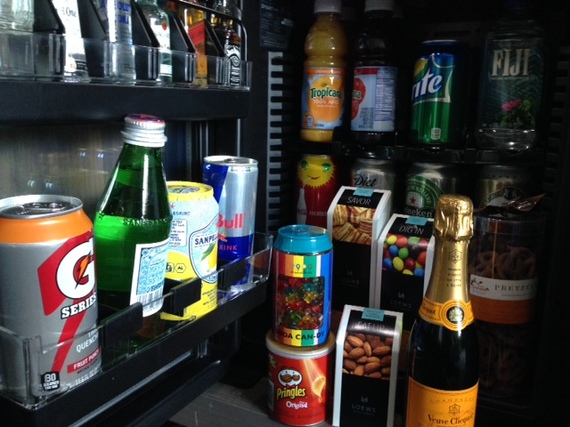 I remember the first time my son--who was five at the time--encountered a hotel mini-bar. He had a look of absolute joy on his face as he grabbed a bag of $10 M&Ms. His joy was short-lived. I told him he had to put it back.
What to do when you enter your hotel room and find your mini bar crammed full of delectable treats--restrain or indulge? The newly renovated Loews Regency Hotel takes care of that problem and encourages you to dive right in with a new program called "Milk the Mini-Bar." For a mere $30, guests can empty the entire contents of the fridge. In addition to those mini bottles of Patron tequila and Absolut vodka, the fridge is stocked with a nice half sized bottle of Veuve Clicquot. Snacks include fun treats such as gummy bear from Dylan's Candy Bar and chocolate covered pretzels from Jacques Torres. Those traveling with kids will appreciate the M&Ms, Pringles and juice, and health nuts can help themselves to an energy drink and some almonds ($12, if purchased separately).
After stuffing yourself with goodies, you may want to check out the newly opened Julien Farel Restore Spa. The 1,700 foot fitness center has everything you need to burn off some serious calories. Or you can continue to indulge by booking a fabulous haircut or enjoying the signature "Power Massage," which is designed to rev up your energy level. And guys will feel right at home since there is a special offering of manly spa services.