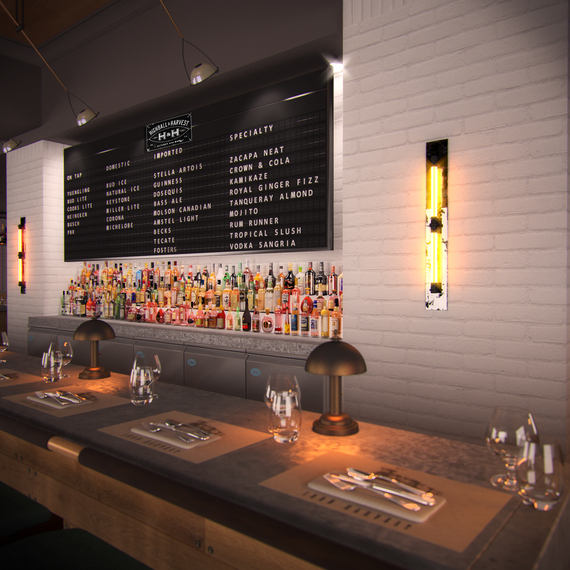 While Orlando has always been a super fun destination--home to not only all things Disney, but also Universal Studios, Legoland and the Kennedy Space Center--it is not known for its cuisine. But an innovative restaurant at the The Ritz-Carlton Orlando, Grande Lakes is about to change all that.
The newly opened Highball & Harvest is definitely fun, especially for adults. After a day of exploring all of the child-centric wonders Orlando has to offer, most parents need a tasty meal accompanied by an alcoholic beverage. (Well, I do at least).
Highball & Harvest combines a commitment to farm to table dining with a nod to Low Country and Cajun-inspired cuisine. The property's 7,000 square foot Whisper Creek Farm provides vegetables for meals and herbs for cocktails and its onsite apiary supplies honey to spread on those signature Parker House rolls.
The menu is playful, nostalgic and incredibly tasty. While enjoying a cool beverage, guests can snack on a pimiento cheese burger, a selection of freshly harvested oysters or deviled eggs with a side of fried pickles. What kind of beverages are we talking about? How about a "Dill or a No Dill"--made from Farmer's organic gin, elderflower, cucumber, dill and lemon or a "Whistle Stop, " a Manhattan styled drink that combines Moonshine and one of the world's best aromatized wines.
Meals include Southern standards such as shrimp and grits and chicken and dumplings, but with a twist. The grits are from organic heirloom grains and the dumplings are really expertly-made gnocchi. Chicken biscuits are made special with pickled watermelon rind and the now ubiquitous kale salad is a treat topped with fried quinoa and white raisins.
And while the restaurant is a joy for adults, kids will also have plenty of amazingly good choices, such as classic macaroni and cheese or a brisket sandwich with a pile of onion rings. Dessert is another highlight. Guests can indulge with fresh donuts and a tube of Nutella or some key lime pie or a slice of heavenly strawberry shortcake cake, all handcrafted on-site by a team of pastry chefs.
A wonderful meal at Highball & Harvest is one of the best ways to end a wonder-filled day in Orlando.