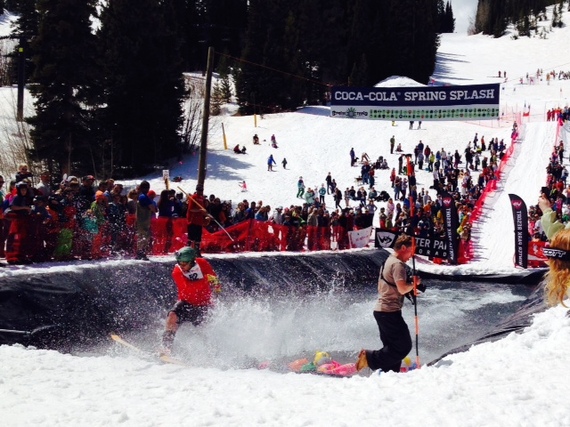 Some folks are fed up with this year's frigid temperatures and endless snowstorms. But those who love to ski, snowboard and snowshoe have a reason to rejoice. Spring skiing is well underway and the snow is so good that some Colorado resorts, such as Winter Park, are staying open an extra week past Easter.
What is so great about spring skiing? There is usually lots of fresh snow in March and April. The days tend to be super sunny and relatively warm, so you can ditch at least one layer of clothing. Prices come down and lift tickets and lodging deals are plentiful. If you are lucky enough to be around for Easter weekend, your kids will have a blast taking part in an Easter egg hunt in a snow field.
We visited Winter Park over spring break this April (where the third night of lodging is free). The skiing was amazing and the lift lines were non-existent. My ten year old twins and I also dove right into "Springtopia," a springtime festival with endless family-friendly activities including afternoon s 'mores, free outdoor concerts, a kid's ski race, and an Easter egg hunt that required skis or a snowboard.
But my favorite event of the weekend was "pond-skimming." For the uninitiated, pond-skimming is a traditional event that takes place at the end of the season. A fierce group of competitors, dressed in costumes that included Captain America, a ballerina, and a snowman, ski down the mountain and attempt to "skim" across a small but icy cold pond. The trick is not to fall in. There is sometimes beer involved and several thousand dollars of cash prizes. This is my new favorite spectator sport and a great alternative if you can't make it to the winter Olympics.
But springtime in Colorado gives snow lovers more than downhill skiing. Just a few miles away from Winter Park, Devil's Thumb Ranch offers an entirely different set of outdoor activities. The ranch has over 60 miles of trails and has some of the country's best cross-country skiing. We took a lesson and greatly improved our technique. The terrain is also great for snowshoeing and if biking is more your thing, you can rent a "fat bike" and actually bike across the packed trails. Ranch traditionalists will want to check out the equestrian options, such as riding through the snow on horseback or enjoying a late night sleigh ride. I loved the family ride I took with my kids and really bonded with Rusty, my horse. And perhaps most important, after a hard day on the trails, the ranch provides luxe accommodations and gourmet food, such as Wagyu sliders and wild game chili. Although, I didn't have time to try it, there is also a spa where you can retreat for a much deserved massage (and a glass of wine).
The other good news for us -- after spending spring break in Colorado, we were greeted with real spring weather back in New York.