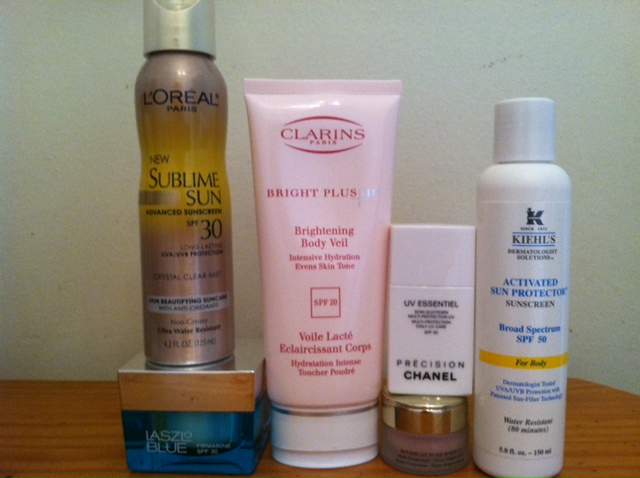 Now that summer has officially arrived, it is time to get serious about sunscreen. Regardless of what type of outdoor activity you have in mind, the sunscreen makers of the world have developed a host of products, some of them new and many of them with bonus properties. For anyone who is spending the day sightseeing or just likes to eat lunch outdoors, try Clarins' new Brightening Body Veil ($59). It has an SPF of 20 and the added benefit of a high-tech component (something called "Laponite powder") that keeps your skin dry even when it is super humid out. One of the best ways to keep your face safe from those harmful rays is with Chanel's UV Essentiel ($50). Chanel's product also contains vitamin E and some plant extracts that create a "shield" that protects against free radicals and pollution. If you feel like going high-end, another great option for your face is Erno Laszlo Blue Firmarine SPF 30 ($195). This luxe cream protects against the sun and includes organic green tea and seawater to boost your skin's immunity.
If you are hitting the beach, try L'Oreal Paris' new Sublime Sun protection ($10.99). The lotion spray comes with SPFs of 30 and 50, is water-resistant and includes white grape seeds, which provide deeper sun protection. Another good choice for anyone who plans to spend the whole day outside is Kiehls' new broad-spectrum sunscreen ($23). The 50 SPF lotion is oil-free, super lightweight and, to combat free radicals, contains a blend of antioxidants. (Who doesn't love goji berries and Einkorn wheat?)
Keep your lips safe from sunburn with By Terry's Baume de Rose, which has an SPF of 15 ($59). Probably the only lip balm with a celebrity following, it smells like a rose, is super-nourishing, and can be worn alone or under any lip color.
For more by Sherrie Nachman, click here.
For more on health and beauty, click here.