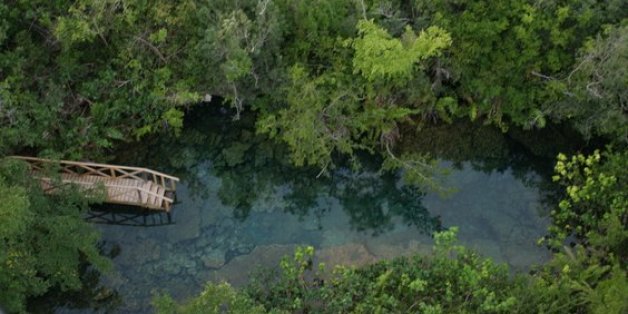 Owned and operated by the Puntacana Ecological Foundation, the Indigenous Eyes Ecological Park and Reserve is an amazing place to spend the day for those who want a break from the Dominican Republic's legendary beaches and golf courses. The area is made up of a lowland subtropical forest and covers over 1,500 acres of land dedicated to conservation, research and a love of the great outdoors. Although the reserve is private, it is open to the public for a small fee.
One of the coolest ways to explore the area is with an environmentally friendly Segway Eco Tour. The tour starts at the tropical fruit tree garden, planted with native favorites such as guava, cherry and papaya trees. The tour winds up in one of the reserve's swimming lagoons. For a super in-depth understanding of the island's history and culture, guests can join a guided ecological tour. In addition to hiking through the Reserve, that tour includes a visit to a ranch, a petting zoo, a family farm and a stop at the Ecological Foundation's worm compost and beekeeping project.
Another option is to simply pick up a map at the entrance and hike through the well-marked forest paths on your own, which is what I did with my kids. We loved hiking through the lush forest and stopping to peer into the lagoons, which are filled with turtles and fish. Five of the lagoons are designated for swimming and the Yauya lagoon is one of the largest and is the most highly recommended pool to jump into. Even though we visited over Christmas, we only bumped into one other group of hikers, those from the Segway Tour, who we joined for a swim.
For the most part, the turtles disappear when the humans enter the lagoons. We did, however, spend quite a bit of time with one very friendly duck. After the Segway folks left and we climbed out of the water, the turtles and fish returned to reclaim the place for themselves.
In addition to the fruit tree garden, the Foundation's agricultural program includes a vegetable garden, (fertilized by the worms mentioned above). Guests who are lucky enough to be staying at the super-luxurious Tortuga Bay hotel (designed by Oscar de la Renta) or the newly opened Westin Puntacana Resort and Club, are able to enjoy the organically grown arugula, lettuce, peppermint, basil, parsley and honey produced by the Foundation, which are served at those properties' restaurants. Both properties are affiliated with the Foundation and guests also get free admission to the Reserve.The Foundation has created a great model of sustainable development and a super experience for nature lovers.