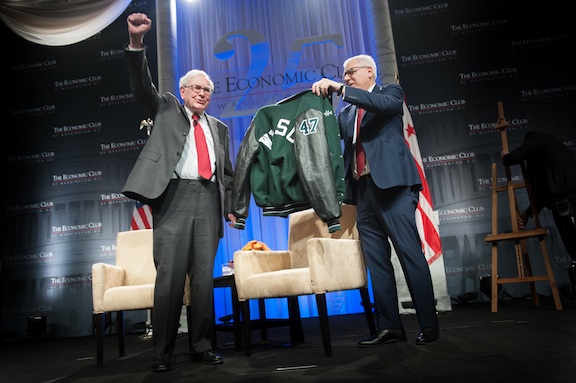 David Rubenstein, president of The Economic Club of Washington, D.C. and co-founder and managing director of The Carlyle Group, led a dialogue with Warren Buffett, chairman and CEO of Berkshire Hathaway, during the Economic Club's 25th Anniversary celebration on Tuesday, June 5, 2012 at the Washington Marriott Wardman Park. During the discussion, Rubenstein asked Buffett a variety of questions about the economy with Buffett stating there's little likelihood of a recession; how he achieved his success to which he mentioned his voracious reading among many other things; what his most endearing acquisition was -- GEICO; and who his successor may be.
"You're not on the short list, David," Buffett said when ask about his successor. But when Rubenstein presented Buffett gifts at the end of the evening, including a letter jacket from his high school alma mater Woodrow Wilson, Buffett joked, "You may get on that short list."
The discussion between Buffett and Rubenstein was a highlight of the evening that was kicked off by Vernon Jordan, Jr. and Senator George Mitchell along with Rubenstein toasting the anniversary celebration and its mission: to give $500,000 in grants to 10 nonprofit organizations working for the good of disadvantaged youth.
The Economic Club members decided the most fitting tribute to the club founders' intentions would be to share the benefits of the club's growth and success with the greater Washington community via the grants during its 25th anniversary year. Contributing to the well-being of the metropolitan region was a common commitment of the club's founding members, many of whom were instrumental in the rebirth of Washington as a business and cultural center, according to Mary Brady, the Economic Club's executive director.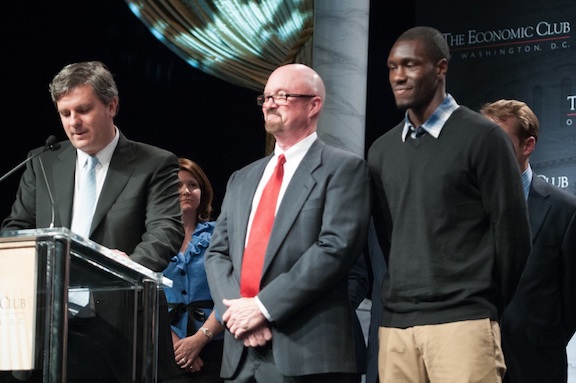 Among the recipients of the grants was the Alexandria Seaport Foundation (ASF), which offers disadvantaged youth and young adults a paid, work-based apprentice program in boat building that prepares participants for careers in the building trades. Its motto is "Building Boats. Building Lives." Kent Barnekov, ASF executive director and Dearndrey Mobley, ASF apprentice, were on stage to receive the grant, see photo. ASF Instructor Esteban "Steve" Hernandez also attended.
Besides offering paid apprenticeships for building boats, ASF also provides apprentices the opportunity to earn a GED if needed. "At a time when state and local funding for GED programs is at risk, this grant from The Economic Club of Washington, D.C. will help ASF continue to include in its Apprentice Program this crucial ingredient for success in the workplace," Barnekov said.
Economic Club member Andrew Blair, president and CEO of Colonial Parking, nominated the Alexandria Seaport Foundation to receive the grant because, he said, the nominations called for recognizing groups that prepare underserved youth in the D.C. area for success in school, the workplace and life. "It would have been hard not to think of the Alexandria Seaport Foundation because that is exactly what they are doing," said Blair, who has been active in local efforts to prepare the workforce for business success.
The Economic Club Board members considered a total of 138 different community organizations as possible recipients. The nine additional organizations selected to receive $50,000 grants were: KIPP DC, Maya Angelou Schools, Brainfood, BUILD DC, E.L. Haynes Public Charter School, Jubilee JumpStart/Jubilee Housing, Latin American Youth Center, Urban Alliance, and Year Up National Capital Region.
Past speakers at the Economic Club, which is a forum for business leaders, include President George W. Bush, Bill Gates, Tony Blair and Walter Isaacson. On Tuesday night, President Barack Obama was there via video and acknowledged the purpose of the evening where proceeds were going to help disadvantaged youth.
Buffett, a billionaire and long time supporter of philanthropic efforts, has teamed with Gates and his wife Melinda via The Giving Pledge, where Buffett pledges more than 99 percent of his wealth will go to philanthropy. "The surplus wealth I have has no utility to me," Buffett said. He mentioned saying to his late wife Susan, who also was a big believer in giving to those less fortunate, that he would continue to be a "compounding machine" when it came to money. He told her, "I'll pile it up and you unpile it."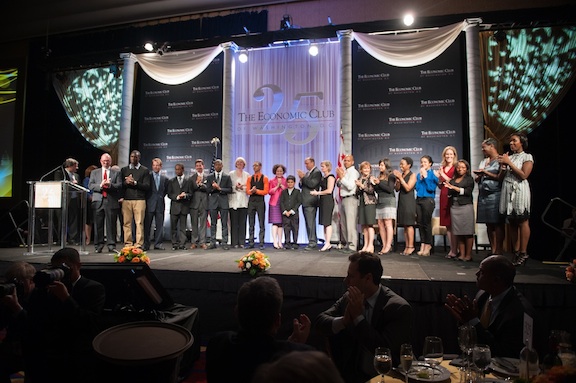 Copyright Photos by Sam Kittner/kittner.com including: Warren Buffett and David Rubenstein; Kent Barnekov center and Dearndrey Mobley right; and group shot of the 10 organizations receiving the $500,000 in grants from The Economic Club of Washington, D.C.