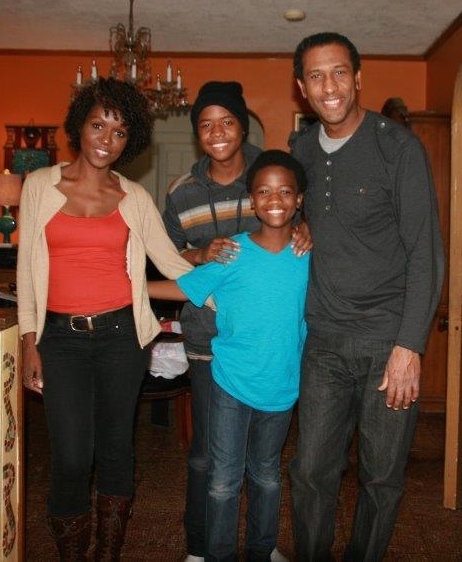 The Bullocks in their northern New Jersey home
Throughout my lifetime I've met several especially inspiring African-American families. I grew up on the Huxtables -- and in an unfortunate turn of events, those memories have recently soured (damn, Bill!), but there are so many Huxtable-like families that have not been tainted by scandal. Then again, the Huxtables were fictional, and I recently found one very real, inspiring black family not quite two blocks from my northern New Jersey home. They are the Bullocks. Mom Audrey (who goes by her maiden name Martells) is not the lawyer Clair Huxtable is but a talented actress, singer and songwriter with a quietly commanding presence. She is married to Belden, a talented professional bassist who has played alongside some famous jazz musicians. Their sons are Nile, 14, a dancer with seamless moves reminiscent of Michael Jackson's, as well as an actor, singer and voice actor (he currently voices a recurring character on the animated Disney Jr. series Chuggington), and Cole, 11, who most recently starred as young Simba in Broadway's The Lion King. In a few months the family will appear together in a short film that was written by Audrey and directed by Wendell Thomas. In the spirit of art imitating life, the film, Outside the Box, is about an artistic family that tries to bridge the generational gap inherent in different types of musical tastes. To see this family collaborate, as they have done in the past by acting together in a Saturday Night Live skit, gives a you a warm and fuzzy feeling, so if you are longing for the old feel of the Huxtables (that old feel that I experienced must have bridged quite a gap across the world) at any point in time, it's time to tune in to the Bullocks. You will remain unjaded.
When the boys were very young, they saw their parents perform, and whether nature or nurture took hold, Nile was the first family member to exhibit flawless dance moves and other skills that include acting with a British accent. Cole would go on to be the family's first Broadway star, spending last year with The Lion King and, prior to that, starring in Broadway's Kinky Boots after taking part in a production of South Pacific. The boys got their initial boost to entertainment from an unlikely venue, the Tenafly Jewish Community Center. That was where, responding to an open call to meet and greet agents, Audrey found representation for her young sons and the careers that would result.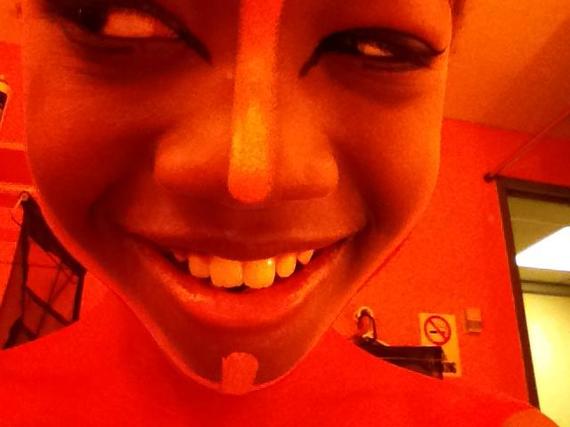 Cole in costume for The Lion King
The brothers, who are very close, don't exhibit any kind of envy of one another. When Cole was on Broadway, Nile was very excited for him and supportive ("He is unique in that way; there really was never any jealousy, just an excitement for the other's successes," says Audrey), not to mention quite busy himself. Nile trained at the Broadway Dance Center, and when I happened to meet his former instructor at one of Cole's performances with The Lion King last year (Cole was a classmate of my son's), the teacher said, "You have to see Nile dance. He is amazing, truly something else to watch." As young Simba, Cole obviously also has dance moves down pat and has inherited his parents' ear for music.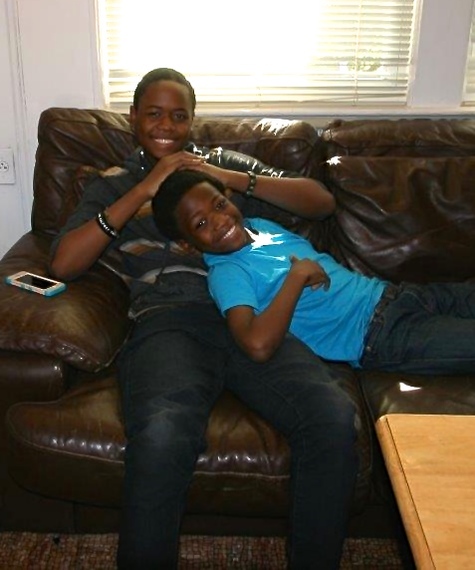 Nile and Cole in their living room at home
In a few weeks I will be previewing Outside the Box. ("It's entirely Audrey's baby," says Belden.) In addition to working on this film as a family unit, a typical day in the Bullock home may involve shuttling one son to work (for example, Nile to his voice-over job on Chuggington), the other to school, followed by a nighttime singing gig for Audrey. Another day may end with Bullock playing bass at a jazz club while Nile attends the local high school during the day and Cole auditions for a new Broadway role. While he was sad to leave The Lion King, Cole had literally outgrown the part at age 11, and he understands the inevitable development that happens with all Broadway kids.
Both boys say that they really enjoy school (as opposed to being home-schooled or tutored like some of the talented kids they know), friends from school (they divide their time between school friends and friends they have made through showbiz) and an opportunity to do normal things at school. Nile, for one, greatly desired to act in the local high school's production of Arsenic and Old Lace but had to make an adult choice in the end, which was difficult for him and fraught with repercussions. Unfortunately, due to his career-based schedule, he was unable to commit to the numerous rehearsals attached to the school production and felt that he let down his peers, some of whom were confused by his choice. He really maintains a deep respect for the senior class at his high school, who he feels are a very talented group (an estimation that I feel reflects his own humility when you consider his personal achievements). For a long time after, he felt mixed emotions and some regret about having to quit the school play.
"This is real life," Audrey concedes. "My boys, for their selves, really wanted to be in this business, but they have learned that there are some tough, grown-up decisions involved."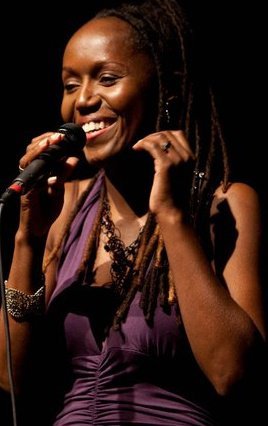 Audrey Martells performing
As for how the family operates from day to day, she explains, "Belden and I made the decision long ago that we would never go out on tour at the same time." Noting how calm she always seems to me, she responds by candidly talking about the challenges. For instance, there was one rare day when Cole missed a performance due to crazy traffic beyond anybody's control. You can sense the angst and aggravation she experienced when things didn't run smoothly on that out-of-the-ordinary day, but for the most part she is admirably tranquil and accepting. There are certain things that are out of our hands, she explains. She and Belden have mastered the juggling act of their weeks while remaining humble and reminding the kids to do the same. The family recently had a talk about the events that unfolded in Ferguson in terms of greater representation in society, how black men can be perceived by law enforcement, and the challenges that African Americans have faced over the years.
Of the discussion, Audrey says, "Their reaction was and is deep sadness at the lack of equality in the judicial system. But it also reminded me once again to make sure I reiterate on a regular basis to both of my sons how society often views them and how to survive that bias on the streets."
Audrey is a well-spoken, wise-beyond-her-years woman who looks like Kerry Washington but brings to mind the sage Phylicia Rashād (known for playing the confidently wise Clair Huxtable), who once directed Nile in a staged reading of August Wilson's Joe Turner's Come and Gone. As the matriarch of her clan, Audrey's voice is a powerful and resounding one for this generation.
Nile Bullock performs in Outside the Box: