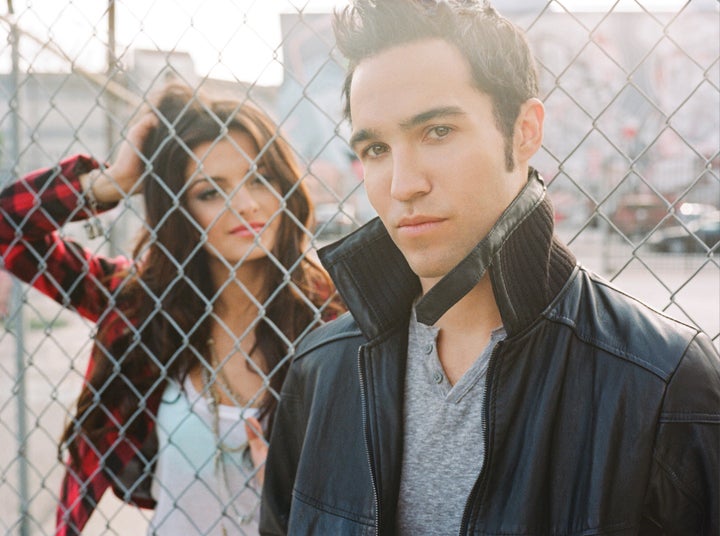 Pete Wentz rocks and he rocks the vote. He stopped by What's Trending live chat about his new electro-pop duo, Black Cards, innovative ways to distribute music, social media and his passion for politics.
What can people expect when the Black Cards go on tour?
"It's like bringing a house party on stage, we have a good time. I think that with Fallout Boy, it was cathartic... it was about emoting. I think this is about being happy, having fun."
Do you think you approach music a different way with all these digital tools now available?
"The great thing about social media is that... bands are constantly using it to broadcast. I think what's really cool about it is that you should be listening. It's a two-way street. You got to be able to take the temperature or put your finger on the pulse of what's happening."
Owning a label, Decaydance Records, and signing breakout bands like Panic! At The Disco, Cobra Starship and Gym Class Heroes, what do you look for in new talent?
"It's something that's intangible. People who are willing to hustle, who are true to themselves and you have to be willing to get out and hit the road but you have to engage people on the Internet too."
Being involved with all these businesses, do you see yourself as an entrepreneur?
"When I look at myself in the mirror, I see a 14-year-old."
Why was it important to get involved in "Rock the Vote?"
"I think Rock the Vote and other venues that are encouraging young people to get out and vote are really important. I think with the (2008) election, the youth vote was really strong and really helpful for the deciding process.Rock the Vote is great because so many of the things become involved with feel a little bit like you are indoctrinating people, and I think the great thing about Rock the Vote is just a positive message about getting involved in the electoral system."
Why it's important to go digital for the 2012 election?
"In talking to kids, one of the things that is most troubling for them is that it is really hard to register to vote. And Rock the Vote has done this really cool bar code shirt... where you can scan the shirt on your phone... making it easy to get involved is really important."
Want to know more about Rock The Vote's new #ScanToVote social media voter registration campaign? Rock The Vote teamed up with PromoJam, Junk Food Clothing, and Threads for Thought to launch the first-ever #ScanToVote social media powered QR Code t-shirts.
When people scan the QR Code graphic on the Junk Food X Threads for Thought tee with their smartphone, a customized PromoJam mobile experience will launch on their phone. From this page, people will be able to register to vote from their smartphone, watch videos, send out Facebook/Twitter messages and more! This technology allows you to fill out the entire voter registration form directly from their phone, email yourself a copy and print, sign and send it to your board of elections office (where the address is pre-printed on the form). T-shirts will also be available exclusively at Whole Foods stores nationwide beginning in April for $28 and also at www.threadsforthought.com
For more info on how you can rock the vote, as well as register to vote go to Rockthevote.com