The truth is too many people are afraid to say "no" in the workplace, and especially to those in more senior positions.
Many individuals are 'people pleasers' and simply haven't learned that it's ok to say "no" at times, provided it's done in an appropriate way. Exercising healthy boundaries is a critical skill for career success.
William Ury, author of The Power of a Positive No says in today's world of high stress and limitless choices, the pressure to give in and say Yes grows greater every day, producing overload and overwork, expanding e-mail and eroding ethics. Never has No been more needed.
A common misconception is that a person who always says yes, will go far and go quicker.
This may be true to some extent in the workplace, but here's the problem;
What if you've bitten off more than you can chew and miss out on other high profile work, because you don't have the bandwidth?
What if you didn't say "no" and ended up half way across the world, unable to spend time with your friends or loved ones?
What if you took on so much for years and are now exhausted, burnt out, and bitter?
What if it's been so long since you last said "no", you don't even know how to?
Years ago in my former corporate career, I found myself taking on more and more work from one particular manager with uncompromising timelines. I had moved to a new project and wanted to create a good impression.
My manager's agenda was different. He was on a solo mission for a fast track promotion and wasn't too concerned with the welfare of his team (his approach would backfire on him in coming months resulting in a poor appraisal).
Instead of managing his expectations I let myself be burdened by them. I eventually moved off his team but what I hadn't realized was just how much pressure I had undertaken. The stress manifested itself in the physical form of an ongoing face rash.
Eventually it was diagnosed as Rosacea and was treated successfully. Fortunately for me it was just a skin rash, but allowing stress to take its toll continuously can manifest in some very serious ways and threaten our wellbeing.
After the incident, I went forward with my career with a continual check on my core values, some lifestyle and career changes and a better handle on managing my workload and other's expectations.
Pushing back at the right times is an essential skill to learn, for the long-term survival of a balanced yet successful career.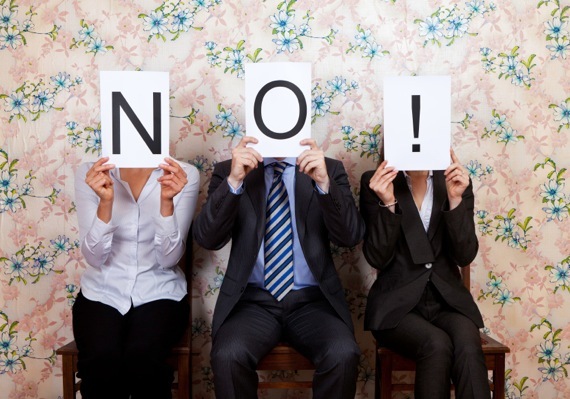 Here are 5 reasons why saying "no" will help your career:
Contrary to belief, when pushing back and saying "no" is done in the right way, people start to respect and value you more.
Having clarity on your next career goal, won't allow for distractions of unrelated work.
Being able to discern what to push back on and when, helps keep laser focus on your vision, tasks and goals, enabling you to reach them faster.
Managing your workload allows you to run the extra mile when it really matters.
Not saying "no" could mean taking on an unrealistic load, resulting in you under delivering which can knock your confidence.
Here are 3 acceptable ways to say "no" and push back:
Prioritize & Negotiate
When managing people's expectations, first you must assess your current workload. If taking on this new work will stretch you too far, it's time to negotiate.
Prioritize your work and explain that something has to give if you are to complete on time. With managers, put the ball in their court and have them decide the priority.
Balance
Pushing back ALL the time is not going to get you far, so don't swing to the other extreme.
Doing 'favors' and going the extra mile every now and then wins you points, but be sure to let the other person know when the work is outside of your usual scope to avoid continuous dumping on you.
Assess & Delegate
If you're in a position to delegate, you could consider taking on the work provided it doesn't interfere with your existing priorities.
The ability to push back on behalf of your team is also necessary as constantly dumping on them is not good management.
To conclude, every professional must learn to balance the act of taking on work and being able to push back and say "no".
This is imperative if the goal is to experience success through a happier, less stressful and more sustainable career.
The tips I've shared will help you manage this skill better, so that you're not taken for a ride every time and are still considered a valuable contributor to your firm.
Now, over to you - are you a people pleaser? Are you afraid to say "no" to the people you work with?
Please comment below if you'd like to share your own experience or if these tips have helped you in any way.
Want to get ahead more effortlessly in your career?
Shivani has a passion for helping professionals strategically, yet authentically elevate their own game in order to:
► Find more meaning and purpose in their work
► Discover their best career paths and transition with ease
► Reach the next professional milestone quicker
► Position themselves for maximum success in their industries
For more career tips and advice, head on over and sign up for my free Career Spark Newsletter at www.shivanibhagi.com.

If you have a career challenge you're currently facing, feel free to book a complimentary Career Planning Session at: www.connectwithshivani.com .