Cape Cod: It's the quintessential summer destination. Located where New England juts out like a flexed arm to meet the Atlantic Ocean, this area is the place to find the perfect mix of quaint harbors, historic towns and, of course, sandy beaches.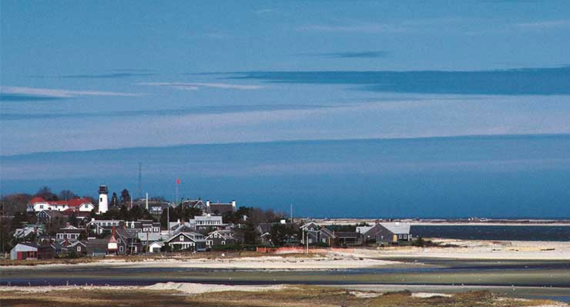 Just a short drive from Boston (or, if you're flying, a trip into one of its two airports), Cape Cod boasts a lot to do on its lower cape, which is the section closest to mainland Massachusetts. If you have limited time to explore, start here with the town of Falmouth. At its center is the Falmouth Village Green Historic District, which will give you your first glimpse at the weathered-shingles and whaling mansions that make up a lot of the Cape's scenery. If you're more of a history buff, the Falmouth Museums on the Green gives brief walking tours of the area.
If you've forgotten any beach essentials (or just decided you need a new Cape Cod style wardrobe), Cape Chic Co. is right off of Main Street. Owner Sandy Mullins prides herself on her selection of american-made clothing. Whether you're looking for some new sandals, jeans, or a beach outfit there's something for everyone.
After a quick shopping stop, you'll want to check out the beach! Falmouth has great public beaches, including Old Silver Beach, which boasts some of the warmest water on Cape Cod. Bring your blanket, chairs, and don't forget that SPF!
Hungry? The Quahog Republic Dive Bar is a go-to destination for all things seafood, whether you prefer freshly-battered fish and chips or a decadent lobster roll (if you're extra hungry, try the monster-sized lobster roll!). It's only a few minutes by car from the beach, and will be sure to satisfy your seafood cravings.
On your way out of town, don't forget to check out Nobska Lighthouse in Wood's Hole, situated on a beautiful corner overlooking the sea. It doesn't get more New England than this lighthouse. Snap a few photos as you watch the working light and enjoy the beautiful scenery.
As it hits mid-afternoon, you'll want to peel yourself away from the villages of Falmouth to venture further to the mid-Cape! The town of Hyannis, famed for the Kennedy compound, is the hub of the Cape. It bills itself as "one-stop shopping" that has a little bit of all of the best things the Cape has to offer.
Take a stroll and stop by some of the Cape's best shops, with everything from candy to jewelry and high-end clothing. Make sure to check out Bella of Cape Cod for beach-style accessories. Everything is under $25, so that nautical wallet you've been eyeing? Pick it up here!
If you're looking for something indoor to do, don't worry-Hyannis has that covered too! The Cape Cod Potato Chip Factory is located a few minutes outside of town, and is always popular. Take the quick tour of the factory to see how these yummy chips are made, and then grab a free sample at the end.
Along Main Street, you'll find the John F. Kennedy Hyannis Museum, which is a quick stop to learn about one of this town's most famous residents. Then, head to the marina where you'll see ferries, yachts and smaller boats head in and out of this busy port. During the summer, local artists display their work along the water-browse, chat, and find something you love! If you haven't had enough fresh seafood yet, Spanky's Clam Shack is a marina favorite. The seafood is always fresh (and local) and outdoor seating offers a great view of the harbor.
At night, be sure to catch a concert at the Cape Cod Melody Tent-during the summer months, famous acts from The Beach Boys to Hunter Hayes play in this intimate and relaxed venue. Even the cheapest seats are close to the action, and are sure to make for a great evening.
There are an endless number of places to stay on the Cape. Skip the chains and try a local hotel for the full experience--like the Cape Codder Resort & Spa. They have everything you could ever need after your long day, and are located close to Hyannis Port and downtown. If you're back early enough, check out the fire pit and roast some s'mores for the end to a perfect Cape Cod day.
Take your second day to head even further out on the Cape to Orleans. This is located near the Cape Cod National Seashore, which encompasses miles of beach on the outer edge of the Cape. If you decide you're feeling more adventurous, rent a bike and head over the sand dunes on the dedicated bike trails to Nauset Beach, where you can relax and enjoy the water and the sea breeze.
Nearby is Liam's at Nauset Beach, a quaint place to grab a bite whenever you're hungry. If you're tired of seafood by now, they have plenty of other options. Bonus situation: It's right near the beach so you're sure to have a good view!
The perfect way to end your stay is with a stroll through East Orleans. Of course, you'll want to check out the shopping and Weekend definitely won't disappoint! This upscale lifestyle boutique has a wide selection of beachy clothing and sophisticated post-beach essentials.
If you haven't had ice cream yet, you have to make sure to grab some before leaving the Cape. Sundae School Ice Cream in Orleans is debatably the best ice cream anywhere within a 60 mile radius. While they make sure to have the classics on hand, they do have special daily flavors to get your mouth watering. Now, if that's not a sweet note to end a trip on, we're not sure what is.