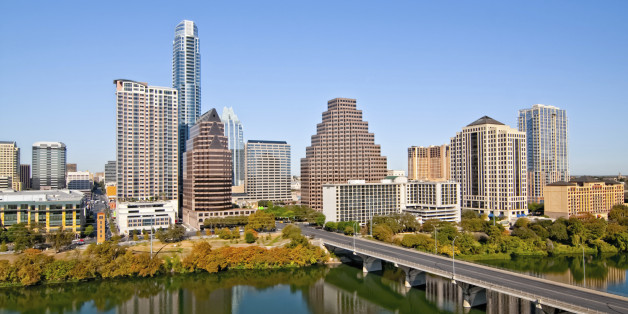 Over the last several years, Austin has become an increasingly popular place to live and visit--and it's no surprise why. The city boasts incredible live music, a booming tech scene, and a ton of innovative eateries (plus loads of good Tex-Mex--need we say more?). We sourced some favorite haunts from local boutique owners who call Austin home and here are their recommendations for how to spend the perfect day in the laid-back capital of Texas.
Get your day off to a healthy start--you'll be glad you did when you're chowing down on tacos and guacamole later--and visit East Austin's Juiceland. (To help paint you a picture, it's often referred to as the "hipster home base.") You can't go wrong with their fresh juices and vegan snacks. Insider tip: The Peachy Green smoothie of fresh apple, peaches, spinach, and kale is not to be missed.
Next and not far away, get ready to swipe your credit card at Solid Gold, a boutique that oozes with the indie, funky, homegrown vibe for which East Austin is well known. The store has a steadfast commitment to independent clothing labels and accessory designers and it's the go-to spot for locals to discover the next big trend. Before venturing out of East Austin, also check out Raven + Lily, a small store with a big emphasis on clean, modern style. The owners are proud to only showcase products that are made by hand, follow fair trade standards, and honor eco-friendly practices. Every piece tells the story--and often that story is about the woman artisan that made it. Case in point: The Zia Leaf Earrings were made by hand by women in Northern India and proceeds go to empowering marginalized women in that community.
Heading towards the University of Texas campus, Cotone is a gem of store that combines both fair trade clothing from Italy and the latest from local contemporary designers under one roof. No doubt you've worked up an appetite by now, so stop on for lunch at Walton's Fancy and Staple, a nostalgic deli with killer sandwiches and sweets.
And, no trip to downtown is complete without Hacienda Austin in the 2nd Street District. As you might have guessed from the name, the store is all about the modern ranch lifestyle. Whether you are outfitting your own home or need a distinctive gift for a friend or family member, they have it. Locally sourced and globally inspired, you will find everything from woven leather rugs to solid brass trays.
Before leaving the area, a true shopping enthusiast can't skip Jefferson Square, home to The Menagerie and The Garden Room. Both town staples, The Menagerie has been in business for over 30 years and The Garden Room for over 25. While The Menagerie boasts fine jewelry, home accessories and luxury gifts, The Garden Room, it is all about classics with an unexpected twist and introducing new designers each season.
We always like to save the best for last and when it comes to Austin, everyone raves about the South Lamar area. More up-and-coming than its neighbors, South Lamar is all about community, authentic Austin charm, and being cool without trying. Seemingly appropriate, the boutique Headdress is located in this hood and you won't find another store like it anywhere. The owners strongly support local designers and believe in peppering everyday basics with pieces that have a Native American twist.
With a big night in front of you, you'll need some caffeine in your system. Close to Headress is Opa!, a family owned and operated coffee and wine bar. It's the perfect cozy spot to fuel up and just as an FYI, the Texas Traders brew is a particularly popular choice.
If you still don't have an outfit for the evening (tisk tisk), do a quick turn at Hoiden Supply Co., one the newest boutiques on the South Lamar strip. With an emphasis on style for women that are trailblazers, you will find tailored classics that have a modern edge. While you're probably never too tired to shop, there are so many hours in the day and the last stop on this sartorial tour is SoLa--a mainstay in the South Lamar neighborhood for the past 12 years. Venus the Frenchie, who is the mascot of this laidback boutique, will greet you at the door. (That's reason enough to go, right?) The well-curated mix of clothing and accessories is affordable (case in point: this great vegan moto jacket and a gold locket). Just ask for Coral, the owner, if you're having any trouble deciding what to buy--she loves helping customer create outfits or pick out gifts.
Now the main eating event: Pre-dinner happy hour drinks at Gibson Bar and then off to Torchy's Tacos for some authentic Tex-Mex bites. Two step the rest of the night away at Broken Spoke, one of Austin's oldest bars with that true Texan saloon feel and honky tonk tunes. And, don't forget to have some cheap pitchers and a late-night bite at Black Sheep Lodge before calling it the "perfect day."