Another year of theater has come and gone. In celebration, here are the theater companies that made some of my favorite 2013 shows possible.
The Public Theater
The Public produced many great theatrical experiences this year -- Here Lies Love and The Foundry Theater's Good Person of Szechwan were highlights -- but the most exciting was the beautiful new musical Fun Home, currently playing through January 12. With sensitive and gorgeous writing from Jeanine Tesori and Lisa Kron and one of the best performances by a child actor I have seen on any stage (Sydney Lucas), Fun Home was my favorite musical, if not my favorite production, of the year. Following their tradition of developing and producing new musicals, The Public also gave us Venice, Shakespeare in the Park's enjoyable Love's Labour's Lost, and, another highlight, the tour de force Public Works production of The Tempest, starring high school students and community members and featuring music by Todd Almond.
Roundabout Theatre Company
I'm grateful to Roundabout for providing the opportunity to see Talley's Folly, and in such a wonderful production. Danny Burstein and Sarah Paulson shone in this lovely two-hander by the late playwright Lanford Wilson. From their small off-Broadway spaces to their larger Broadway houses, Roundabout provided a nice mix of old and new for theater-goers. Bad Jews, Joshua Harmon's smart look at the slipping away of Jewish culture in younger generations that I saw in their black box theater last year, moved to a larger space for an extended run, and the wonderful Old Vic production of Terence Rattigan's 1946 play The Winslow Boy gave me my new favorite suffragist, Catherine Winslow (Charlotte Parry).
Soho Rep
I saw two plays at Soho Rep this year, both excellent: Lucas Hnath's A Public Reading of an Unproduced Screenplay about the Death of Walt Disney and David Adjmi's Marie Antoinette. Hnath's look at the deified Walt Disney had Disney and his family reading a screenplay Disney himself wrote about his own death. Marin Ireland commanded the stage as Adjmi's Marie Antoinette, a woman forced into becoming a Queen who then finds herself becoming a person. In each, Soho Rep's small downtown space was transformed, from a corporate board room to a palace or the French countryside. Wherever Soho Rep wants to take me next, I will be there.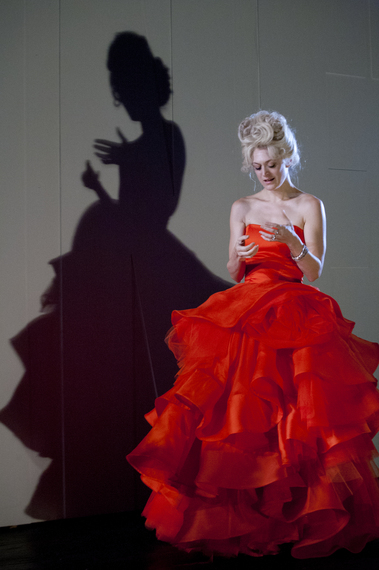 Marie Antoinette at Soho Rep. Credit: Pavel Antonov
City Center Encores!
It was a fantastic season for the Encores! musical concert series: the Pulitzer-winning Bock and Harnick musical Fiorello!, the tongue-in-cheek wit of Lee Adams and Charles Strause's It's a Bird... It's a Plane... It's Superman, and the rarely seen Rodgers and Hart dance-filled delight, On Your Toes. And as if those three productions weren't enough, Encores! began a new off-Broadway series over the summer, Off-Center, with three off-Broadway revivals: Cradle Will Rock, Violet, and I'm Getting My Act Together and Taking It on the Road. I'm glad Violet will resurface at Roundabout in the spring with its star Sutton Foster, but it was the 70s feminist I'm Getting My Act Together... that I wanted to listen to over and over.
Third Rail Projects
Then She Fell, Third Rail Project's site-specific immersive take on Alice and Wonderland and the author Lewis Carroll, technically began performances in 2012, but it moved this year to a new location, The Kingsland Ward at St. Johns in Brooklyn, where it will mesmerize audiences well into 2014. Only 15 people at a time are led on individual journeys through the hospital ward, so those of us who didn't get the one-on-one encounters we were hoping for at Sleep No More will love the personal interactions throughout the two-hour evening. Third Rail Projects also created the mobile, site-specific dance/theater/installation piece Roadside Attraction, which I tried to catch earlier this year. But as is the way with mobile theater, I arrived too late and it was gone. I'll have to catch it the next time it comes around.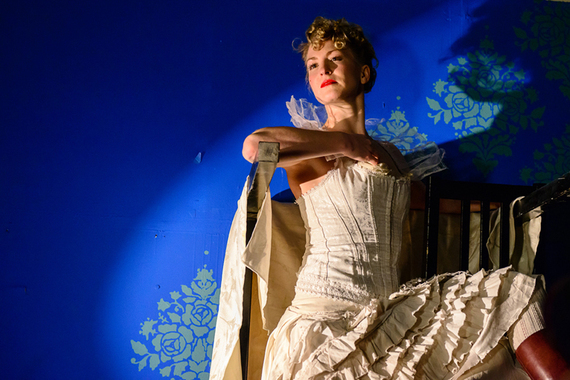 Then She Fell. Jessy Smith (White Queen). Credit: Darial Sneed
Playwrights Horizons
A wonderful play at Playwrights Horizons just ended its run: The Curious Case of the Watson Intelligence. While movies like this season's Her are probing the future of our relationships with technology, Watson delved into our past to shed light on our present and point to our future. It's a lovely bookend to a year of wonderful plays and musicals: Far From Heaven, The Flick, Mr. Burns: A Post-Electric Play, The Patron Saint of Sea Monsters, and The Call. I can always count on Playwrights to deliver intriguing new work.
Signature Theatre
I love clowns, so Signature's production of Bill Irwin and David Shiner's Old Hats is high on my list of great shows of the year. Nellie McKay's offbeat songs provided the backdrop for these two masters to strut their stuff and bring audience members on stage with them (sadly, I was not chosen). From catching the tail end of The Piano Lesson's run in the first week of the year to the revivals of David Henry Hwang's The Dance and the Railroad and Lanford Wilson's haunting The Mound Builders, I enjoyed every production I saw in the gorgeous Pershing Square Signature Center.
Prospect Theater Company
Set apart by their commitment to new musical theater, Prospect remains at the forefront of producing the best new writers in New York City. Their production of Sam Carner and Derek Gregor's Unlock'd perfectly combined wit, physical comedy, and a gorgeous score, while Marisa Michelson's choral music transfixed audiences during her haunting biblical musical, Tamar of the River, with librettist Joshua H. Cohen. Their work in new musicals continues next year with the just-announced Ryan Scott Oliver and Hunter Foster musical Jasper in Deadland.
Libra Theater Company
Joshua H. Cohen's work was featured in another production this year, his stirring play The Thirteenth Commandment at Libra Theater Company. Tackling the topic of Holocaust denial, The Thirteenth Commandment was smart and tight with excellent actors and an impressive set. I'm looking forward to seeing more work from this small but effective company dedicated to helping artists who are trying to balance the demands of living and working in New York City.
Wakka Wakka
I loved Wakka Wakka's 2010 show Baby Universe, so I was eagerly awaiting their new show, SAGA, set during the economic crisis in Iceland. Wakka Wakka's work is highly visual and theatrical, and SAGA uses puppetry to tell the story of a man with big dreams who loses everything. Following the show's run in March and April, the company took the show on the road for a three-month Scandinavian tour. I hope they land back in New York City soon with a new story and new puppets.