What constitutes political theater? Is it theater about politics? Theater that includes political elements? If politics affects almost everything, wouldn't all plays be somewhat political? Few would argue the inclusion of Brecht's work or Gore Vidal's The Best Man, now in a revival on Broadway, but what about a play that is not necessarily about politics but has a political situation as its backdrop? What about the off-Broadway production of Food and Fadwa?
In my effort to further understand political theater, I sat down with Food and Fadwa co-writer and actor Lameece Issaq and producer Nancy Vitale. Both are part of Noor Theatre, the company that co-produced this production of Food and Fadwa with New York Theatre Workshop. Food and Fadwa is the story of Fadwa (Issaq), a Palestinian woman dealing with her family and aging father the week of her sister's wedding.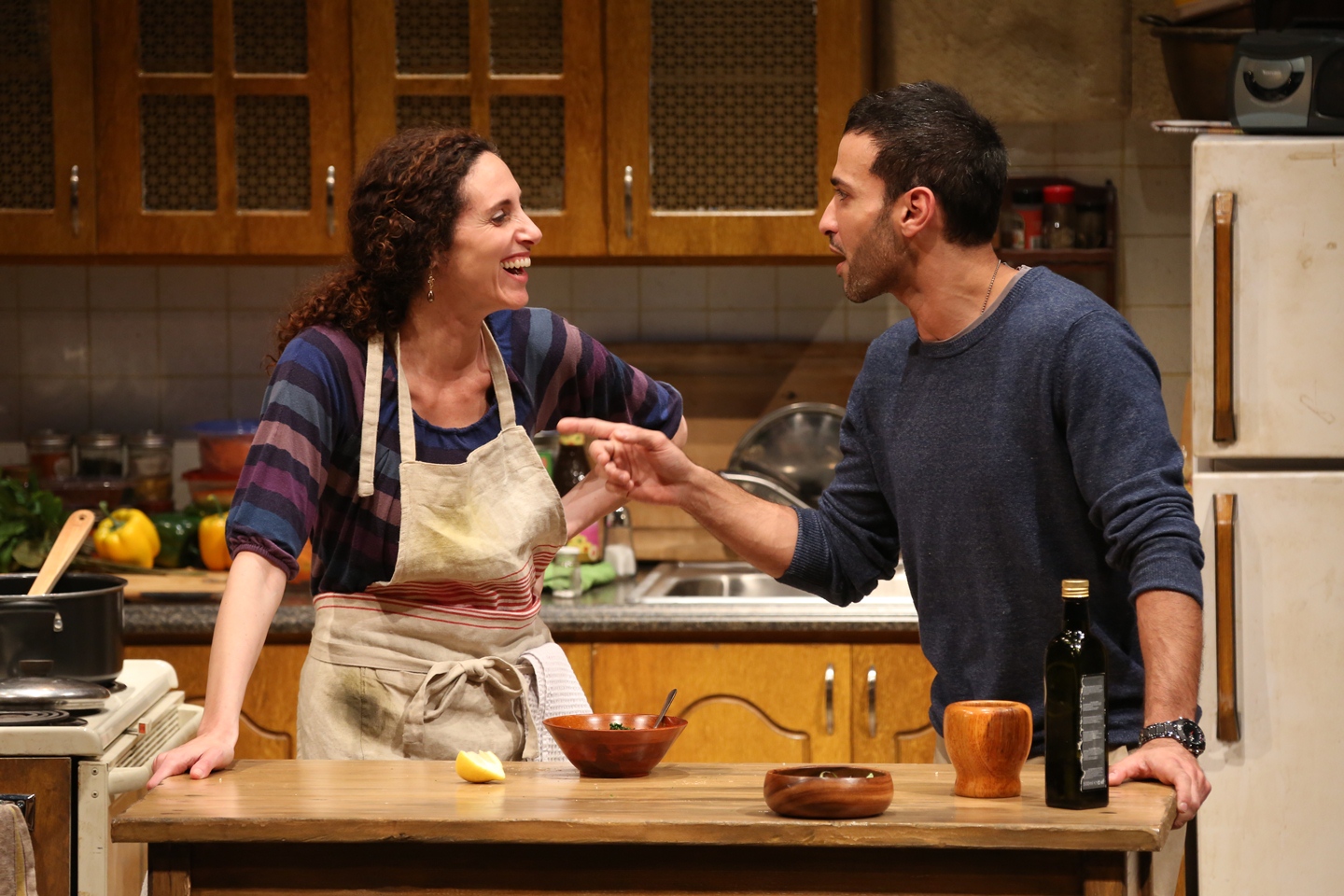 Lameece Issaq and Haaz Sleiman in Food and Fadwa. Credit: Joan Marcus
Issaq is emphatic that the play is not about politics. "Because [the play is set] in Bethlehem in the West Bank in Palestine, suddenly it becomes about politics, but the play is so firmly focused on family and on relationships and culture," she said.
Vitale agreed: "This piece is primarily a family story. The artistic intention is not to convince somebody of one agenda or another but to tell the story of a lovely family that happens to be living in a politically volatile region."
That politically volatile region does factor into the plot, and in one wonderful scene, the subject of the West Bank map arises as the characters are having dinner. Instead of merely explaining the map, the characters throw food around to illustrate the borders. "The moment is about the recognition of the ridiculousness of the geographical delineations left by Oslo," said Vitale. "The writers acknowledge that the explanation is political, and so have to resort to throwing food to say, 'Look, this is one way I can talk about this situation.'"
But for Issaq, the food-throwing border speech still isn't a major political moment: "To say that that's the political speech of the play frustrates me because we're talking about what is--this is the way the land is carved up. And if we can't even talk about that without having to frame it as political then that is disappointing."
Perhaps labeling plays and musicals as political theater does more harm than good. All theater, political or not, relies on compelling stories and characters. Should politics, whether they are at the center or on the periphery, make a difference in how a work is categorized? "We don't shy from politics," said Issaq, "But... it's far more interesting to me to watch these personal stories unfold within a political context. You can get so much more from that, understand the politics at a much deeper level than if we are doing something polemical."
"We hope this show will spur a dialogue," added Vitale, who has attended the handful of audience talkbacks for the show. "In general, the feedback we've been getting from audience members is that they're really excited to see this story that takes place in a Palestinian home because it puts a human face on a political situation that they may have only have read about.... There are these preconceived notions about what is Palestinian and this play is helping to open that up."
More projects are in the works for Noor Theatre, and they continue to meet with Middle Eastern artists from countries such as Iran, Armenia, and Turkey to develop new work. As for the company's future with the idea of political theater, Vitale said, "We're trying to expand the perception of what it means to be Middle Eastern beyond the geographical borders from the United Nations. It's about the perspectives that varying people from that region have, and we don't hear them--we only read about who died in a blast in the newspaper--but what is the story behind it that people everywhere can relate to? Understanding that will help break down some of these dangerous stereotypes and preconceived geopolitical notions."
Food and Fadwa concludes its run at New York Theatre Workshop this Sunday, June 24, and both Issaq and Vitale found the experience to be a gift. And my experience delving into the nature of political theater? To reference the play, it gave me a lot of food for thought. When I see theater I will now look at the political situation being portrayed and think, "Is this about politics or just life?"