How does a small theater company go from mounting their first modest production to producing a high profile off-Broadway musical? For the people who run Prospect Theater Company, it takes 14 years of following the rhythms of the musical theater community. Started by a group of college friends just two years after graduation, Prospect has since grown to become one of the few established theater companies in New York City producing full seasons of new musicals. I've been following this company since I saw one of their productions in 2004 and have enjoyed witnessing their rising profile in the NYC theater scene.
Their new production of Working, the 1978 Stephen Schwartz and Nina Faso musical about the American blue collar experience featuring songs by a collection of writers, runs December 1 through December 30 at 59E59 Theaters. While it's not a new musical, the production, directed by Gordon Greenberg, is a major reworking of the original material, with new songs by Tony-winner Lin-Manuel Miranda.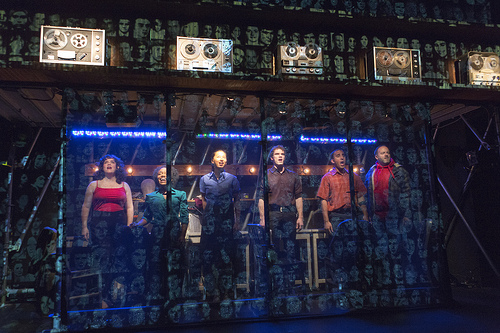 The cast of Prospect Theater Company's production of Working. Photo Credit: Richard Termine
Prospect has now worked with quite a few Tony winners (lighting designer Jeff Croiter, musical supervisor/orchestrator Alex Lacamoire, actor Cady Huffman, and writer Adam Guettel), which Prospect's artistic director, Cara Reichel, considers a milestone. "We've created an environment that even people who are working at the highest level within our industry are excited to come and work with Prospect," she said in a recent interview. "To me, that's a real indicator that we're on the right track because we have people from all over coming to us and want to be a part of what we're doing."
Prospect has roots in a sort of summer stock. Founding members Cara Reichel, Tony Valles, Peter Mills, and Melissa Huber met at Princeton, and after graduation had the opportunity to take over a theater space on campus for the summer. "For the first time we were actually doing theater as our full-time occupation as opposed to a side or extracurricular activity," Reichel recalled. That experience led to founding Prospect two years later, in 1998.
Their mission, however, was not to produce new musicals. In fact, the company's first production was an adaptation of the classic play Everyman, which was followed by two summer residencies in Reichel's hometown of Rome, Georgia. Reichel credits these 8-week intensives with transitioning the company from college friends to professionals. "[Those summers allowed the] company to bond and develop a philosophy, way of working, and aesthetic," she said. "People from those summers are still very key people [in the company]."
Their resulting mission instead focuses on connections to theater history and to the community, and as they found themselves producing more new musicals, they realized that they were serving a need in the NYC musical theater community. "There were so many great projects that couldn't get produced, couldn't find a place, especially by emerging artists," Reichel said. "That is sort of where we decided deliberately and strategically to focus our energies."
Managing Director Melissa Huber added: "We have a rubric by which we feel we can provide a certain amount of support by which we can get these shows up and running and before an audience and with costumes, lights, sound, and a set. Musicals are expensive, and we found a way to do them with a first blush of all of the components together."
They originally carved out this niche by producing the work of musical theater writer Peter Mills, one of the founding members and the resident writer. While Prospect served as an artistic home for Mills to develop new work, Mills's shows also helped put Prospect on the map as a force in new musicals. His musical Illyria, based on Shakespeare's Twelfth Night, got Prospect its first New York Times review in 2002 (which coincided with Prospect's first full season of three shows) and was the first to move on to a regional production in 2004.
Mills said: "I take great pride in the idea that Prospect was able to establish a name for doing new musical theater because in the early years they were essentially doing [musicals] of mine, but that led to Prospect having kind of the clout to attract some of these other great new musicals."
As Mills's career took off (he's writing lyrics for the new musical version of The Honeymooners), Prospect relied on him less for a new show a season and broadened their programming to include more new musicals by emerging writers, with some pieces going on to regional and larger New York productions. Last season, their critically acclaimed reimagining of Guettel's Myths and Hymns even landed on New York Magazine's Approval Matrix for Highbrow and Brilliant.
While Prospect has made itself known in the NYC theater community, there's still room for growth. The small administrative staff still work second jobs, and fundraising is a constant challenge. Reichel spoke of what she calls the "quantum leap" from having great shows to having a great stable company. "You start off doing something because you love it and think it's fun," she said. "But at a certain point you have to be honest with yourself and say that if I really want to do this as my career it has to be my career and it has to support me."
Huber summed up the transition: "When you first start out in New York City on the basic showcase code, it's very collegiate in atmosphere. Everybody's going to be gung-ho and bring their props from their kitchen, and we don't want to do that anymore because we might like the props to stay in our kitchen so we can use them to cook dinner."