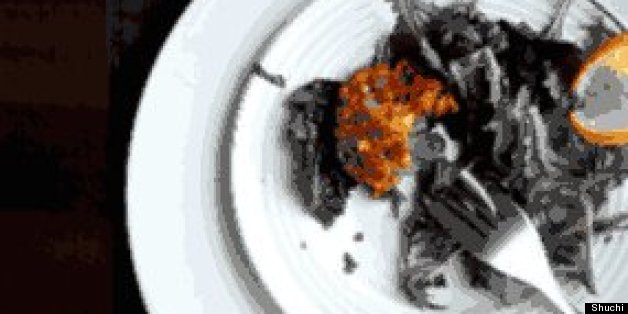 Who doesn't love a plate of sliders? The ingenious child of a burger, the faithful companion for game night.
But given that I don't eat pork or beef, my choice in sliders has been rather limited -- not to mention disappointing. Save those few rare-to-find places that would serve chicken, there are close to zero options for those wanting to indulge in a vegetarian/vegan slider. If there can be a veg. burger, then why not a slider?
So in my quest to quench this craving, I decided to devise a vegetarian patty that would co-operate with my little bun. Potato, beans and mixed vegetables are usually the options that come to mind when thinking "veg," but they're awfully boring. So I went with lentils and eggplant. Healthy, almost oil free, and rather easy and quick, these can also work rather well as an appetizer. In fact, we ate most of them before the sliders were put together!
Hopefully the buns would let this one 'slide' by.
Eggplant and Lentil Fritters
Ingredients
1 medium eggplant
1 cup green lentils, boiled (with liquid removed)
½ cup red pepper, finely chopped
½ onion, finely chopped
2 cloves of garlic, crushed
1 teaspoon cumin powder
1 tablespoon coriander powder
½ teaspoon curry powder
4 tablespoons rolled oats
2 tablespoons olive oil
Salt & chili to taste
Instructions
Roast the eggplant on a stove or oven (400 degree F for 20-25 minutes) till it collapses and the skin can be easily removed. Remove the skin and seeds, mash the eggplant and keep aside to cool.
Heat a teaspoon of the oil in a non-stick pan. Stir-fry all the ingredients, except the oats, for a few minutes till they are well mixed. You could also put them in a blender, but I am a fan of texture so I prefer not to. Remove from heat and cool completely.
Once cooled, mix in the rolled oats and form 6-8 circles with your hands - approx 2 inches in diameter. Pan-fry them in a non-stick pan with the remaining oil, till they are evenly browned on both sides.
For an oil free version, simply mix all the ingredients and bake the fritters for 25-30 minutes in a pre-heated oven at 375 degree F. Make sure you turn them once in between so they brown evenly.
Use the patties to make game-day sliders, or eat as is as an appetizer!