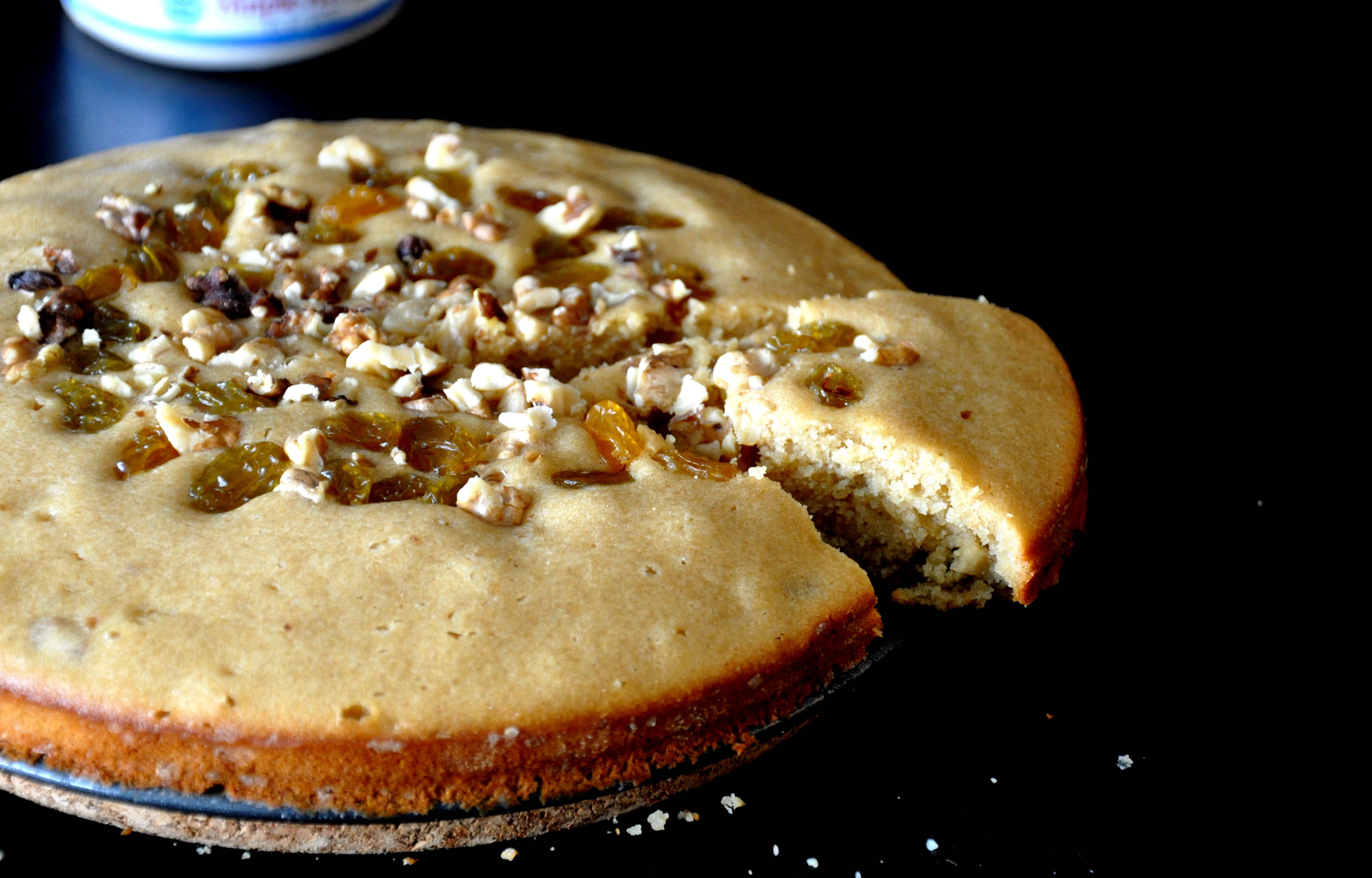 Sometimes the strangest needs inspire you.
I wanted to bake something sweet. Something that would use whole wheat flour, be sugarless and use as little baking soda as possible. Challenging? Yes, but not as much as I expected it to be. This moist, warm cake with a hint of caramel flavor was not only devour-ishlessly scrumptious, but also rather easy to make. I used a basic butter cake recipe and made alterations to substitute sugar with maple syrup+honey and cake flour with whole wheat flour. I also reduced the baking soda (I am sure you can skip it altogether too!) and added raisins and walnuts for that irresistible crunch.
Baking, is in fact, a miracle. And this little miracle made me very happy.
Ingredients
5 tablespoons unsalted butter
1½ cup whole wheat flour
½ teaspoon baking powder
½ teaspoon salt
¾ cup maple syrup (1 cup if you like your cakes sweeter)
6 tablespoons honey
2 large eggs
½ cup whole milk
½ teaspoon vanilla extract
1 cup walnuts, roughly chopped
½ cup raisins
Method
Pre-heat the oven to 375 F.
Mix the flour, baking powder and salt together in a bowl.
In another bowl, melt the butter and mix well with the maple syrup and honey. Mix in the eggs one by one and beat well. Add the milk and vanilla until just combined. Add the flour mixture all at once and fold till all the ingredients are just combined and the batter is smooth. Stir in half the raisins and walnuts into the mixture, and pour into a greased cake pan. Sprinkle the remaining walnuts and raisins on top.
Bake for 10 minutes at 375 F. Reduce the temperature to 325F and bake for another 30-35 minutes, or till the edges are brown and a toothpick inserted in the centre comes out clean.
Best eaten warm, this cake will last for at least 2 weeks in the fridge. If there is any left to last that is...