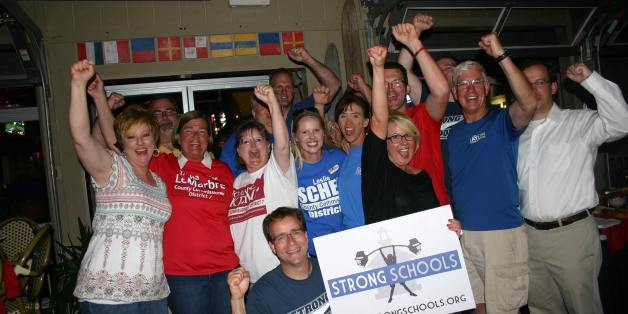 This story was produced in partnership with Facebook Stories. Submit your own Facebook story here.
---
I'm a mother of three in Sumner Country, a suburb outside of Nashville, Tenn. Two years ago, the local school board took a stand against the county commission for underfunding, which delayed the start of school for more than a week.
Kids might not have minded having nine extra days of summer vacation, but many parents like myself were frustrated. Many were confused and wanted to understand what was behind this stalemate that was keeping our schools closed.
As the situation grew more urgent, I joined with a small group of parents to start organizing a response. Andy Spears had been using Facebook to post updates on the School Board and County Commission for about a year. He also owned a website that posted analysis of school-related issues in the community. Both operated under the name of Strong Schools.
Coordinating our efforts, we created a Facebook event to alert the community that an important County Commission meeting was coming up and it was time to respond to years of underfunding of schools. The event quickly spread over the weekend, and led to nearly 800 people showing up and packing the chambers at the Monday meeting. The budget didn't pass the way we wanted that day, but we saw how these parents could rally together, and we wanted to build on the momentum for the next county commission elections in 2014.
It was time to end the practice of crisis budgeting that occurred every year and start focusing on supporting and funding excellent schools in Sumner County.
With so much discussion going on through the event page, the Strong Schools Facebook Page, and our personal profiles, we decided we needed a dedicated Facebook Group: Support Strong Sumner Schools. After joining with other parents Billy Sloan, Aimee Vance, and Caroline Krueger, we began the process of becoming more formally organized as a 501(c)(3) non-profit.
Sumner is an extremely conservative county, but we were able to unite a non-partisan group to support our schools and our children. The Strong Schools advisory board includes three democrats, 3 republicans and 1 independent.
When candidates announced their decisions to run for commission seats, we sent each one a survey and held forums to decide which would most support education, build a strong relationship with the school board and make progress. We were looking for people who would make long-term plans and do things differently.
We formed the Strong Schools Political Action Committee (PAC) to endorse 13 candidates we believed in. We raised $10,000 -- more than any individual candidate. Through Facebook, mailers and phone calls, we campaigned heavily for these candidates.
Social media was also huge for getting out the vote. We made people care by showing them how much these issues mattered and making them believe things could change. In 2000, voter turnout was 4,000 citizens. This time, we had 13,000 come to the polls.
And the result? All 13 candidates endorsed by Strong Schools PAC won their races in the Republican Primary. We even beat three incumbents, and gave the "good ol' boy system" the boot. It's a whole new day in this county.
Though some of us have been involved in politics before now, none of us expected this to happen. We all knew each other before the Strong Schools movement, but we've grown together into a fully functioning organization. On a Saturday in August 2012, we were each behind our computer screens organizing with social media and hoping for a positive response. Now, we're organized into a non-profit and a Political Action Committee and we're impacting elections and influencing the process.
Strong Schools has become a full time job for me. I'm meeting with school and city officials, doing press, and constantly communicating with the 4,000 members of our Facebook Group and using Messenger to connect with our advisory board throughout the day. We're preparing for the August county commissioner elections.
Several of us manage Facebook Pages for other candidates and as a group or individually offer consulting to other counties who want to make a difference like Sumner has.
It is time for our elected officials to work together in a responsible way to put schools first.
Sibyl Reagan is the co-founder of Strong Schools and serves on the board of directors for Tennesseans Reclaiming Educational Excellence. She lives in Hendersonville, Tenn., with her husband and three children.