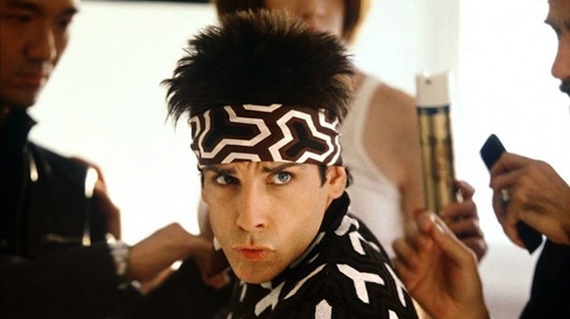 "Alright, everyone, gird your loins," it's Fashion Week.
Designers, models and interns alike all flock to the Big Apple to kick off the month-long super-event that is Fashion Week. After its initial stop in New York City, the couture party moves on to London, Paris and Milan.
Sure we've seen it in The Devil Wears Prada and read about it in TeenVogue, but unless you've lived it we actually have no idea what the hell Fashion Week is all about. Plus, unless you're a designer, a fashion editor or a model, it may not seem all that glamorous.
Fashion week is about a week with no sleep. It's about the internal struggle between ordering Adrienne's pizza at 11 pm or fitting into your dress. It's about juicing the next day because you regret how much pizza you ate. It's about having nothing but seltzer water the day of the show and thinking that's ok, then realizing it's not when you drink your celebratory champagne after the show is over.
It's certainly not for the faint of heart, and you're more than likely not going to get what you expected. But if you ever get the chance, I recommend interning for Fashion Week. You'll gain experience in the industry that is unparalleled to anything you may ever experience.
That being said, as a recently de-flowered Fashion Week virgin, let me explain a thing or two before you dive heels-first into the tumultuous adventure that is NYFW.
1. You're not Anna Wintour
This isn't meant to discourage or insult you; it's meant to open your eyes. What I mean is, don't expect the red carpet for your first Fashion Week. Odds are, you'll only be at one or two shows for the whole week, and of those few, you probably won't be able to see any of them. As an intern, it's most likely that your job will be to help dress and undress the models in between their looks. And yes, you will see boobies. That's fashion. If you get the chance to volunteer with a smaller label then you might be able to peek your head out or watch the show from a monitor. Just remember not to take it personally. The fashion world is all about maintaining an image, and a group full of interns gawking and instagramming is not what most designers want.
2. It's all a show
One of the big secrets of Fashion Week is that it's a lot more orchestrated than they'd like the public to think. The exposure, the venue, even the guest lists are heavily planned by the designer's team. They strategically place the more famous people in the front rows to act as exposure for the brand. They even hire brand ambassadors to sit in the front row and wear the brand. Even the models operate on exposure. A lot of the NYFW models are new and up-and-coming. Since the designers view their show as exposure enough for their fresh faces, a lot of them don't actually get paid. Instead they work for trade. This means after the show is over the models are given a budget. They then select clothes from the designer within their budget to take home, and if they don't like the clothes...well...tough toenails. Which are probably freshly pedicured.
3. It's exhausting
While you and I might find it glamorous and exciting, after you've been in the fashion industry for a long time it can become tiresome. Most experienced couture masters dread the stress and anxiety that comes along with the catwalk. Fashion Week just means 10 times the people they need to impress, employees they have to oversee and sleepless nights. It's easy to become disillusioned to the apparel industry, and while it may seem upsetting, remember to keep it in perspective. No matter how long you've been working, if you're Michael Kors and Joe Blow the intern, you're part of the biggest and most fabulous week in the apparel world. Your work and influence will impact the millions of dollars and thousands of jobs that create this industry.
No pressure, you'll rock it.