After wowing London with his Last Supper at Saatchi during the Winter, Oleg Tselkov hit New York this Spring.
He was hosted by a fellow Russian émigré, Anatol Bekkerman, whose ABA Gallery in Manhattan is full of surprises. First, it has the finest array of malt whiskies this side of the Hebrides. Then, the gray, narrow-stairwell entrance on East 17th Street gives no hint that the gallery stretches all the way to East 18th Street and is 200 feet long.
Its regular display includes politely commercial works by Fechin, Harlamoff, Goncharova, Korovin and Roerich - and some more challenging offerings by Filipp Maliavin, David Burliuk and Anatol's brother Edward Bekkerman (of whom more another day and, I suspect, not just in this column).
But, for a dazzling fortnight (April 26-May 10), the back half of the gallery was invaded by Oleg Tselkov, with 50 works (accompanied by a 120-page catalogue) savvily selected to form a comprehensive survey of his career. It began with a Portrait with Flowers from 1961, so early that Tselkov himself had forgotten painting it - although several of his future stylistic hallmarks (almond-shaped eyes, gap-toothed smile, teeth-grinding colour-clashes) are already in evidence. The subject - a lady with a geisha-white complexion in a red-ribboned hat - is no belle, although her poise suggests she feels otherwise; in Tselkov's world of Orwellian double-take, Ugliness is Beauty.
Soviet Russia, he recalls, meant 'living in a madhouse, where Truth was Lies and Peace was War!'
From belles to beaus. For almost his entire career Tselkov has painted the same male figure - a bald man with evil eyes and a broken-toothed grin - and turned him into a thing of beauty, resembling a cross between Mussolini, Khruschov and a latterday Phil Collins. The ABA exhibition revealed the monumental splendour and loony heroism of this figure, showing him surviving a series of attacks - from giant paper-clips, giant safety-pins, nails, knives, spades, scissors and axes - with a monstrous indifference whose explanation again lies in Tselkov's Soviet past.
'As Solzhenitsyn once said, the KGB could hardly have arrested people if they'd known there was a man with an axe behind every door!'
Two works at ABA surprisingly showed this skinhead tough reading a book (only half-a-dozen pages in it, mind you) as if enjoying Tselkov's well-read empathy. Tselkov has even, having lost his hair and removed his beard, come to look like him: at 79, an Art Brut of a man, with the gait of a prize-fighter itching to rip into his canvas.
But appearances deceive. Although Tselkov attacks each new work with the rage of someone who 'wants to throw the grand piano out of the window,' as he melodiously puts it, he is a most meticulous practitioner - working tidily at one end of the lounge in his not particularly large flat in a not particularly smart bit of Paris. You expect him to be gulping down the vodka but instead find him sipping claret - leaving the vodka to Tonya, his impeccably elegant wife. The lounge still has its grand piano and alongside, in the only outburst of domestic quirkiness, an all-year-round Christmas Tree. Sometimes Tselkov escapes to the country, to his house in the bald, rolling hills of eastern Champagne: the Lysiye Gori of this Prince Bolkonsky of artists.
Tselkov prepares his paintings like military campaigns. Their hulking sense of balance comes from intricate, squared-paper planning. Each patch of canvas is worked and reworked with deft paintwork of miniaturist precision; cut up his works and you could derive half-a-dozen exquisite still lifes.
The works on offer at ABA were priced around $50,000-300,000. The highlight was Five Masks - at 8 x 6ft, one of a series of giant paintings (including The Last Supper) from 1977-79: the High Noon of Tselkov's career. In October 1977 he left Russia for France. He had no choice. 'Leave now' they threatened him 'or you'll be heading in the opposite direction.'
Bekkerman's ensemble charted Tselkov's stylistic evolution down the years, from his early Fauvist palette to his current acidic diagonals, via Rembrandtian murk and Weisbergian haze. An early Picasso influence is apparent. George Costakis once likened Tselkov to Francis Bacon. Tselkov himself worships a fellow-rebel, Van Gogh, for 'his love of life in all its vile holiness.'
Sly sexuality pops up here and there. A seated sauna Couple (2006) are viewed from behind in naked lobster-pink. The male head of a 1979 Bust is attached to two enormous breasts, presaging by nearly 30 years the fiberglass treatment dished out to Chairman Mao by the Gao Brothers.
The exhibition's hanging suffered from excessive lighting and cheap wooden frames, but that hardly mattered. Tselkov can dominate any setting; the only other work than can stand up to a Tselkov is a Tselkov. When, as here, several dozen Tselkovs are lined up together it looks like a candy-store, spangled with the fluorescent colours of a Flavin - achieved by paint, not electricity. Tselkov's psychedelic power-supply sees red confront orange, turquoise target lime, pink pitched against purple and scarlet skirmishing with a green so deep it smells of seaweed. The clashes sound horrific but taste delicious.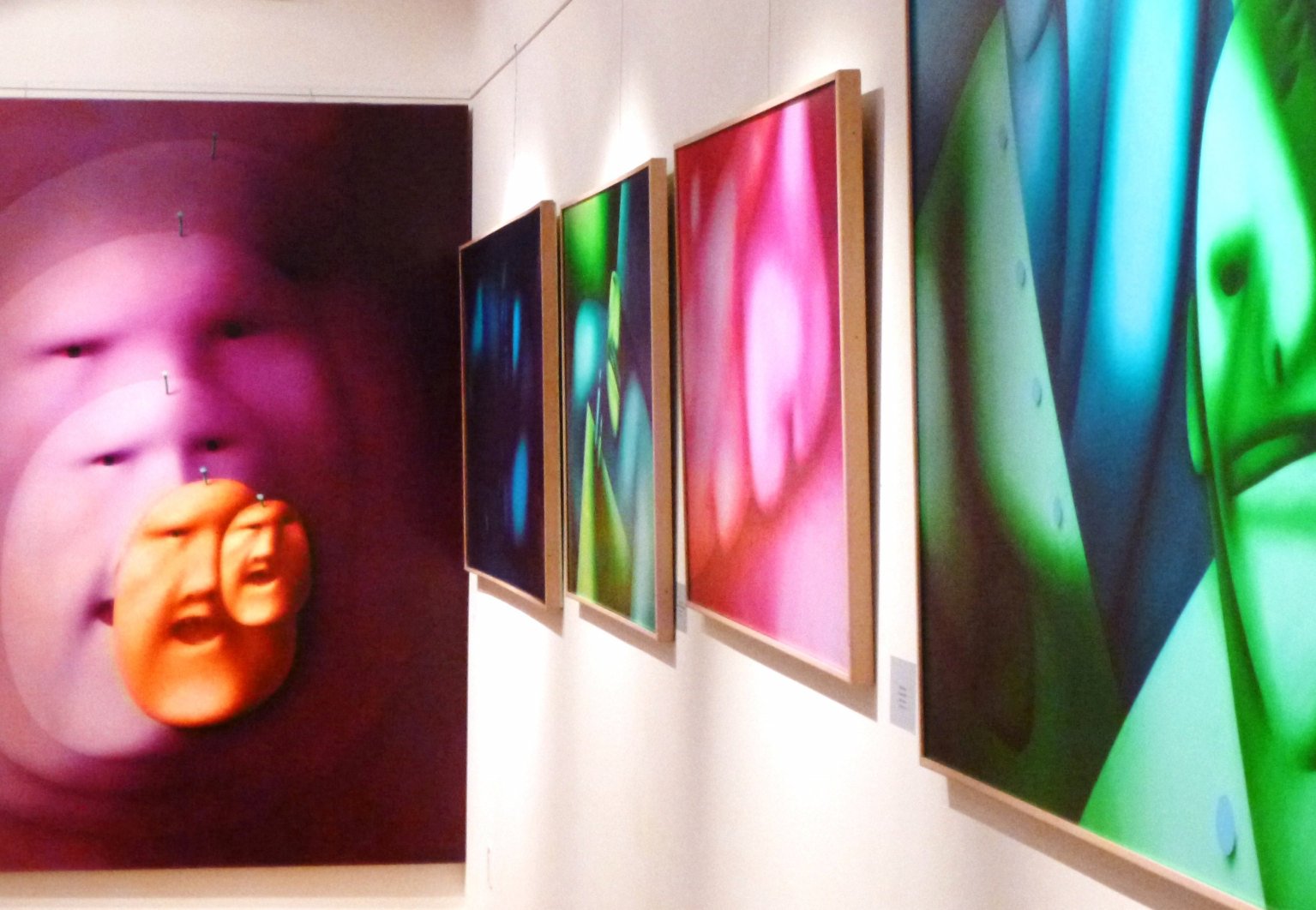 Another of Tselkov's late '70s masterpieces can be found at the Zimmerli Art Museum in the picturesque university town of New Brunswick, an hour from Manhattan by train. I happened to visit on Rutgers Open Day, when the leafy avenues were alive with serendipitous students, mellow masters and balmy bonhomie.
But you can never relax when Tselkov's around.
The Zimmerli boasts one of his most daunting works: Golgotha. Its crucified trio emerge above a crowd of sixteen potato-head lookalikes. The museum's maze of partition walls are artfully arranged so that you espy the Tselkov 40 yards away - summoning you to the back of the hall, whither Tselkov has been banished like a naughty boy, with only a conceptualist red door by Mikhail Roginsky for company.
During my visit, naughty boys were dashing around playing hide-and-seek in Open Day profusion, occasionally pausing in front of Tselkov's giant yellow gathering to gasp, perhaps for breath.
Tselkov professes that 'exhibitions never mattered much to me in life' as 'I was more concerned about having money, because I rarely had it. Now I have money, so I'm not bothered about participating in exhibitions.'
Despite such disarming logic Tselkov is at last being marched towards international acclaim by the crusading zeal of his dynamic daughter Olga. A Tselkov exhibition is currently running (through June 30) at AP Contemporary in Hong Kong. London's Russian Week sees one major Tselkov up for sale at Christie's (June 3) and three more at MacDougalls (June 5). St Petersburg's ineffably stylish Lazarev Gallery will be casting light (hopefully not too much of it) on Tselkov's giant recent works - some of them 4 meters wide - from June 29-August 1, just around the corner from the Repin Academy he frequented in 1954/5 (until some Chinese students got him kicked out for exerting a 'bourgeois' influence on them). And a major Tselkov birthday retrospective is slated for the Ekaterina Foundation in his native Moscow in April 2014.
As Tselkov turns eighty there is no letting up. Like Shostakovich's Leningrad Symphony he is thundering on with clashing harmonies and relentless irony until the beautiful bitter end.